Amputee Equestrian Brings Spirit of Determination to Practices at Liberty Mountain Equestrian Center
One moment can change the course of your life. In a flash, things may be different, but life is not simply determined by the event that happened. Rather, it is how you pick up the cards you were dealt and play them. 
Lily Rhodes, age 20, is an amateur para-equestrian at the University of Lynchburg, who boards horses and holds practices at Liberty Mountain Equestrian Center. Rhodes was born and raised in Tulsa, Oklahoma, and got her start with horseback riding when she was young. Her mom is also an avid equestrian and went to the University of Lynchburg, formerly known as Lynchburg College. 
Because of her mom, riding has always been a part of Rhodes' life, but the University of Lynchburg was never on her radar for potential colleges. Rhodes and her mom decided to tour the school, more for nostalgic purposes. During the tour, Rhodes decided that this was where she needed to be for college, and she followed in her mom's footsteps.
About six years ago, Rhodes' life changed in a matter of minutes. While at a birthday party, Rhodes and some of her friends were riding an ATV when it overturned, leaving Rhodes' dominant arm immediately severed. In this moment, the future of her riding career was uncertain.
"I remember sitting in the hospital looking through Lizzy Traband's Instagram, a one-armed rider," Rhodes said. "The only thing pushing me to recover was the thought of getting back on that horse, and she showed me that there was hope."
The road to recovery was not easy, according to Rhodes, but she persisted. Learning how to ride with one arm was a challenge unlike any she had ever faced. Rhodes was in and out of the hospital for a year battling different side effects of the amputation, but getting back on her horse is what motivated her to keep going.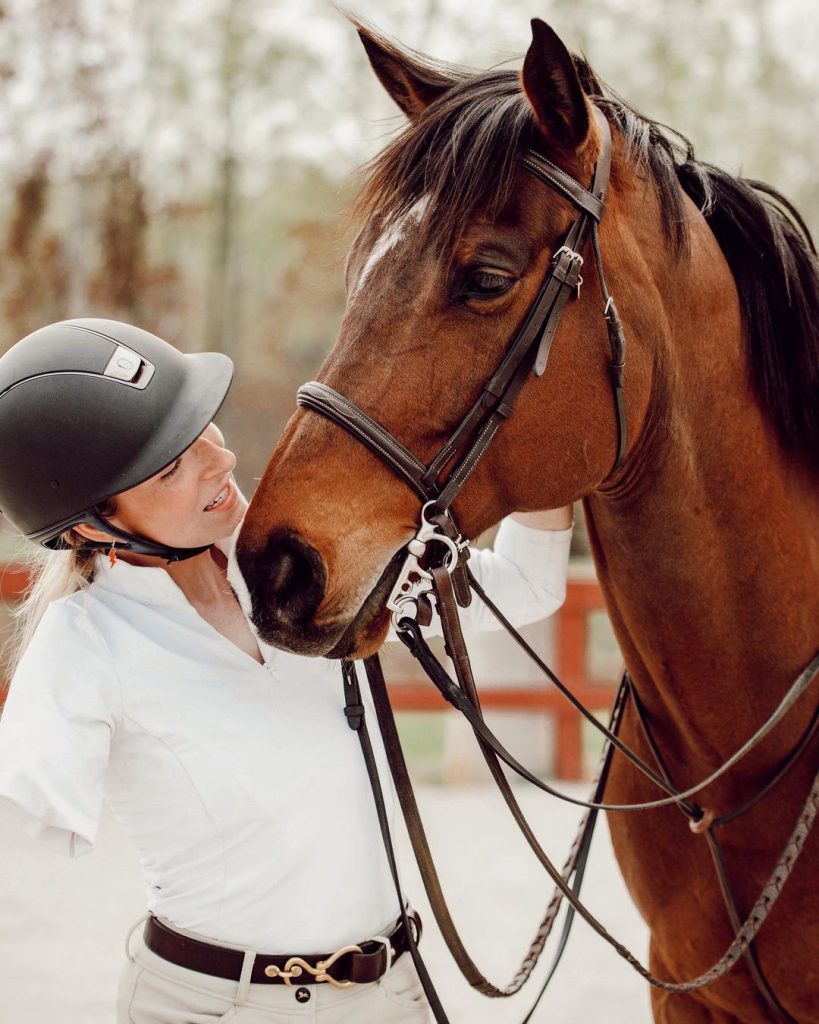 While Rhodes knows that her amputation is a big part of her life, there is more to her story. Ever since she began to get back on her horse and ride, Rhodes has documented her excitement on social media. What started as sharing her accomplishments turned into something bigger as people became invested in her story and started to follow along. Today, she has just over 25,000 followers, inspiring people all around the world.
"You are such an inspiration for so many other riders," one comment said. "Keep riding and working towards your dreams."
Rhodes uses her platform to encourage her followers to keep going and to show that hard work always pays off in the end. While she never planned to become known on social media for something that happened on accident, Rhodes intends to continue using her platform to share her journey.
While riding will always be a passion for Rhodes, she is currently studying business administration with a minor in marketing. She wants to use the experience that she has gained from building her own social media platform to further her career in the marketing industry. Rhodes said that she will always find a way to be around horses because that is what brings her the most happiness. 
Rhodes wants people to know that it is important to keep chasing dreams, no matter the circumstances. Persistence and hard work bring people to the next level.
"You know, life can deal you some pretty bad cards," Rhodes said. "But it matters how you play those cards. That's what will change the outcome."
You can find Rhodes on most social media platforms: @lilybrhodes.
Farmerie is a feature writer.