Liberty Grounds Manager Retires After 41 Years Of Service

When springtime comes around, new flowerbeds appear around campus. When the grass grows, it is mowed. When snow falls on Lynchburg, the campus walkways are cleared. When a new path is needed, concrete is poured. When teams need to practice, they practice on fields that are laid out, maintained, cut and watered. 
Liberty's grounds manager, Randy Johnson, has overseen all of these tasks and more throughout his career. After 41 years working for the grounds department, he plans to retire May 14.
Johnson's life began in southern Lancaster County, Pennsylvania, on his family's dairy farm. After studying engineering at the University of Delaware for two years, he returned home to work on the farm.
When he returned, the small Southern Baptist church Johnson attended asked him to teach a high school and college-age Sunday school class. Johnson met his wife of 47 years there, who attended his class.
Johnson continued farming for four years before he and his wife felt that God was calling them to move. While visiting his brother in Lynchburg, Virginia, Johnson attended a service at Heritage Baptist Church where the pastor preached on God desiring availability more than ability. Inspired by this, Johnson and his wife moved with their 2-year-old daughter and 6-month-old son to Lynchburg. 
Johnson took a semester and a half of Christian ministries classes at Liberty. Then, during a Wednesday night service at Thomas Road Baptist Church, Dr. Jerry Falwell Sr. announced that the school needed master carpenters and grounds workers.
Johnson applied for the master carpenter position. However, because of Johnson's experience on the dairy farm, Liberty hired him to work in the grounds department instead. Johnson began working for Liberty as a grounds supervisor in 1980. By the next year, he had been promoted to grounds manager.
"I really felt like it is where God wanted me, and that's why I stayed for 41 years," Johnson said.
Throughout the years, Johnson oversaw grounds maintenance for all of Liberty's property—on and off campus—and has watched the university and the grounds department grow. When Johnson first started working for Liberty, finances were so low that any materials leftover from construction had to be collected and repurposed. Now, Johnson says the grounds department is blessed with the funding to acquire any materials it needs.
Johnson has enjoyed the wide variety of projects he has worked on over the years, including laying turf for athletic fields, planting flowers, removing snow, repairing asphalt and pouring concrete for sidewalks. He helped build the docks on Hydaway Lake and built trails all over Liberty Mountain for hiking and biking. Dr. Falwell Sr. personally asked Johnson to help care for his home in Lynchburg as well as his other properties in Smith Mountain Lake and the Blue Ridge Mountains.
"I'm here for a purpose: serving," Johnson said. "That's our department. We serve the university and the students by taking care of things, improving things and making things look better."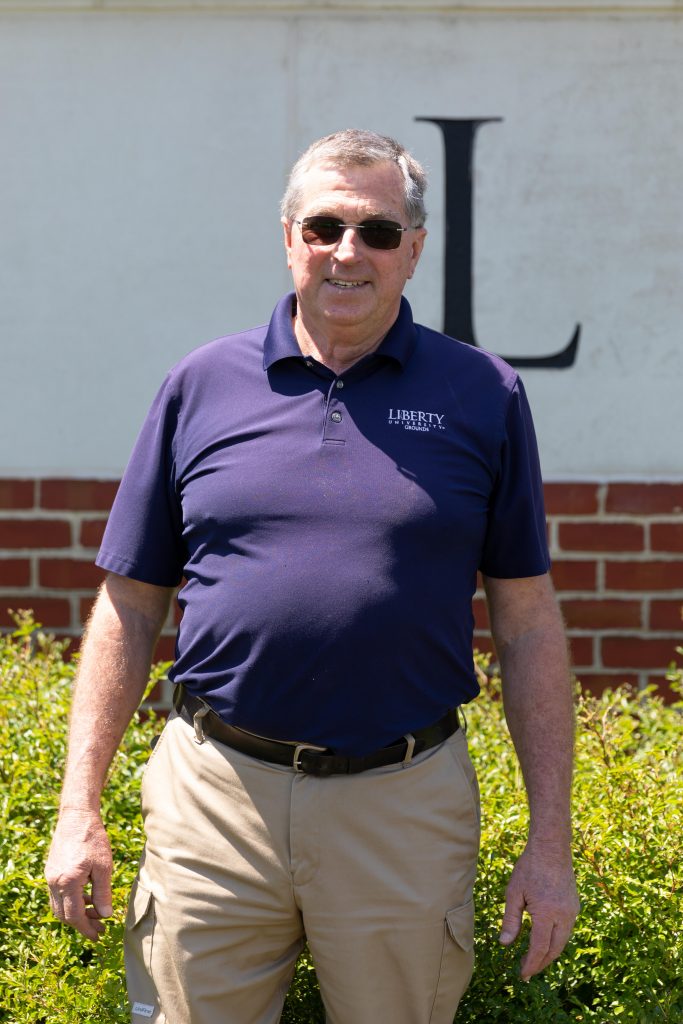 Johnson's role in the grounds department often involved him in the small details that ushered in big changes for Liberty. For example, when the department built a new sign for the school's entrance, it engraved "Liberty Baptist College" on the front. However, because the grounds department knew the name change was coming, it also engraved "Liberty University" on the back.
Liberty announced the name change during Convocation in 1985. Johnson's team flipped the sign's panels during Convocation so that when faculty and students left that day, the campus was officially called Liberty University.
Johnson's position has allowed him to minister to many employees under his care. He frequently hired people who had gone through programs for alcohol and drug addiction recovery. Many of his workers also came from lower-income backgrounds and significantly benefitted from employment at Liberty.
"As a manager, you're constantly praying for [your employees]," Johnson said. "They begin to share things with you, and you pray for them and help where you can."
Many of Johnson's work-study employees enjoyed their jobs so much that they asked to be hired full-time after graduation. Some became supervisors and worked for Liberty for several years.
"You may have to sweat when you come and work in grounds," Johnson said. "But the neat thing is when you're doing something relating to the grounds and the campus, you finish it and can say something looks a lot better because of what we did."
Although Johnson will be retiring from Liberty, he intends to continue using his skills to serve others. His plans for retirement include helping with disaster relief through the Southern Baptist Convention, for which he has already begun training.
Johnson's wife also recently retired from her human resources position at PepsiCo Frito-Lay, where she worked for 23 years. He looks forward to traveling with her and helping one of his sons with his tile and concrete polishing business.
The Johnsons have a daughter, three sons, two daughters-in-law, nine grandchildren and one great-granddaughter.
"God has given us abilities—all of us different abilities," Johnson said. "God can use any of us, if we're willing."
Renee Farmer is a Feature Reporter. Follow her on Twitter @reneefarmerr.