Friends and Families Remember LU Students Who Have Passed Away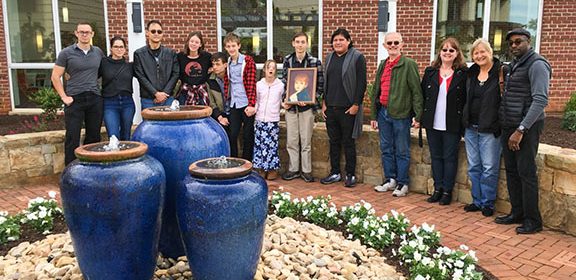 Jon Gregoire was a senior business major with a passion for Christ. Well-known on campus for his kindness and his student evangelism efforts, Gregoire was a promising student with a bright future ahead of him, until he died in a tragic accident at a train track before his graduation.
Like Jon Gregoire, there have been many other phenomenal students with promising futures, who died before they could graduate from Liberty University. These tragedies led a group of moms to ask Liberty to create the Angela Williams Student Memorial Garden that is now outside of DeMoss, near the walkway to the dining hall.
Beth McKeown led the memorial project in memory of her daughter and in the memory of other students like her.
"My daughter Sarah was a student there," McKeown said. "So, when she passed away, I just couldn't bear to not have her legacy left behind at Liberty."
McKeown and several other moms did not know where to start, but they kept asking until they were directed to Tracey Norvelle, the Director of the Grounds at Liberty University.
"Somebody thought [Tracey] might help [us create a memorial]," McKeown said. "And I cannot say enough about Tracey. It was as if God had sent an angel, and I'm not exaggerating. She was so wonderful, not just to make an absolutely gorgeous garden, but she also communicated [with me]. She asked me questions every step of the way."
Due to the efforts of these women and Norvelle, the project started to gain momentum in 2017.
"This project came through us," Norvelle said. "We designed it in and started construction probably in January of 2019… Construction took a very long time [because] we had a lot of bad weather, it was either wet or snowy. [It] was one of our harder winters and so it didn't get completed till maybe June."
Though completing the Student Memorial Garden was a long, arduous process, it was also very rewarding.
When finished, a private, informal dedication and commemoration ceremony was held on October 19, 2019 to celebrate. Family members and some close friends of the students memorialized in bricks around the garden attended the quiet but poignant ceremony. Timothy Griffin, a member of the LU Shepherd's office offered remarks, and a ribbon cutting ceremony commenced to officially open the memorial.
"The countenance of the parents and the siblings of those that had passed away — they just had the peace that passes all understanding showed on their face." Martha Kerr, the wife of a Liberty University band director who knew McKeown, said of the ceremony. "I could also see that in coming to the memorial, it's another reminder that their loved one is gone. So there was just that little bit of sadness, but (joy in) truly knowing that these kids came to Liberty and knew Jesus Christ as their personal savior and knowing that they will see them again."
This ceremony also helped the family members in their grieving process.
"The completion of the memorial and our little private dedication and commemoration service was very important to us," mother Anette Veldhuyzen said. "It helped us take another step in the grieving process, in honoring our son and our children's brother, and in understanding that we are not alone in our loss. Seeing the names of so many precious sons and daughters at the memorial makes one realize that others are also suffering and missing those special loved ones."
The Student Memorial on campus serves to help Liberty students and faculty remember both the legacy of the students who are no longer with us and to remember how precious life is.
Ashleigh Brown is a Feature Reporter.