New mobile barber shop provides students with quality haircuts

The sound of scissors and razors can be heard in the parking lot of Doc's Diner most weekdays. It's coming from Lynchburg's first mobile barbershop.
Sharp Top Barber Shop opened two months ago after Brent Crosby, a Lynchburg resident with a passion for hairstyling, teamed up with Liberty University's auxiliary services to bring his barber services to
campus.
Crosby didn't always long to be a barber, however. He originally wanted to be an artist or musician, but over time, he became fascinated with the art of a barber. Despite his passion, however, he didn't want to attend an expensive cosmetology school to do it professionally. 
He put his dream to the side until he moved to Virginia to live with some relatives and visit Liberty University. Soon after moving, he discovered Virginia's internship programs which provide students with on-the-job training as they continue their education. He took the opportunity to get into a barber shop program and devoted himself
to his craft.
After becoming licensed, he decided to work in and around Liberty University, noticing a lack of barber services in the area. Realizing how difficult it was for students to access quality haircuts and styles, Crosby became passionate about this demographic.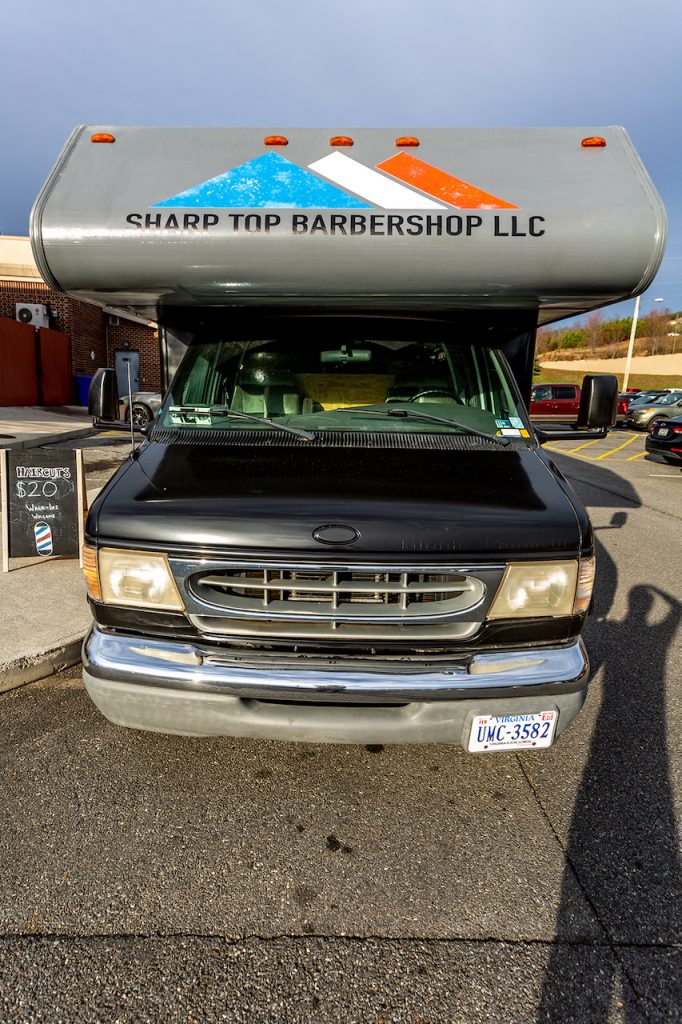 "I've always been kind of set on the kids who can't get a ride (to get a haircut), even saving them money on Uber, because even at the shops I worked at, they'd have to get Uber or friends to bring them," Crosby said. "That's a big hassle."
Originally, Crosby tried to tackle this problem by going into the dorms to cut students' hair. But this became problematic because it was difficult for him to haul all the tools he needed into the dorms. This inspired him to create a mobile barbershop.
After trying various methods of transportation, Crosby settled on using an RV to transport him and his tools to his destination – and Sharp Top Barber Shop was born. 
Liberty's vice president of Auxiliary Services Louis Cambeletta originally found out about Brent's work through his son-in-law.
"(My son-in-law) turned me on to him and started talking about the opportunity to (have a mobile barbershop on campus)," Cambeletta said. "I thought . . . that might be kind of neat for our students to have an experience like this. Plus, I found out that he was already doing a bunch of Liberty students. So it kind of made sense to bring it to campus and have it more convenient."
Crosby doesn't intend to stay in one shop forever. He also has big plans for his barbershop services in the future.
"I would definitely like to have a few more (mobile barbershops), and some products, a product line and also education of some kind, just getting more barbers licensed," Crosby said.
Sharp Top Barbershop provides haircuts, beard trims, undercuts for longer styles and hot towel shaves. The shop operates in Doc's Diner's parking lot from 10 a.m. to 6 p.m. from Monday to Thursday every week, and walk-ins are always welcome. Appointments can be scheduled on SharpTopBarbershop.com. 
Brown is the feature reporter.