Liberty student writes children's book focusing on processing trauma
On Jan. 28, 2020, a daughter stood in the front of a classroom of 200 college students settled into desk chairs in a room lit by fluorescent lights. But boxes of red books titled "The Winter Elf," a video of a fireplace blazing on the projector screen, hot chocolate warming their hands, and most importantly, story, transformed that room into a dimly lit bedroom in Missouri.
Once upon a time there was a house surrounded by 440 acres of Missouri farmland. Outside, at the end of the driveway, stood a lion statue. On the door another lion posed as the knocker, and inside there was a father sitting on an armchair, reading the words of Aslan the lion out of a copy of "The Lion, the Witch and the Wardrobe."
Seven children gathered around their father. One, the oldest, laid picking at a fur rug by the fireplace and the others perched on the softest covers of their parents' bed. All of their eyes were on the father, but their minds were in Narnia.
Once upon a time there was a father who moved to his grandmother's old farm in Missouri from Florida to start a new life for his family. While clearing away the land and dreaming of the magical wilderness he was soon to bring his children to, he was bitten by a tick. Months later, this tick bite turned into what is still an ongoing battle with Lyme disease. Migraines, fatigue and muscle and joint paint brought by the disease forced him to stay in his attic office in an effort to keep his children from seeing his pain.
But in story time he was able to muster up the effort to come alive, embody the characters with energy (including cockney accents for the beavers in Narnia) and be with his children.
"Story time provided this sense of how much I was loved," Grace Anne McCluskey, who was still a toddler when her father contracted Lyme, said. "The fact that I was worth my dad willingly going through that pain so that he could have these memories with us and so that we could have those memories with him."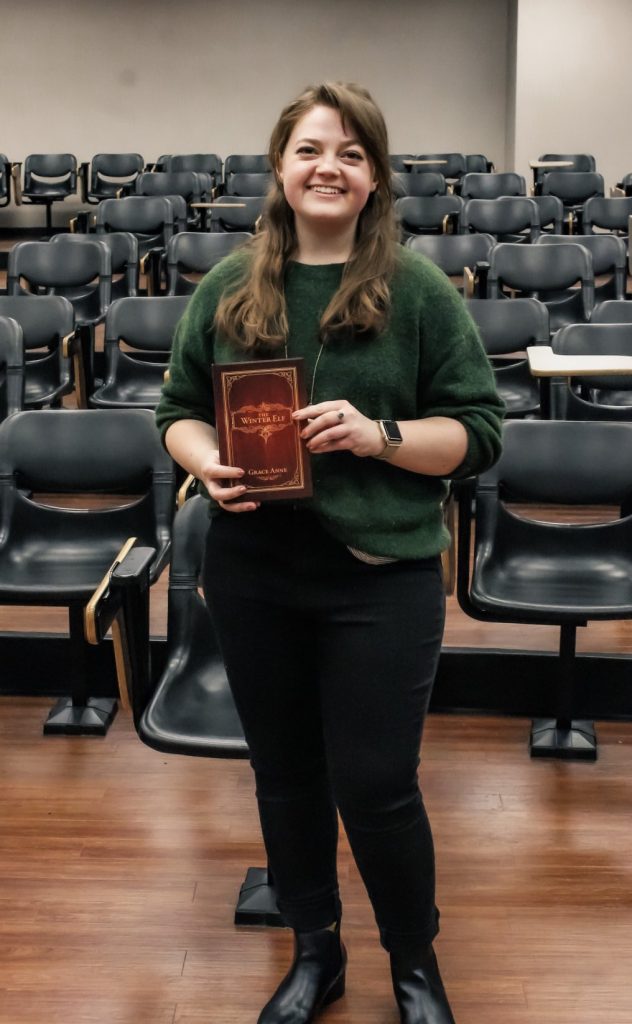 The magic world of story time and youthful playtime in the forest of Missouri, combined with the pain of her father's illness, led to that moment in late January, reminiscent of childhood story time, in the fluorescent-lit classroom. The imaginative and unassuming McCluskey, a graduating senior studying psychology and Christian counseling, stood ready to share her personal story and her newly-published book.
"The Winter Elf" is a story of Clara Rose, a young girl whose mother is sick and in the hospital. She has learned to hide her emotions until one night an elf appears. He teaches her to embrace and talk about her pain.
"I've always had this idea that I want to write for some soul out there who is like my past self who is in need of the same things that I was in need of," McCluskey said. "The book is sort of a love letter to that kid in hopes that I might meet them some day."
This story, though imaginative and colorful, is more than just a fantasy story.
"When you have a good command of language like Grace Anne does, and you're able to paint with words, it really captures the imagination of children, and then they get this therapeutic message in the process," Dr. Kenyon Knapp, Dean of the School of Behavioral Sciences, said.
Preferably read in the storytelling style that she experienced from her father growing up, the book will be a way for children to open up about their feelings, especially if they are going through trauma. McCluskey has been able to tap into her personal story, learn from it and turn it into a tool that can be used by therapists and parents alike.
"Some people just walk around with scars and other people give God their struggle and let God use their struggle in a redemptive way," Knapp said. "So what we are looking at here with this book is that Grace has allowed God to use her struggles and transform those struggles into a redemptive product, and that product is 'The Winter Elf.'"
The book, which will not be officially released until October 2020, has already received raving reviews (even from New York Times bestselling author Andy Andrews) and comparisons to C.S. Lewis and J.R.R. Tolkien.
More information on "The Winter Elf" can be found at TheWinterElf.com.
Hale is a feature writer. Follow her on Twitter.