BREAKING: Liberty University history professor presented with Lynchburg "Top Teachers for 2020" award
This past Monday, a Liberty University history professor was taken by surprise when her class was interrupted for a random announcement. Little did she know, the announcement was meant for her. She was about to be recognized as one of Lynchburg's top teachers for 2020.
Donna Donald has been teaching at Liberty's history department for several years, and she had no idea she was nominated for the local magazine Lynchburg Living's "Top Teachers for 2020" award. One of her graduate students, Rachel Gilbert, nominated Donald after taking her "Introduction to Public History" course during the fall semester of 2018.
"I recommended Professor Donald for the Lynchburg Living award because she deserves it," Gilbert said. "She is very dedicated and works very hard to preserve and publicize local history and to involve her students in it."
Nominations for this award closed in September of 2019 before the pool of nominees was narrowed down by a panel of people from the Lynchburg community.
Although the group of 15 honorees will not be featured on the magazine until its upcoming March/April issue, Donald received her framed certificate this week at the hands of history department Chairman Dr. Samuel Smith and the magazine's Managing Editor Shelly Basinger.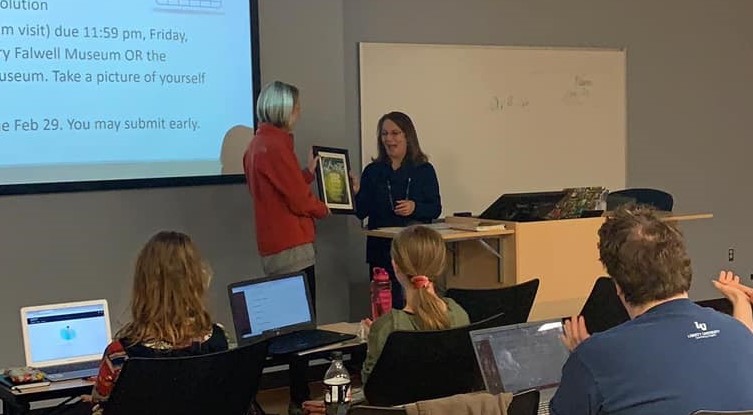 "We are very proud of Professor Donald," Smith said. "And especially appreciate her great work advancing our Public History program at historic New London."
The preservation of Mead's Tavern, purchased by Liberty University in 2015 and located in the nearby historic community of New London, has been at the core of Donald's career as a history professor. Her involvement in the archeological discoveries in New London has been applauded, not only by faculty and students, but also through this distinguished award.
"It's always nice to hear from former students who believe that I've been able to contribute to their learning," Donald said. "And I appreciate that, absolutely."
---
Elias is a feature writer. Keep up with her over on Twitter.