Valley View 5 miler — More than 100 race participants gathered to honor Donahue, a Liberty alumnus who died serving his country
On Saturday, Nov. 9, 104 racers – drawn from Liberty's student body and staff as well as from the general public – gathered at Camp Hydaway for the annual Valley View 5 Miler. The race is held annually in memory of Major Mike Donahue, a former Liberty University faculty member who lost his life in Afghanistan.
The route of the race followed a familiar course. Racers started at Camp Hydaway, where they then ran up to the Snowflex Center via the Jerry Falwell Road. From there the course followed Monogram Road to the LU Mountain Top Monogram. The final stretch of the race saw the contestants hiking down Valley View Road to the Camp Hydaway Road, which they traversed until they reached the Raccoon Alley trail, which feeds back into Falwell Road. Altogether, the racers covered five miles (26,400 feet).
"It takes about fifty minutes to an hour and ten, depending on how experienced the runner is," Joe Frey, the assistant director of outdoor recreation, said.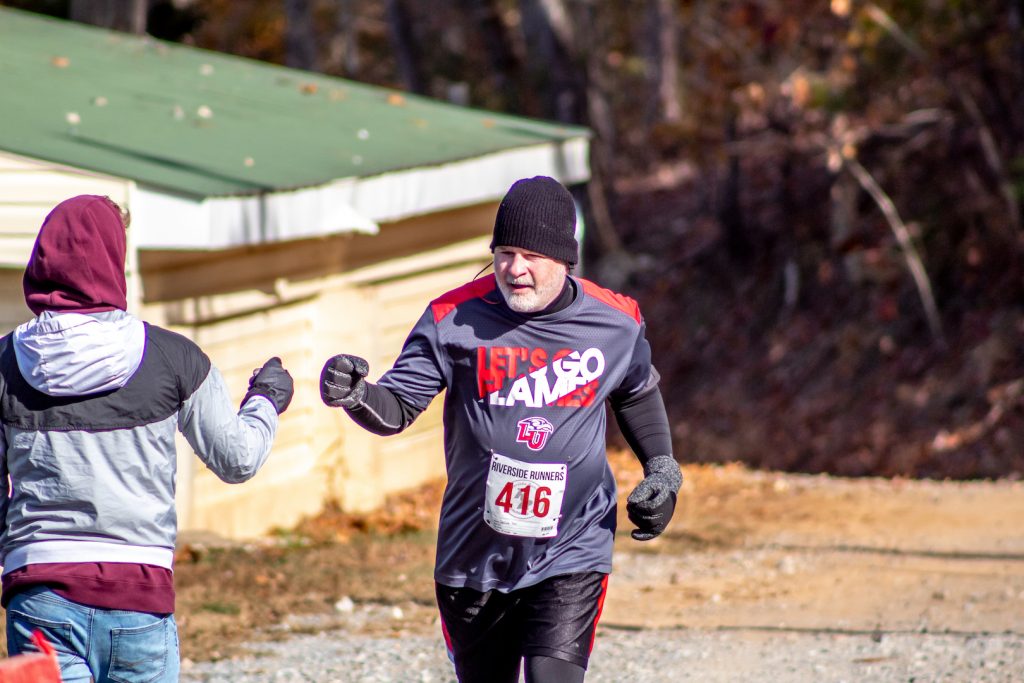 The fastest time clocked was Randall Purcell's, coming in at 37:47, having achieved an average pace 7:34 per mile. This was followed by Derek Danley, clocking in at second with a time of 38:41 and an average pace of 7:45 per mile. Third place was taken by Isaac Buckner with a clock time of 38:53, but a chip time of 38:47. Fourth place's Tom Matzke achieved a time of 38:49, which placed him above Buckner in the male division.
Shelley Stephens placed first in the female division was with a time of 50:36 and managing an average pace of 10:07 per mile, which put her in 29th place overall. Second in the Female Division was Ally Waller, crossing the finish line at 51:26 and holding an average pace of 10:16 per mile, which earned 31st in the overall division.
"While he (Donahue) was before my time, he was an avid racer," Fyre said.
Major Donahue, to whom the race was dedicated, was both an alumnus of Liberty University and an assistant professor of Military Science in Liberty's Army ROTC program for two years. He was killed in Afghanistan on Sep. 16, 2014, when a Taliban suicide bomber drove an explosives-filled truck into a nearby convoy.
Donahue had been less than 30 days away from returning home to Lynchburg, upon which he planned to continue teaching at Liberty.
Before his fatal deployment to Afghanistan, Donahue had been a frequent sight in the trail runner's club, trekking through the various paths around Liberty Mountain every Wednesday. The Mike Donahue Trailhead across from the Snowflex is now named to honor Donahue's sacrifice for the United States.