Seeing double? Liberty's campus has its very own celebrity doppelgängers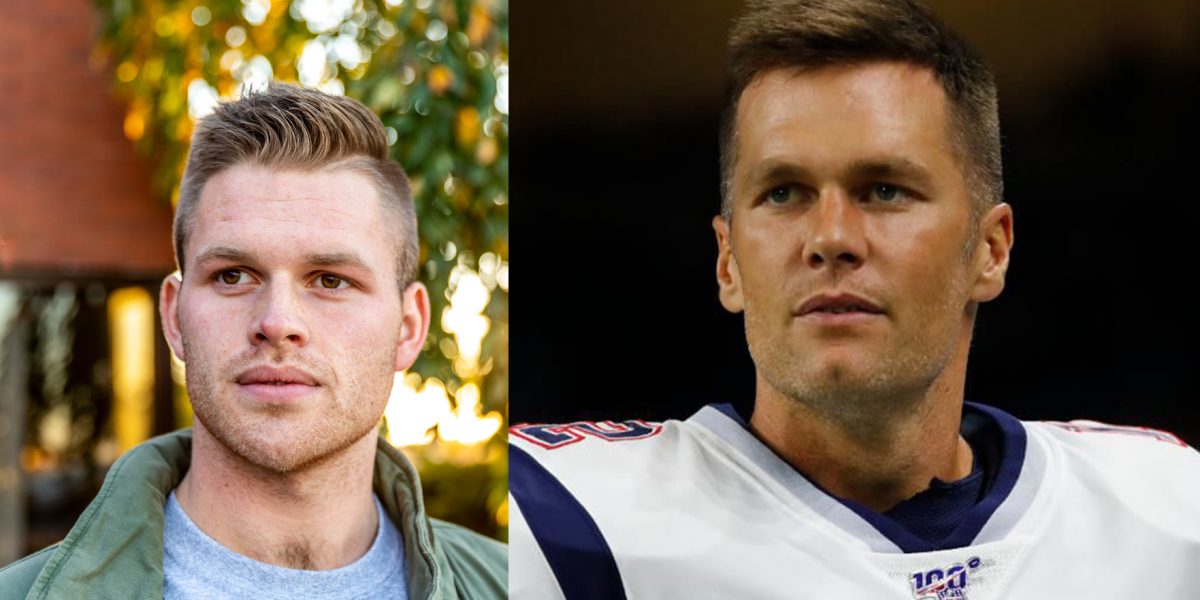 Does Tom Brady go to Liberty? No, but his doppelgänger does.
Jacob Couch, a senior at Liberty, walks around campus as a spitting image of the NFL Patriots quarterback. From his hair to his jaw, the similarities often cause heads to turn and stare. Couch said a week doesn't go by without a stranger asking about his celebrity look-alike.
In 1798, German writer Jean Paul needed a word to describe the spiritual double of a living person that everyone has, according to age-old German folklore, so he coined the word "doppelgänger." Now, the term is simply used to describe a person who looks identical to another without being related to each other.
For Couch, his doppelgänger looks are not his only similarities with Brady. Close friends of Couch have told him that he also speaks the same way as the football player, claiming they share the same voice inflections. Couch takes these comments as compliments, having admiring Brady his entire life.
"When I was a little boy, I was a big Tom Brady fan, and as I grew older, my mom said to me 'You know, you kind of look like Tom Brady,'" Couch said. "I remember as time went on, fellow football players would say the same, and my football coaches would touch on that as well."
Although comments were made in high school, Couch said once he got to college, people regularly approached him to comment on the resemblance.
"I was at Dunkin Donuts once and some students came up to me and actually thought I was Tom Brady and wanted my autograph," Couch said. "I was wearing a Patriots hat, and they were convinced that I was him."
Though many people share facial features, only a few can claim doppelgänger status with a celebrity.
If you thought you saw Captain Marvel walking to Green Hall, you probably saw the Marvel superhero's doppelgänger, Emily Baker.
The clear similarities between Baker, a senior at Liberty, and the actress Brie Larson quickly brought people up to her after discovering the likeness. According to Baker, people started approaching her after Larson's box-office movie "Captain Marvel" came out in theaters. Baker said she sees a little bit of the similarity in their eye shape and forehead.
Emily Baker

Brie Larson
Baker's close friends were the first ones to point out the resemblance, but as the movie became popular, strangers made their way up to tell Baker their discovery. While working at GameStop, Baker said customers would tell her at the cash register that she looked like Larson.
"I know a lot of people have a horrible idea of what they actually look like, so I am kind of glad I am told I look like Brie Larson so I have some objective idea of what I look like," Baker said.
While Tom Brady and Brie Larson doppelgängers stroll through the Liberty campus, look-alikes of Meghan Markle, actress-turned-duchess, and Lorde, American singer, also make peoples' heads turn.
For Mikayla Quarfeld, a look-alike to Lorde, she said she is confused by the comments that come her way. After growing out of her pencil-straight hair, Quarfeld's long, curly hair made the similarities to Lorde more distinct.
Mikayla Quarfeld

Lorde
Quarfeld said that every time a College for a Weekend rolls around, someone always tells her about her doppelgänger looks.
"When people started telling me I said 'absolutely not,'" Quarfeld said. "I did not see it at first, but then I looked up some photos of her and saw more similarities in our face structures, but not necessarily features."
Once Meghan Markle, Duchess of Sussex, came into the spotlight, friends of Meghan Murray, a junior at Liberty, started to realize their friend was a doppelgänger to the soon-to-be duchess.
Meghan Murray

Meghan Markle, Duchess of Sussex
"I was checking into a hotel in California and the two guys sitting at the front desk looked at me really weird as they asked for my ID because they thought I was Meghan Markle," Murray said. "They asked me once I checked in if I was her."
Like Querfeld, Murray does not see the resemblance to Markle, but takes the comments as a compliment. Murray said she thinks the way she dresses adds to the Markle similarities, along with having her name spelled the same way. On her hall in Commons 1, everyone refers to Murray as Meghan Markle, a nickname started by one of her resident assistants. 
Many lookalikes attend Liberty, but few can say their doppelgänger is a celebrity. But with these doppelgängers walking about Liberty's campus, others may be lurking around the corner waiting to be discovered.