Liberty's racquetball team enjoys growth and camaraderie through rebuild
Many college athletes spend years preparing for sports at the collegiate level. Countless hours go into honing their craft. But for the Liberty racquetball club team, success within the Mid-Atlantic Collegiate Racquetball Conference has come with many players having no previous experience with the sport.
The Liberty racquetball team is midway through its season, and although the sport might not be the most prominent on campus, the racquetball team plays for the joy of the game and the growth of the team.
For many of the team's players, racquetball was a foreign sport when they first stepped onto Liberty's campus. Junior Rachel Gay and first-year graduate student Daniel Seibler both came to Liberty with no intention of playing a sport. But both now play racquetball for Liberty's club team.
"I didn't start playing until my junior year of college," Seibler said. "It was just because I had a friend on my hall who was on the team … but he played with me, and the first time I ever beat him the coach came in and saw the match. So he saw me beat this DII player and was like 'Why aren't you playing racquetball?'"
"I started last fall," Gay said. "I was sitting in class with one of my friends, and she mentioned going to play racquetball, and I was like 'Oh, I'll go try and play racquetball.' Little did I know that I was walking into tryouts and team practice, so I picked up a racquet here for the first time."
With how inexperienced many of the team's players are, Coach Danny Rodriguez begins practices by teaching the fundamentals.
"We like recruiting players that have never played before," Rodriguez said. "We teach them everything they need to know. We teach them all the rules (and) the basics of racquetball. After the basics, it's up to them to develop their talent."
But players learn more than the game's basics. Both Gay and Seibler conveyed how the sport helps them within their academic career at Liberty. Gay, a nursing major, and Seibler, a graduate student in the field of psychology, expressed the importance of racquetball in developing
their academic skills.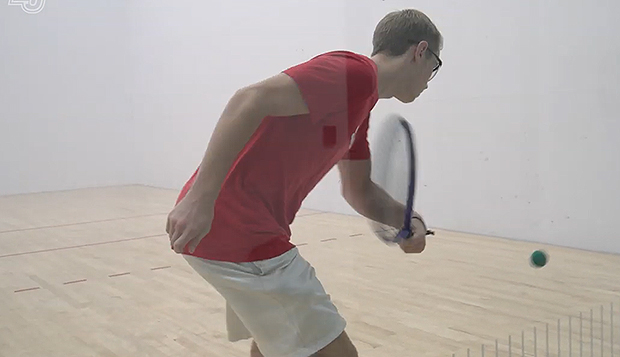 "You might play one terrible game, but you have to get yourself out of that headspace and bring yourself back in to play the next game," Gay said. "For me, it has helped a lot as far as studying and test-taking, especially just being able to focus in on this one thing and not letting one bad move get to you."
Seibler returned to Liberty specifically to play racquetball after a year off. As a graduate student, he expressed how important the game is to him.
"It's been everything to me honestly," Seibler said. "When I joined this racquetball team, it really gave me something to attain. It really gave me something to excel at and be everything I could be for it."
Since the team started with only four players in 2011, the program has grown to having both men's and women's divisions within the team place within the top five consistently in the conference of 18 teams. However successful the program grows, though, Rodriguez said that enjoying the game is ultimately his players' priority.
"Racquetball is one of the easiest sports to learn," he said. "Once you get to hitting the ball and having fun, that's what matters – just as long as you're having fun."
The team will play in the Intercollegiate National Championship in Louisiana March 25.