Muscular Distrophy Walk — Students, locals joined to raise funds and awareness for MD through SGA event
Muscular dystrophy, which causes progressive weakness and loss of muscle mass, affects multiple students at Liberty.
In March 2019, Liberty students Kristen Caldwell and Casey Saul reached out to the Student Government Association (SGA) to discuss hosting the Liberty University Muscle Walk, a Muscular Dystrophy Awareness (MDA) 5K to raise funds and awareness for the disease.
Caldwell and Saul both have spinal muscular atrophy (SMA) type 3, a form of muscular dystrophy, and have been involved with MDA for years. Caldwell explained how they both felt Liberty would be a great place to raise awareness for this disease.
Student Body President Derek Rockey felt honored they asked SGA and decided the walk was a perfect event to host.
Rockey said the theme "One Liberty" would bring about a more unified student body. The organizer wanted to highlight the few students who are sometimes unintentionally overlooked.
"Even though a few people in our student body have this disease, we want to honor them," Rockey said. "We want all of the student body to be heard."
The purpose of Saturday's walk was to raise awareness, but participants also raised nearly $6,500 for MDA out of their goal of $10,000, according to the website. Donations can still be made at mda.donordrive.com to Liberty's walk or muscle walks held throughout the nation.
MDA exists to discover new treatments for the different forms of muscular dystrophy. Each dollar donated goes towards research funded by MDA.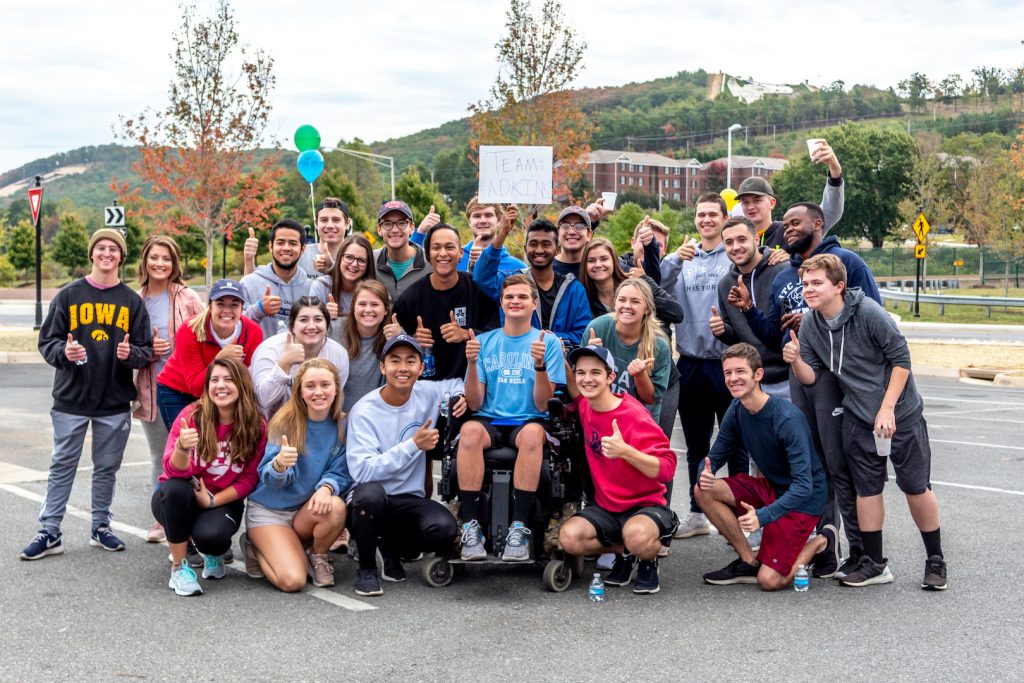 This past year, Caldwell and Saul have both been able to receive the first treatments for SMA, and it has helped slow the progression of the disease. The treatments give them stronger and healthier lungs so they can live longer.
MDA researchers have discovered seven new life-changing treatments in the past four years, alone, according to the MDA Muscle Walk website.
"It gives me a hope for the future. It wouldn't be possible without donations. I'm super thankful," Caldwell said.
Diane Boardman has worked at the MDA for almost 28 years and worked with SGA on this event. Boardman said most people with a form of muscular dystrophy often live life on the sidelines. Raising awareness for the disease allows others to have the opportunity to love on them, include them and make them feel heard.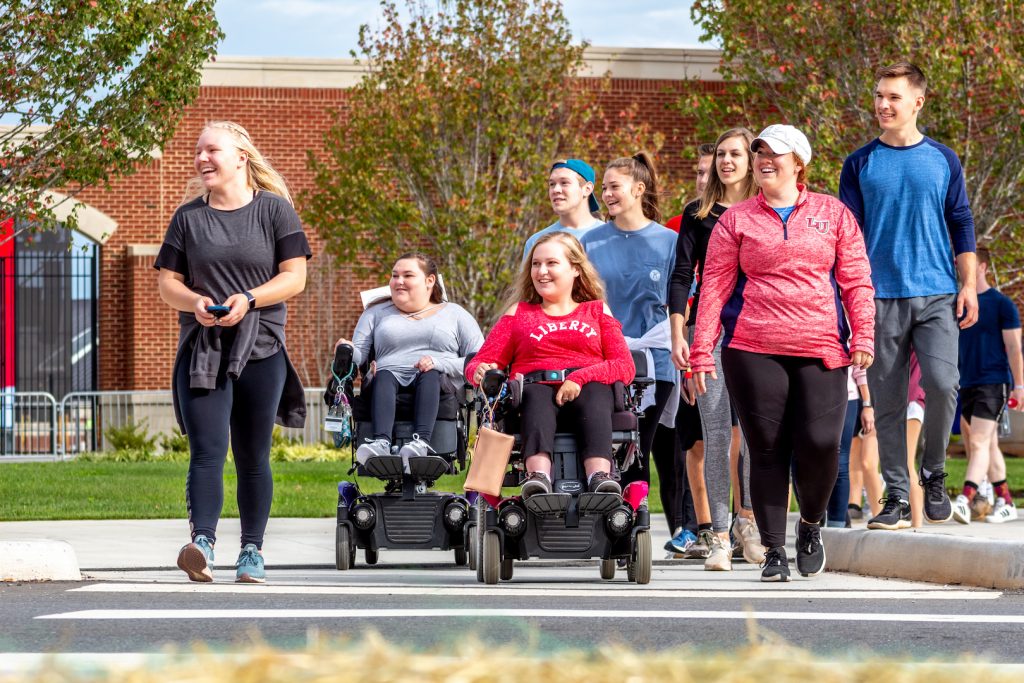 After senior Savanna Vaughn sang the national anthem, everyone prepared to walk. Rockey counted down from 10, and the walk began with shouts of excitement, joyful music and beautiful weather.
Caldwell and Saul led 50 people around the perimeter of Liberty campus, and they all walked united, honoring those living with muscular dystrophy.
The walk finished with cheers, celebration and community.
Chill City Pops were sold and SGA provided doughnuts, coffee, chips and water. Several groups also took a moment to pray over the funds raised and the treatments they would bring.
Saul was in awe of the support and compassion Liberty and the Lynchburg community showed Saturday morning.
"I feel amazed at the support and the love and the excitement for something they didn't even understand," Saul said.
Rockey said seeing the support across campus and the community was phenomenal and that he hopes this will become an annual event for years to come.