Liberty students organize peaceful protest on campus in response to Falwell accusations. Both sides represented.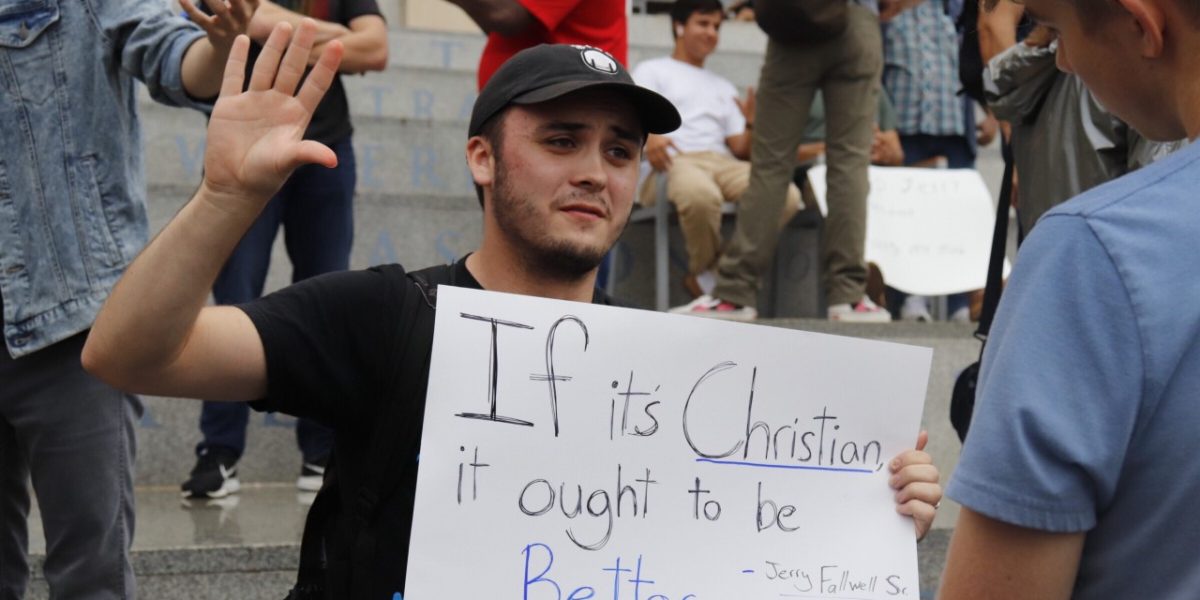 A student-organized protest gathered on the steps of Montview Student Union Friday afternoon in response to recent allegations published by Politico and Reuters against University President Jerry Falwell Jr.
Plans for the protest began early Thursday morning when senior Liberty student Elizabeth Brooks posted a graphic on Twitter promoting the demonstration. The graphic depicted a cutout of President Donald Trump and Falwell with the message "Be the change. Protest," and included the date, time and location.
Brooks decided to organize a protest following the release of a Reuters article Sep. 12 that accused Falwell of sending emails containing derogatory messages about students, faculty and parents.
This followed a Politico article released Sep. 9 detailing allegations against Falwell's personal behavior and relationships with business partners.
"I really felt the need that I can't sit by the sidelines anymore and that if no one else is going to do (something), then I will," Brooks said.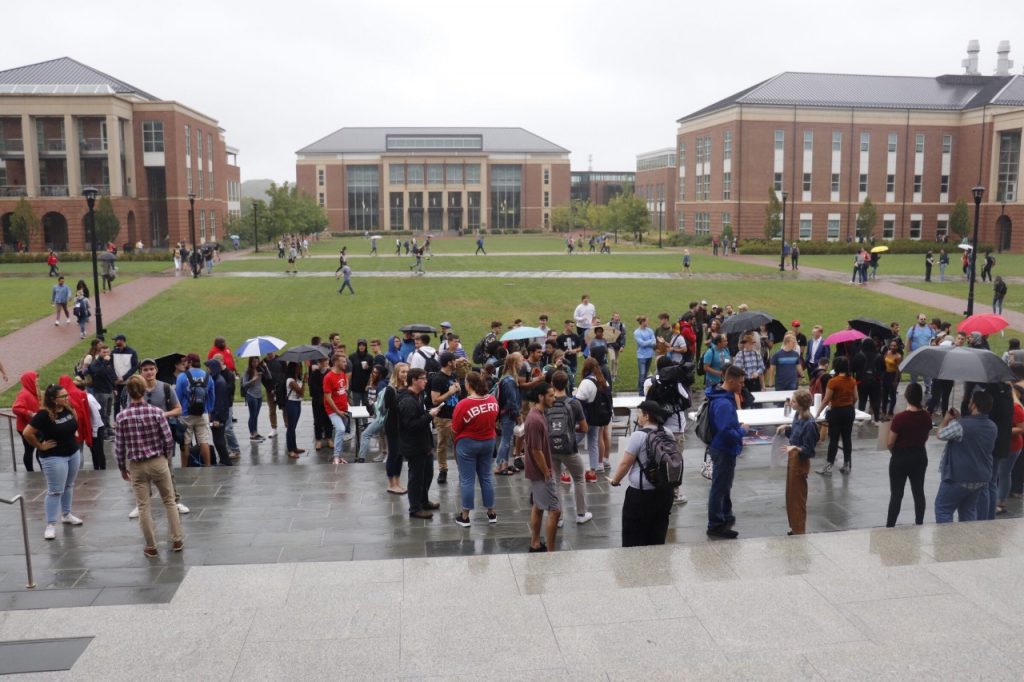 For over an hour, 10 to 15 students gathered on the steps holding signs and engaging in dialogue regarding the articles released earlier in the week. Around 100 others observed, some supported Falwell and some engaged in dialogue.
Falwell complimented the students' maturity and civil discussions on Twitter shortly after the protest ended.
"I'm so impressed with how (Liberty) students conducted themselves today at the protest," Falwell Tweeted on Friday. "The ones who had concerns and the ones who supported me were both respectful and not angry — very Christ-like in their behavior."
One of the protest participants, junior Audra Salamy, said she decided on Friday morning to come to the protest.
"I have been vocal about this issue on social media and thought that if I am going to be speaking out about Jerry and my concerns, I need to stand up and have action behind what I believe," Salamy said.
Former Liberty student Cam Morin attended the protest in support of his friends. He expressed concern that Falwell was not being held to the same "standard" as university students and is causing a "negative representation" for the campus.
Students Michael Faragalla and Trumpet Daniels decided to take a different stance and support Falwell, saying he does not deserve so much hate. They sat behind the protestors, holding a sign that said "Keep Jerry as President. Change My Mind."
Another individual held up a sign reading "I TRUST JERRY."
"I think everyone should have a voice, and I don't think everyone should get so crowded with (the Politico article) coming out and everyone's perspective is changed all of the sudden," Daniels said.
As both Fargalla and Daniels sat with their sign, many protest observers and participants came up to have a civil discussion with them about the Falwell allegations.
"We have been having people supporting us and having a conversation with us about the issue," Fargalla said.
Aaron Sobczak, a senior studying international relations and French, attended the protest and said his main reason for attending the protest was for dialogue.
"I think it is really good as a university that we are actually able to have this kind of demonstration, so I commend the university for not shutting this down," Sobczak said.
Senior Ian Parrish, one of the protest organizers alongside Brooks, was pleased by the turnout. Parrish described himself as a "critic" of Falwell, but he ultimately did not join the protest until the Reuters article came out. Parrish was pleased to see people engaging in conversation and discussing disagreement.
"That's kind of what I love about Liberty," Parrish said. "We're able to have civil discourse. Not all of these people support or have the same goal here, but they're all being civil."