Flames football defeats New Mexico 17-10 in defensive battle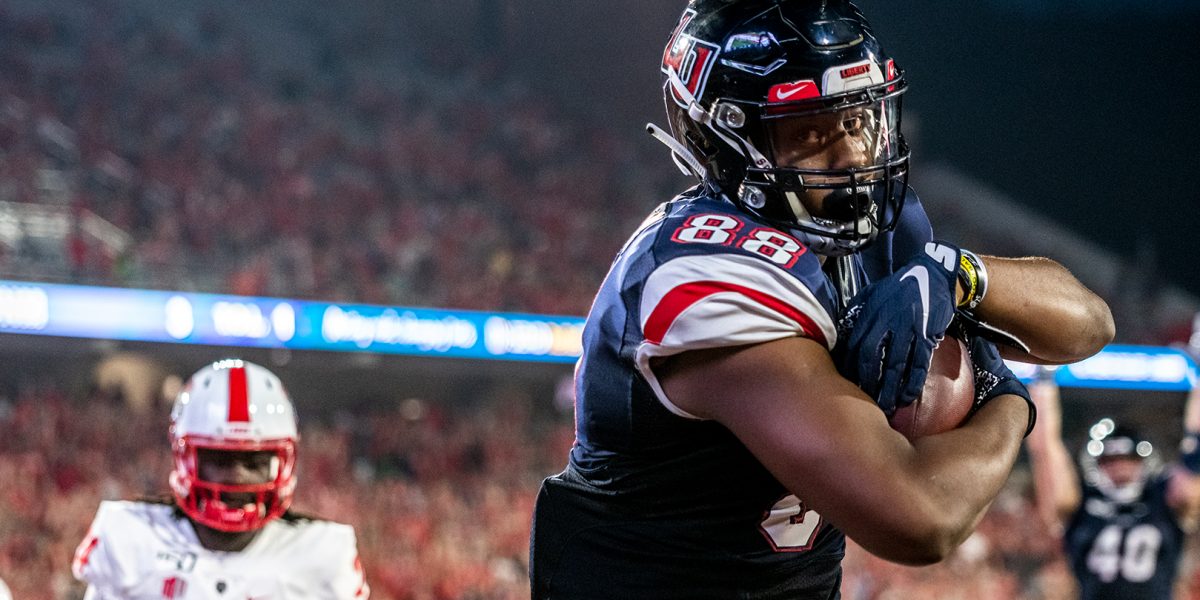 Flames Head Coach Hugh Freeze expected an offensive shootout Saturday night against New Mexico. The game's end result was anything but offense-driven.
"The game went nothing like what I thought it was going to go," Freeze said. "I went for it on fourth and 2 on the 40-yard-line to start because I had my mind made up that this was going to be a 45-41 shootout type of game. I quickly changed my mindset, but Scott (Symons) and his staff did a phenomenal job."
The Liberty Flames football team displayed a strong defensive performance Saturday in their 17-10 victory over the University of New Mexico Lobos, a team they defeated 52-43 last season. The Flames earned a total of 466 yards – 306 passing and 160 rushing.
Saturday's win extends Liberty's win streak to three games, and Head Coach Hugh Freeze said the team's winning mentality will be crucial going into the team's second away game of the year next weekend.
"I'm really proud for them — that's something they can build on and gain confidence," Freeze said. "We really need that going on the road. You have to play great defense on the road, so this is something I think we can build on."
The Flames also saw one of their own crush a school record when senior wide receiver Antonio Gandy-Golden came down in the endzone with his 28th career touchdown at the end of the first quarter, becoming the school's all-time top touchdown receiver.
The first quarter was an eight-drive deadlock between the Flames and the Lobos with New Mexico regularly closing Gandy-Golden out of the game with double coverage.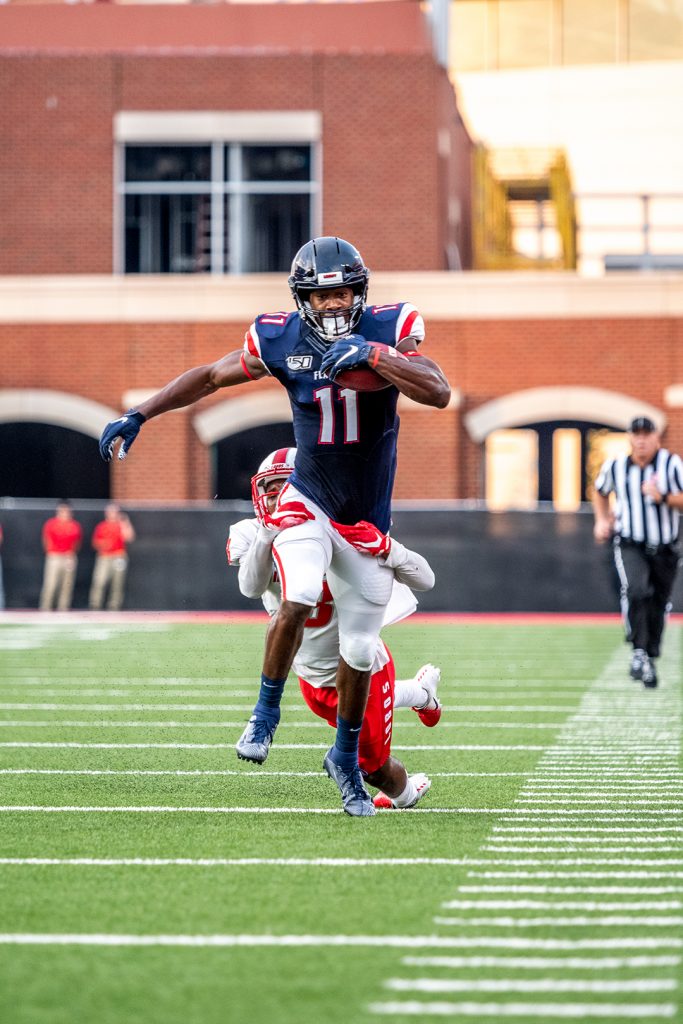 That is, until Gandy-Golden swapped formation and raced downfield 51 yards with single coverage, coming down moments later with the ball on the New Mexico 8-yard-line. Two plays later, he came down with the ball again in the endzone to snatch the school record.
But according to Gandy-Golden, the record was just that — a record.
"It's cool, but we have to wash that away," Gandy-Golden said. "There's more to come – this is only one. Hopefully I'll score more touchdowns by the end of the year. It's cool, but I have to come back tomorrow ready to work."
A good extra point from kicker Alex Probert put the Flames ahead 7-0 and closed out the first quarter.
Though Gandy-Golden did not see as many receiving yards as usual, Gandy-Golden still holds the second-highest receiving yards in FBS football this season with 688. Arkansas State's Omar Bayless currently holds the highest total by only a yard, with 689.
The Flames defense came out strong in the first drive of the second quarter, with redshirt junior nose guard Ralfs Rusins recording his first sack, which was also New Mexico's first allowed sack of the season. New Mexico refused to leave the drive scoreless, however, and ended on a 52-yard field goal that barely made it between the posts.
Defensive coordinator Scott Symons said Rusins' play was nothing surprising.
"For a nose guard to have nine tackles is a big deal," Symons said. "But (Rusins) has been doing it since camp — he is a big, strong human being. … I'm really, really pleased with how he's playing and I think he's going to continue to make those plays for us."
According to Rusins, his exceptional play was simply his responsibility as a player.
"I was just doing my job and having fun doing it," Rusins said. "Every play I go full-out, so it just happens that I'd be running my gap. I just try to execute my game plan as much as I can."
The Flames responded to New Mexico's field goal with another touchdown two drives later, this one on a pass completed to tight end Jerome Jackson. Another successful kick from Probert made the score 14-3, with the Lobos unable to regain any ground before halftime.
The Lobos failed to gain any ground when they received after halftime, with the Flames forcing them to punt from their own 38. Liberty found success on the next drive and scored its last points of the game on a 42-yard field goal from Probert, climbing up to a 17-3 score with just under 10 minutes left in the quarter.
Neither team scored for the next 24 minutes, much to Freeze's chagrin.
"Offensively, when you have almost 500 yards, you have to have more than 17 points," Freeze said. "So I'm frustrated with myself, just frustrated that we didn't put the game away. … We should have put the game away, and we didn't."
New Mexico finally chalked up the last points of the game with less than a minute left when Tevaka made a 14-yard pass into the endzone, followed by a successful extra point.
But the Lobos refused to let the game go easily, nearly taking the ball back with an onside kick after a last-moment switch of kickers. However, the Flames defense overloaded the return line with experienced ball handlers and redshirt senior Damian King secured the ball and the win.
The win was an important one for the Flames as they head into their second away game of the season next weekend when they travel to take on New Mexico State.