A love of the sport and hours of practice push Liberty University archery team toward high goals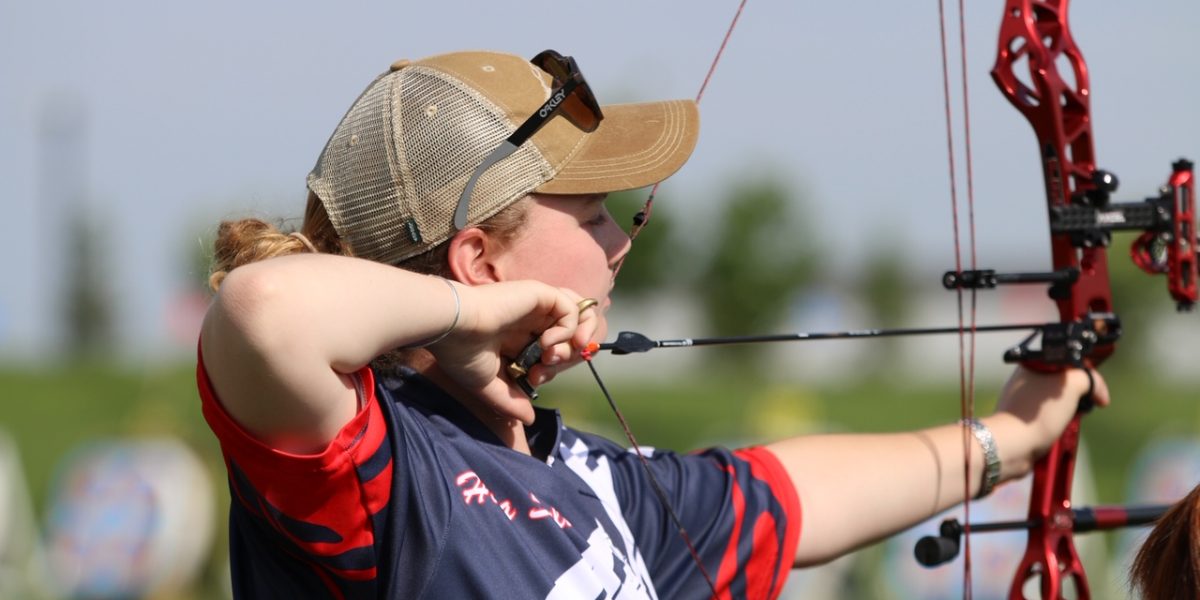 Long practice hours several times a week prepare archers on Liberty's club sports archery team for championships, but sometimes the greatest challenges for Louis Boyd and Hala Skelton don't come from lack of time. 
In May of 2019, Boyd and Skelton placed highest out of Liberty's archers at the USA Archery Collegiate Outdoor National Championships, helping Liberty tie for 33rd out of 61 schools. Their mixed compound team placed in the quarterfinals.
Boyd is a grad student working for his master's degree in divinity.
Skelton started learning to shoot a bow when she was 12 years old at a camp near her home. Her passion for the sport continued over the years, and as a sophomore, she plans to continue
shooting.
Archery is a sport full of challenges. Learning how to deal with weather, overcoming tournament fear, becoming consistent – developing the right techniques takes years of practice.
With how repetitive archery is, that practice is essential for developing muscle memory and consistency. Though Liberty's archers are required to come to practice twice a week, Boyd practices at least three times a week.
"Archery isn't about who's the strongest, or fastest," Skelton said. "It's about being consistent with everything you do, your muscle memory. Even standing differently can make a huge impact when the target is far away."
One of the greatest challenges for being consistent is overcoming tournament fear, according to Skelton. Knowing how to shoot is one thing, but being able to use consistency with tournament fear is quite another.
Weather also plays an important role in archery. At last year's national championships, the team faced high winds, and on the practice field a breeze is a common companion.
To adapt to changing weather, Liberty has three different archery practice areas. The team practices indoors regularly in winter and outdoors for most of the other seasons. One kind of outdoor practice involves generic targets on a flat field, but "3-D practice" means shooting at an object like a deer shape in
the woods.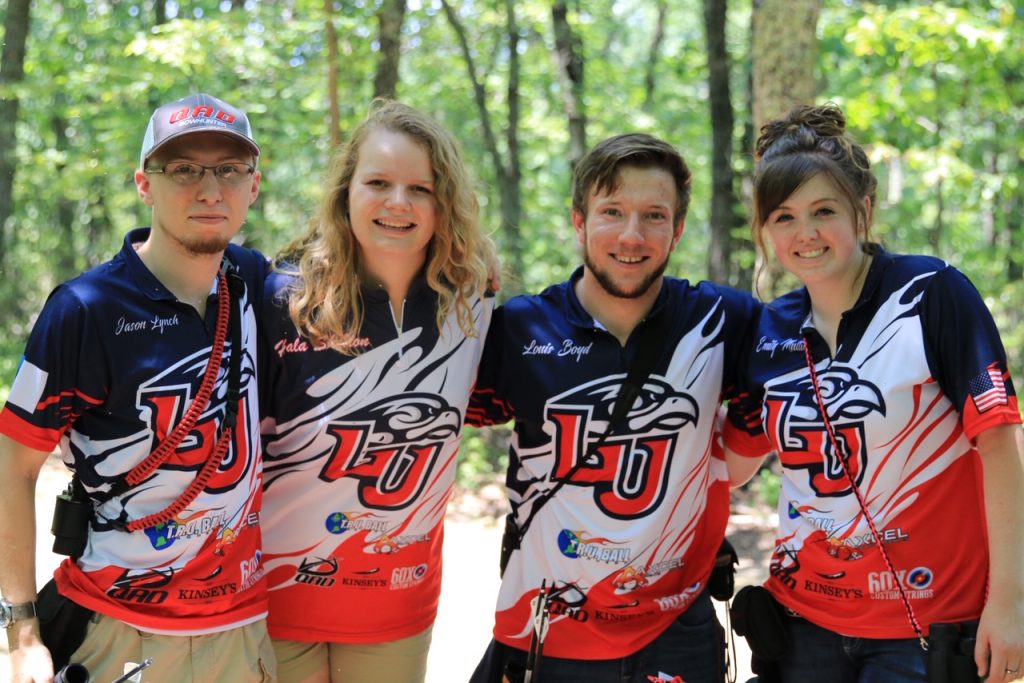 For students interested in archery, Liberty offers bow rentals and a class for beginners. Boyd encourages students interested in archery to avoid allowing perfectionism to steal the enjoyment of the sport.
"Develop a love for shooting first," Boyd said. "Being meticulous from the start makes you lose your love for it."
Boyd wants to place nationally again and maybe shoot at the Vegas 300, the world's largest archery tournament.
"I love archery so much, but it's so hard for a woman to get far in the sport," Skelton said. "But I still do want to get to the All-American team one day."
Both Boyd and Skelton have kept their love for archery throughout their years of shooting, and they know and acknowledge the source of their skills.
"We can glorify God with anything He's given us – any talent, any team," Skelton said. "Archery is such a cool way to reach people."
Skelton also uses a biblical reference to start conversations about Jesus. The word "sin" in archery literally means "to miss the mark."
"It's a great way to show that no matter how hard we try, we still miss the mark and need Christ," Skelton said. "Your arrow will only go as far as you can pull the string back. We are never strong enough to hit the target on our own."
Being a witness for Jesus to an opposing team can be difficult, but Skelton said learning to show the love of Christ in a competitive setting is a process.
"You're in an environment where you can be a light," Boyd said. "Hopefully doors will open."