Mike Lindell gifts Liberty University students MyPillows during the school's weekly gathering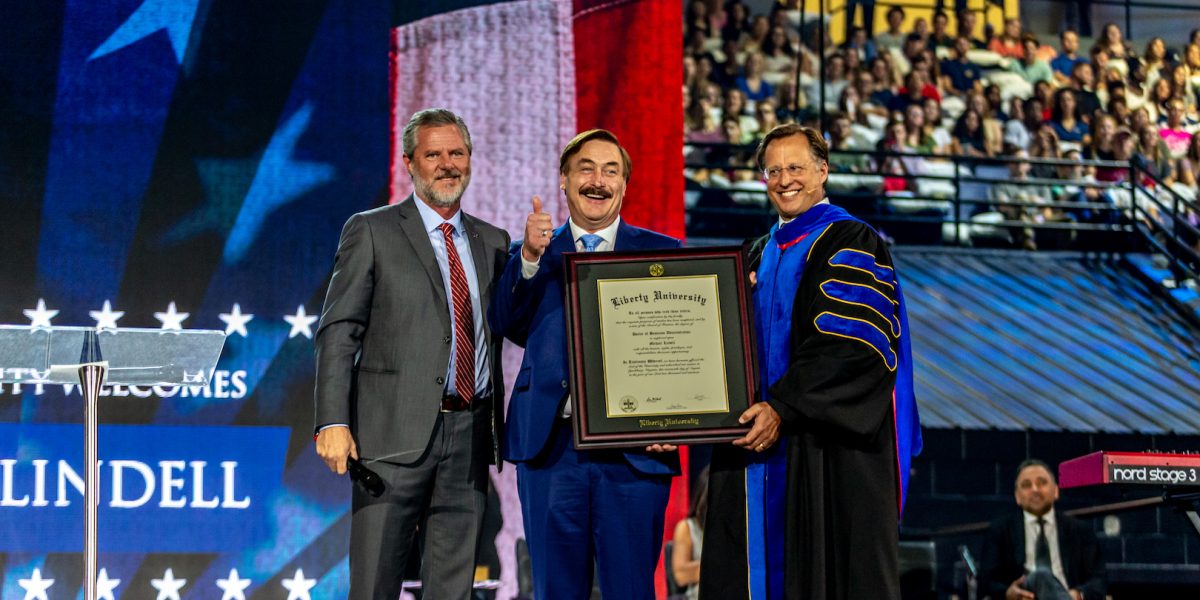 Liberty University kicked off the fall 2019 Convocation season by welcoming MyPillow, Inc. founder and CEO Mike Lindell to address the student body.
Liberty University Worship Collective led students in worship and a masked dancer in a mirrored suit hyped the crowd as a choir performed.
Multicolored pillows across the arena spelled out the words "We are Liberty" and "LU" on the sides of Vines Center as the students participated in an interactive game with pillows.
Mike Lindell offered more than just words of encouragement to Liberty students during the first Convocation of the semester. The former drug addict-turned-CEO provided each of the 12,000 Vines Center guests with a MyPillow. This gift is valued at over $600,000.
School of Business Dean Dave Brat and President Jerry Falwell, Jr. presented Lindell with an honorary Doctorate of Business to honor his success in business and adherence to Liberty's entrepreneurial values.
Lindell's company employs 1,600 workers and has sold over 41 million pillows since its inception in 2004.
"I can't think of anyone who epitomizes the principles of this school better than Mike," Falwell said.
Lindell shared his testimony and detailed his journey of addiction, recovery, heartache and success with students and announced the upcoming release of his autobiography. Wednesday marked the first time Lindell shared the full version of his testimony on a platform as large as Liberty Convocation. 
"The pillow is just a platform for a much bigger thing," Lindell said. "My calling is to speak out the word of Jesus."
Lindell encouraged Liberty's student body with the wisdom of Proverbs 3:5-6: to "trust in the Lord with all your heart, and lean not on your own understanding; in all your ways acknowledge him, and  he shall direct your paths."
"You guys here at Liberty are the hope of the nation, and right now you are on the right paths, paths that I didn't take back then," Lindell said.
Falwell and Lindell later announced on Twitter that a school-wide pillow fight would take place on the academic lawn.
Over 100 students gathered on the academic lawn for a friendly pillow fight with their new MyPillows, but they did not break the 2018 record for the largest pillow fight with 7,881 participants, which is held by MyPillow, Inc.
 Lindell's autobiography, "What Are the Odds? From Crack Addict…to CEO" will be released soon and is available for preorder now.