Liberty University 2019-20 student body president and vice president inaugurated
Derek Rockey and Esther Lusenge were officially inaugurated April 24 to the positions of student body president and vice president, respectively, after an uncontested campaign.
According to Election Commissioner Luke Broadway, the pair won 89 percent of the votes from students, with 11 percent of the votes going to write-in candidates. Since the pair ran uncontested, this election week was much different than any other campaigns Rockey and Lusenge have experienced in the past.
In two other past elections, Rockey and Lusenge ran on separate campaigns against one another, and their decision to run together during this election came as a surprise to many of their past supporters. In the 2018 election, the pair fiercely campaigned against one another for the student body vice president, with Rockey taking the win with his running mate, Jake Page.
Rockey and Lusenge have openly admitted that their past campaigns had put a divide between them, but they were able to reconcile their relationship over the summer when the pair attended a trip to Israel through LU Send. The two had an opportunity to talk about their past campaigns when they ran against one another – once in class elections and again in student body elections – and begin to resolve the problems they had.
"We had really, really great conversations where I started to see some of my walls go down and some of his walls go down and really started to see the incredible things people were saying about Derek Rockey," Lusenge said.
When the pair decided to run together, another campaign team initially planned to run but dropped out of the race before anything was formally announced, leaving Rockey and Lusenge to run unopposed. However, this did not stop Rockey and Lusenge from promoting their campaign on social media and rallying support from the student body.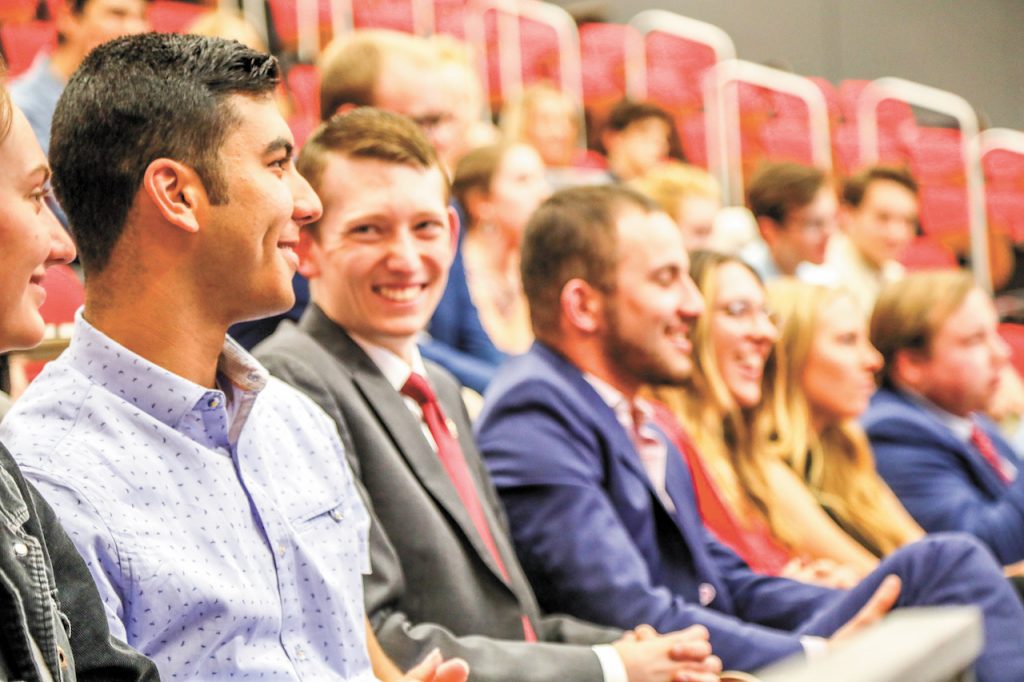 Typically, a debate is held during election week to allow candidates to question their opponents about their platform and policies. Since Rockey and Lusenge did not have anyone to debate them this election week, Broadway hosted a town hall where he questioned the candidates about policies and possible concerns students could have about their platform and campaign.
A central part of Rockey and Lusenge's platform is unity, which they addressed in a variety of questions at the town hall event. According to Rockey and Lusenge, a key part of unity is reaching students from a variety of groups and communities on campus and being intentional.
"By being intentional and not expecting people to come to our table but inviting them or even going out to them and bringing them in … I think we're going to be able to continue to build and establish great relationships with our peers and unify them on what unifies us," Lusenge said.
A key parts of the pair's platform includes promoting positive relationships with administration. Rockey and Lusenge acknowledged that they have had the opportunity to form relationships with administration due to SGA, and they want to be able to offer students a more direct line of communication with administration. Lusenge believe that in order for SGA to continue being effective, good relationships with administration is key.
The town hall also addressed the pair's desire to remove elitism in SGA and be a place where students can come and voice concerns. Over the past year, Page and Rockey established Table Talks, an event where students could come and voice concerns about certain topics. Rockey said that he and Lusenge plan to continue Table Talks next school year.
"Especially if there is a triggering event that happens, I want SGA to be the first line of communication, and I want SGA to be the first ears to the people that have been directly affected by that so we can bring that to the administration (and) we can actively serve those students," Rockey said.
During the inauguration April 24, Rockey and Lusenge gave many thanks to their supporters and expressed their excitement to serve the student body in the 2019-20 school year.