Freedom 4/24 held its annual 5K race 'Run for Their Lives'
Freedom 4/24 had hundreds of people race for the lives of women and children forced into human trafficking in the U.S. and around the world April 27 during the annual 5K race. In total, 460 volunteers and race participants came together on the day.
The 5K event called "Run 4 Their Lives Lynchburg" started at Liberty's indoor track and field facility Saturday morning.
This local non-profit organization works to bring awareness to human trafficking and hopes to help put an end to this issue. Throughout the year, Freedom 4/24 hosts a variety of fundraising events that allow them to sponsor their six domestic and three international partners.
According to Faith Towles, Freedom 4/24's director of programs, the races are held to spread the word about human trafficking and how people can make a difference in stopping it.
"Through the event, it creates more awareness to the issue of human trafficking in each community the race is held in," Towles said. "Participants also get to learn more about what Freedom 4/24 is doing and the opportunities we have for them to further participate with the organization."
In 2018, the organization was able to grant over $200,000 to its partners while also mobilizing teams to provide in-country support. Because of the money raised from the Run for Their Lives event, Freedom 4/24 is able to continue extending those grants to their domestic and international partners. With these funds, one of their partners in Uganda, Christine's House, can continue providing women a place for healing and a safe environment to learn new skills.
Saturday's Run for Their Lives in Lynchburg was only one of the four races held this year. Other races took place or will take place in North Carolina, Tennessee and California in 2019.
On the morning of April 27, staff members, volunteers and race participants gathered to further the mission of Freedom 4/24 to end human sex slavery. Liberty's Freedom 4/24 club also volunteered at the race, along with Campus Serve and members of the Liberty cheerleading team.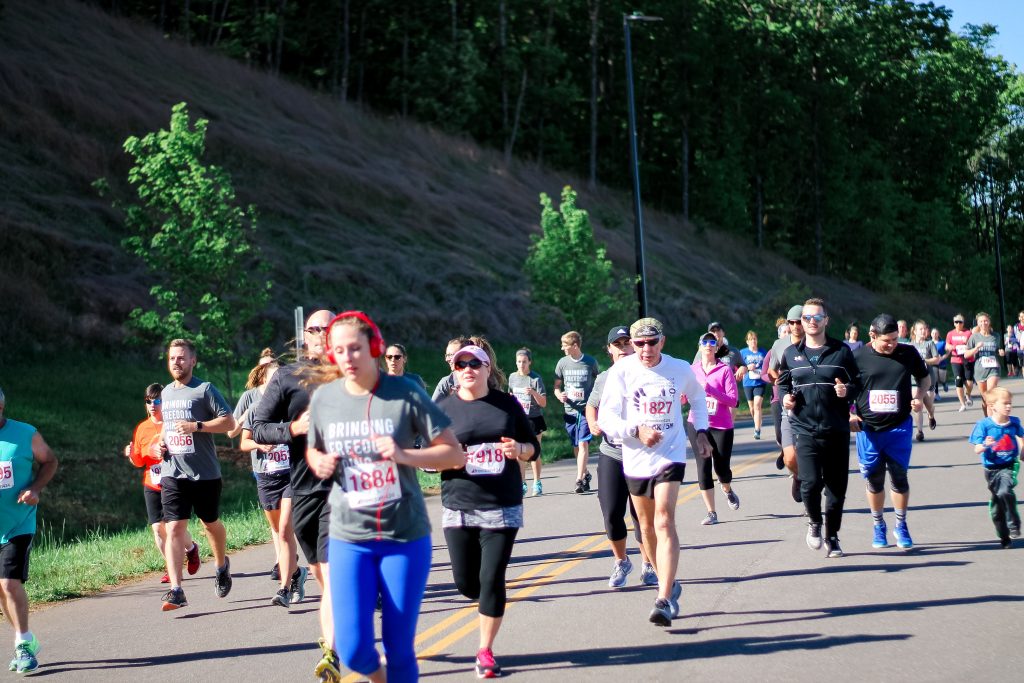 Danica Bazilme, a member of the Freedom 4/24 club, helped with the event by writing the names of human trafficking victims on each of the runners' wrists. Each name was that of a woman or child whom Freedom 4/24 had rescued from slavery.
"I know when I was running the race last year, seeing those names pushed me," Bazilme said. "Three miles is nothing compared to everything those women have gone through."
The Freedom 4/24 club on campus works directly with the organization to bring awareness to Liberty students and show them how they can get involved with the fight. The club also hosts its own fundraisers for students, giving all the proceeds to Freedom 4/24.
Towles said community involvement makes a huge difference, as it supports the organization financially.
"Volunteers from the community serving the event give us their time to help, and community sponsors help fund the expenses of the event, so the runners' fees go directly towards supporting Freedom 4/24's mission," Towles said.
Liberty has sponsored the event the last four years by providing Freedom 4/24 event support. This includes access to Liberty's events team and sound crew, along with a contained area to hold the race. Towles said the resources saved from location expenses allow them to give more to their partners.
Representatives from the Junior League of Lynchburg, along with the University of Lynchburg's (UL) volleyball team, also came out to support Freedom 4/24.
The UL volleyball team's Head Coach Elizabeth Ellinger said this year would be the fourth year the team has been a part of Run for Their Lives. As a team, they frequently volunteer with Freedom 4/24, helping with their annual gala and volunteering for the race.
"We asked the girls to look around the community and find a need, and Freedom 4/24 is what they found," Ellinger said. "We have a very altruistic heart as a program and Freedom 4/24 is just a cause that touched our hearts."
All the players ran as a team for the race, and Ellinger said she was proud of them for coming out and giving their time for this mission.
The founder of Freedom 4/24, Christine Gelatt, a Liberty alumna, created the organization 11 years ago during her junior year of college after interning in Thailand and seeing the effects of human trafficking first-hand. Gelatt came back to the States changed and motivated to do something to help put an end to sex trafficking. What started as T-shirt fundraisers soon became the organization it is today, reaching girls all around the world to bring freedom and justice.
The current president of the organization, Joy Cover, challenged participants before they started the 5K race to be thinking about all the women and children who are still in a place of darkness.
"We hold events like this to shine light on the darkness and bring awareness and education about the issue," Cover said. "If people are aware of it, the more we can bring an end to it."