Liberty's office of equity and inclusion hosts Leadership Excellence and Academic Development (LEAD) seminar, Mar 2

Students involved in the Leadership Excellence and Academic Development (LEAD) Fellowship discussed career, culture and work ethic during a monthly seminar hosted by the Office of Equity and Inclusion, March 2, in the Hancock Welcome Center.
"You get to meet other students who might have similar cultures and interests," David Li, a freshman at Liberty, said. "There are several activities you can be involved with and talk with others about your interest and ideas."
The LEAD Fellowship offers students the chance to succeed through experimental learning opportunities. Through monthly seminars like this one, all the students who participate are expected to engage in conversation and learn from each other.
All students are welcome to apply for the LEAD Fellowship, and if accepted, will receive a scholarship. Along with the monthly seminars, students in the program partake in community service, mentoring, cultural experiences and family development.
Li is participating in the LEAD Fellowship for a second semester and said he joined the fellowship not only for the scholarship, but also to interact with other students from the program.
Kyle Throp, a LEAD Fellowship supervisor, started the seminar by having the students break into groups and answer questions. These questions focused on how different cultures influence career paths and work ethics. Later in the discussion, Throp asked the students how they could honor God with their work or school.
After a time of dialogue between students, Throp transitioned into how they could approach evangelism in their future workplace. Throp said integrating faith and work together should be a priority.
"If it's Christian, it should be better, and we shouldn't ever be satisfied with a mediocre job," Throp said.
Throp followed up this statement with a rhetorical question to the crowd, asking if they would be comfortable bringing a mediocre result to their heavenly father.
"Success in business and ministry usually occur when we display godly character in our work," Throp said. "Christians should expect to be recognized for doing a good job at something because we have this
dedication."
One way students in the LEAD Fellowship have a chance to practice displaying godly character in their work is through their scheduled community service activities throughout the semester.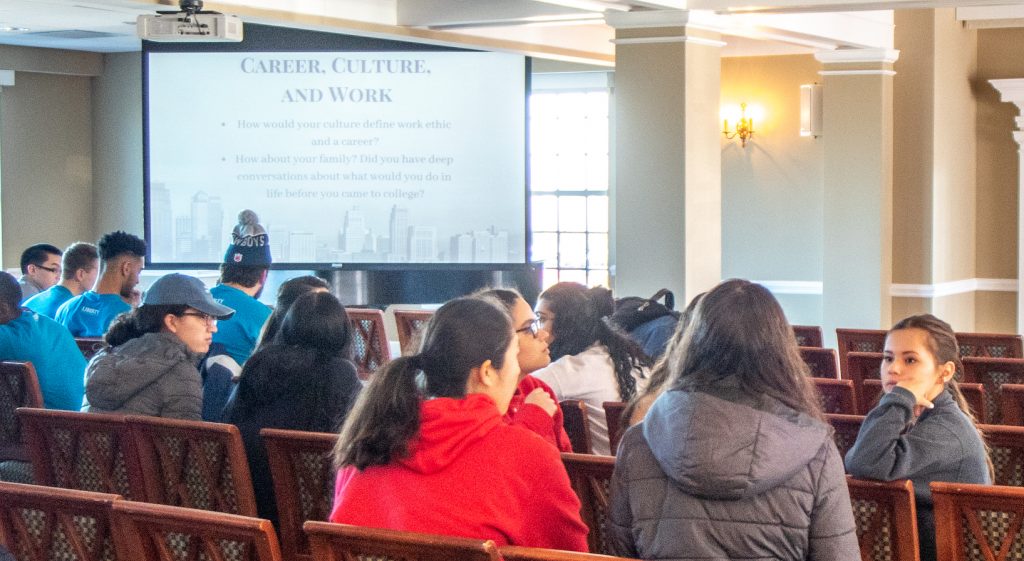 For Li, he said it is important to be prepared to step out from Liberty, taking what he has learned into his future career path.
"From a biblical perspective, you have to take what you do not only here in college but out in the real world," Li said. "You won't always be around Christian people outside Liberty, and you have to be prepared
for that."
After Throp finished his presentation, he handed the podium over to Mark Hager, the assistant director of employer relations for the Career Center.
Hager discussed career opportunities and career strategies, highlighting the services the Career Center offers to students. Hager also spent time focusing on the importance of a good resume, cover letter, application and follow-up emails.
Throughout Hager's presentation, LEAD Fellowship students had the chance to ask questions and learn more about the Career Center.
Students interested in learning more information about the LEAD Fellowship program can email sdefillo@liberty.edu.