Daughters and Sons Pizza Founder and Owner brings unique taste to Lynchburg

Italy, France and San Francisco.
Daughters and Sons founder and owner Jason Arbusto pulls elements from these cities and his own culinary adventures to bring his Sicilian pizza to 5th Street.
When asked why he wanted to live in Lynchburg, according to Arbusto, he was "looking for a small city in the south to settle in. Somewhere more like where I grew up." Arbusto was born in Virginia, and he went to high school in Lynchburg, but he moved around a lot because his family was in the military.
At first, Arbusto was wary about returning to the area. The last time he was in town, there was not a lot happening, but things have certainly changed since 96', Arbusto asserted. With the city putting in a lot of effort to make 5th street a success, Arbusto felt it was a good place to start his business. Since he already had relationships with many people in the area, Arbusto and his wife Virginnie (whom he met in France) decided to plant roots.
Arbusto grew up around fresh food, and his family did not eat out much. His parents owned a farm and ran a farm stand. So, while other children were selling lemonade for a few cents, Arbusto was making a few dollars selling zucchini bread from a recipe his grandmother had given him. This early infusion of food as a way of life stoked his love for good cooking and the satisfaction that comes from selling it.
Despite this foodie upbringing, Arbusto originally thought he wanted to become a doctor, lawyer or perhaps follow in his family's footsteps and go into the military. He always loved to travel and cook, so after some time and soul searching, he decided to become a chef.
He knew that being a chef could lead to something big and sustainable for him.
"It's not like (food) is something that can be out sourced," Arbusto said with a chuckle. "And if you're going to do anything, you may as well aim for the top."
So, that's just what he did.
"I read an article when I was in culinary school about this one chef," Arbusto said. "And then when I graduated, I was like, 'Somehow, I'm gonna work for this chef within five years.'"
Arbusto soon set out to fulfill this goal.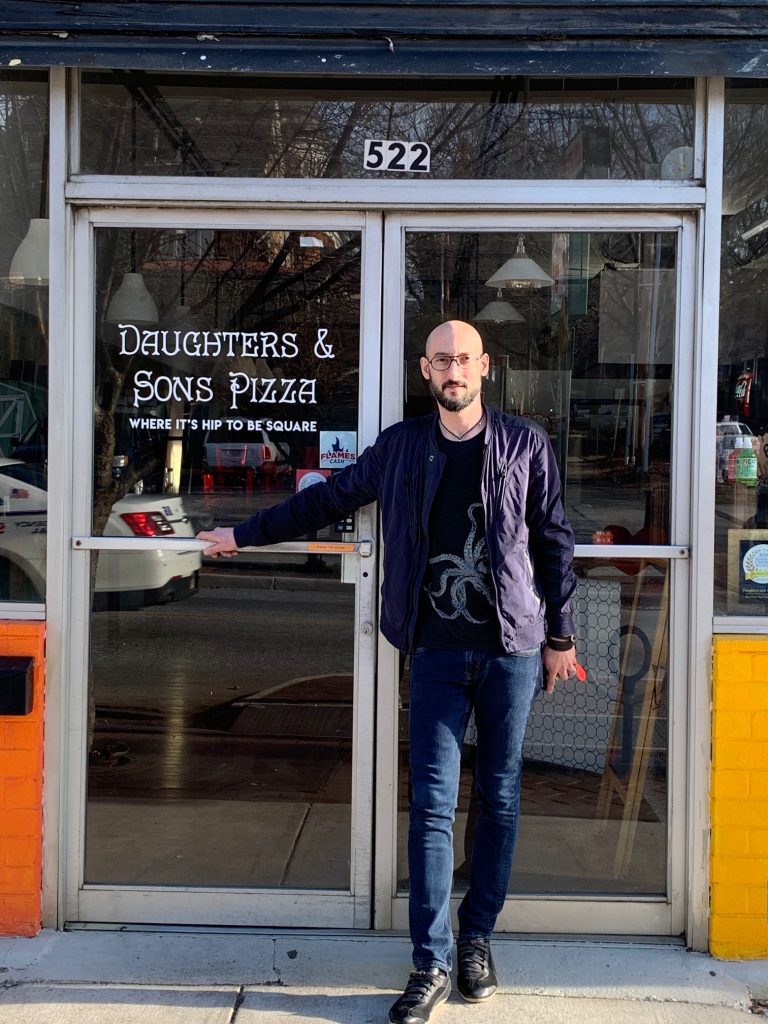 "When I went to France, I did some basic training and I was on a tourist visa, and I was only able to stay for three months," Arbusto said. "I met a Corsican boxer in a bar and became friends with him, and he said 'Well, before you go, come spend a couple weeks with me in Paris with my family.' So, I did that. And I was like 'I have to stay. I love Paris.' I fell in love instantly — the cityscape and the culture — and made my resume up, went to all the best restaurants in Paris: all the 3 Michelin star restaurants."
He knocked on all the doors, but all he heard was "You don't have an apartment. … You don't have a work visa. You can't work here."
"I ended up at this chef that I was talking about (from the article in culinary school), this one very famous chef and he said, 'yeah, well you can't work at any of the restaurants right now, but we're opening a cooking school,'" Arbusto said.
The chef was looking for someone who was bilingual, and offered Arbusto a month of trial.
He ended up working with the chef after 90 days. From there, the chef sent Arbusto to work at his famous restaurant in Monaco – the second-best restaurant in the world – and traveled all over Europe.
While you might think that Arbusto discovered the recipe for his Sicilian style pizza while in France, it was actually inspiration from France, Italy and San Francisco that combined to bring Daughters and Sons unique pizza. Sicilian style pizza is becoming more and more popular in the U.S., according to Arbusto, and he wanted to continue the trend by bringing this style of pizza to the growing community in Lynchburg.
The freshness he grew up with as a child is brought back in every area of Daughters and Sons menu. The dough goes through a four-day process which makes use of two separate refrigeration methods to create Daughters and Sons signature crust. What gives the dough its special consistency is the longer fermentation process for the Italian flour mixture, which proofs for two days in the chilled basement of the restaurant before put through another process.
According to Arbusto, despite the thickness of the dough, its light and airy on the inside while crisp on the bottom. At the restaurant they also make their own sauces, and even the sausage.
When trying to come up with a name for his new restaurant, Arbusto had a few ideas. Originally, he wanted it to sound gritty by calling it Arbusto & Sons, but he only has one son, Axel. However, he does also have a daughter, Esme. He also wanted it to feel like a family restaurant and thus the name "Daughters and Sons Pizza" was born.
"At the end of the day, it's all about family and providing for them," Arbusto said.
Arbusto has done a lot of charity work for various nonprofits, churches in the area, as well as Liberty University. Arbusto is also a managing partner for the Craddock Hotel on Commerce Street in Downtown Lynchburg and is a member of the 5th Street CDC.
Daughters and Son's Pizza (@dspizzava) is open Thurs – Sun from 11a.m. – 8p.m.