Women's basketball coach celebrates 20 years

The 2018-19 Liberty Women's basketball season marks year 20 with the Flames for Head Coach Carey Green. In his two decades with the program, Green has cultivated success through his coaching as well as his off the court encouragement in his player's lives.
In the past 19 seasons, Green has built a record of 440-168 that contributes to a winning percentage of 72 percent, one of the highest of women's NCAA Division I active coaches. He led Liberty to dominate the Big South Conference play to win 10 straight conference championship titles from 1999-2009, earning the No. 1 athletic accomplishment in the history of 25 years of the Big South.
A major contributor to his success, Green's teams have ranked No. 1 nationally in rebounding six times and in the top 20 every year since 2002. Senior captain Tatayana Crowder said Green prioritizes rebounds because they occur after players miss shots, and it is more common to miss shots than to make them.
For both Green and Crowder, though, the platform created by collegiate sports is about more than simply athletic success.
"Truly (Coach Green) is really a man after God's heart," Crowder said. "The difference between him and my other coaches is he can say things that really make me mad, but I know that above anything else he submits to God. He is able to see things that I don't see in myself and he calls them out in such a way that frustrates and convicts me to seek the different meaning of it."
Green's favorite aspect of coaching at Liberty and with the women's basketball team is that it creates a ministry and the chance to bless all athletes who fall under his wing. He loves the small bits of gratification that comes when something clicks for one of his players, whether it is in the game of basketball or growing in their faith.
"Our focus is unique here, and I have really been blessed with student athletes who are motivated to give their best," Green said. "That is the key to success and God has been faithful with blessing that. He didn't have to, but he has shown mercy and grace in that."
Crowder described her coach as a shepherd. Green described a good shepherd or coach as one who tries to meet the players and the sheep where they are to help bring them where they need to be.
According to Green, after 20 years with 20 different Flames teams, it is vital to recognize the uniqueness of each new team and player and the importance of adapting and growing with them as a coach.
"Every year, I come in with a different set of young ladies, which keeps coaching fresh and keeps me hungry," Green said. "It's more about life direction than just sport. It is a privilege and there is a responsibility that I need to (direct them) right."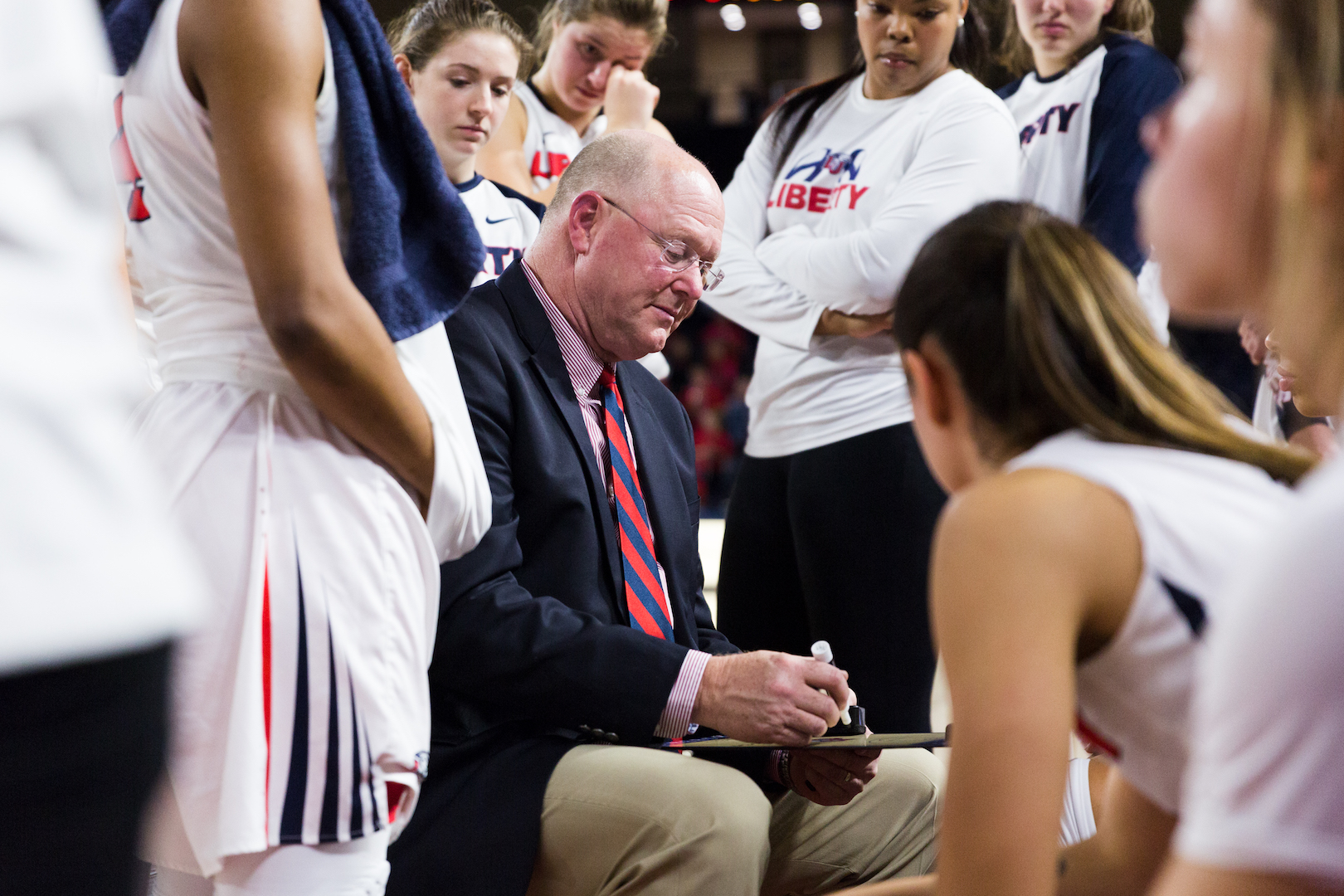 In addition to navigating through another year of changing team dynamics, this year, Green and his team face the transition from their former place of comfort in Big South conference domination to their new acclimation to foreign Atlantic Sun Conference play.
In the ASUN, the team will travel farther and more frequently and compete against more progressive and athletically driven programs.
"We are no longer the 'big fish," Green said. "But, it is reality that it's hard to maintain a dominance and life is full of challenges. We are like every team here at Liberty, we are transitioning through growth and that's why we all have the keyword 'Rise Up.' I am really thankful, grateful and appreciative for the support that the athletic administration and their visionaries provide to make things come together."
Keep up with the Lady Flames in their next game at East Tennessee State University Dec. 4 at 7 p.m.