Liberty students sing in Carnegie Hall
Rather than heading home for Thanksgiving break on Friday, Nov. 16, Liberty University's a cappella group, Shine, and more than 20 other singers from the School of Music bussed to New York City to spread Christmas cheer at Carnegie Hall.
The three-day trip saw four performances at three locations: Carnegie Hall, Calvary Baptist Church and Brooklyn Tabernacle. Saturday, Nov. 17, Liberty talent performed alongside dozens of other singers from across the country as part of the American Festival Choir, which joined Christian artist Travis Cottrell, Denver & The Mile High Orchestra and musician Marcia Wilder for the eighth annual "Christmas in New York."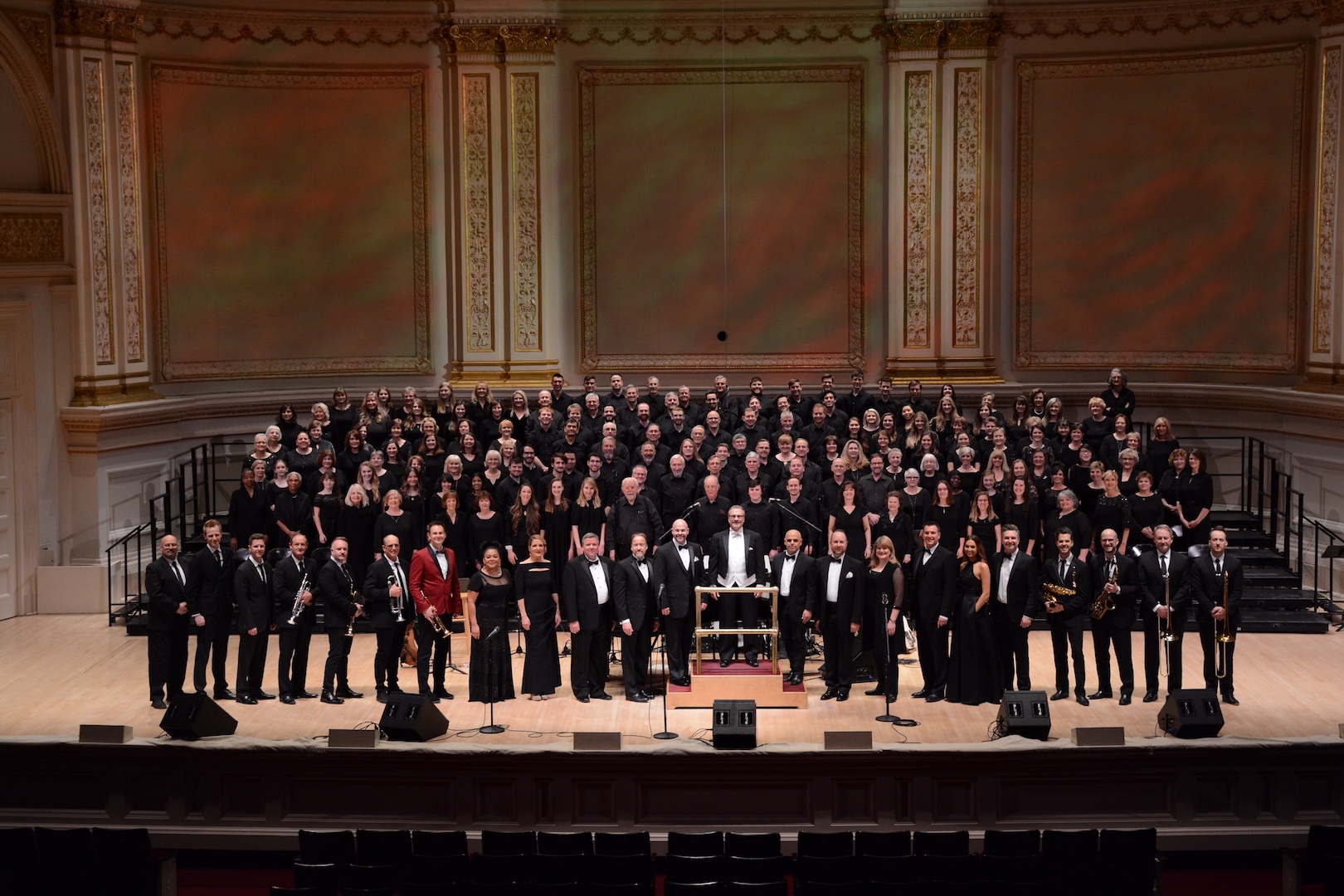 "There were Christmas carols that we did, but the arrangements were totally unique," Associate Dean of the Center for Music Education and Performance at Liberty Dr. Stephen Müller said. "So, you start singing along to a Christmas carol that you know, and all of the sudden, it's not what's there and you're singing the wrong part. It was a ton of music to learn." With Shine making up a little over half of the students from Liberty, the group dedicated its tri-weekly class time to learning 21 songs for "Christmas in New York." Rehearsals for the performance began Oct. 23, which gave the group less than a month to prepare. Müller drew the two dozen other singers from junior and senior level chorus classes.
"We just looked at upperclassmen who were students who were known to have great attitudes and have been productive in the School of Music and have been participating in all the stuff we've been doing, and we had no problem finding another 24 singers," Müller said.
While many of Liberty's performance groups host special Christmas performances, Shine completes the bulk of its performances during the school year. Therefore, the group was not only able, but also available to prepare for the programs in New York.
"I was the director that was willing to commit my rehearsal time to this project," Müller said. "It was a matter of timing. Who could do this? We were the group that could do it."
Shine's vocal percussionist, senior Roger Payne, expressed his gratitude for having the opportunity to perform at Carnegie Hall.
"I honestly can't thank Dr. Whaley, (the dean of the School of Music), enough for what he did to help us get this because he could have sent anybody," Payne said. "The School of Music is filled to the brim with phenomenal singers. … The fact that we got chosen to go is just beyond me. It was incredible."
Müller said the School of Music received an invitation to perform at the event from Phil Barfoot, the president of Celebration Concert Tours. Barfoot explained to the School of Music that he was looking for more singers for the "Christmas in New York" event, which he had booked at Carnegie Hall.
"Once the School of Music and Dr. Whaley agreed that we should do and could do this, we began to reach out to some other churches that we knew in the area," Müller said.
After performing at Carnegie Hall Saturday evening, Shine performed at three church services on Sunday, Nov. 18: two at Calvary Baptist Church and one at Brooklyn Tabernacle. The additional performances were traditional a cappella performances from Shine.
Müller explained that the School of Music had connections with the minister of music from Calvary Baptist Church. However, Pastor Jonathan Falwell of Thomas Road Baptist Church helped organize the performance at Brooklyn Tabernacle. One of Falwell's children is a part of Shine.
"At Brooklyn Tabernacle, we did a medley of 'Doxology' right into 'Open the Eyes of My Heart,' and the songs are arranged by Jay Rouse, but we made them a medley ourselves, which is kind of fun," Müller said.
Shine also had the opportunity to sing alongside Calvary Baptist Church's worship team after performing three songs for the congregation.
"It was a great opportunity for all of our students and for me. To get to conduct a song at Carnegie Hall is kind of one of those bucket list things," Müller said with a laugh. "And really, even more important to me was for my group to get to sing at Brooklyn Tabernacle."
While the trip was quick, as the group left Lynchburg at 5 a.m. Nov. 16 and returned at 1 a.m. Nov. 19, Payne said that the experience was more than worth the early mornings.
"It was just such an elated feeling of walking on cloud nine," Payne said. "(I) just could not believe that I was (in Carnegie Hall). It was an experience that I will never forget, and I get to brag about that."