Alumni: Quinn Barefoot
Change is an inherent part of life that often leads people down paths they never expected. No matter how much people plan out their futures, life always seems to find a way to flip their plans upside down.
When Quinn Barefoot graduated college, she didn't expect she would soon move to a completely new and unfamiliar place. She didn't expect to move away from her friends and family. She didn't expect to go through the trials that she did. However, through it all, she learned that God was always working for her benefit.
Quinn graduated from Liberty University in May of 2016 with a bachelor's degree in communication studies with a concentration in print journalism.
During her junior year at Liberty, Quinn was a news reporter for the Liberty Champion and later went on to become the assistant news editor for the Champion her senior year. While at the Champion, Quinn made many lifelong friends that she still keeps in touch with today.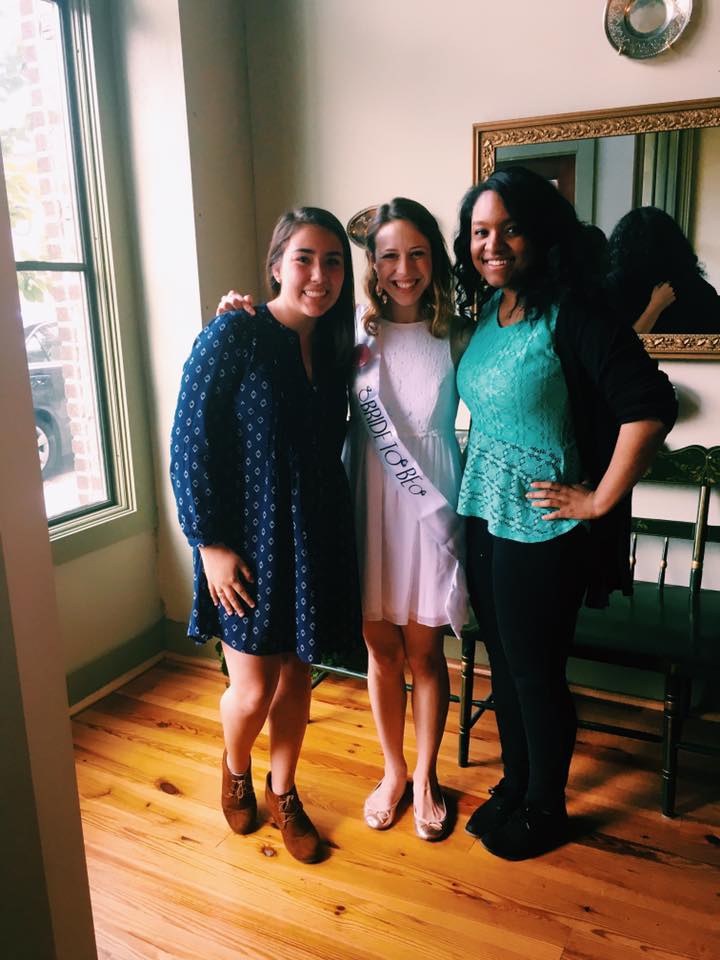 "The friends that I met helped me in college and have helped me afterward," Quinn said. "They've been a real support in my life, as well as the church I was connected to while I was in Lynchburg. Those extracurricular things really helped me a lot and helped build relationships that I know I'm going to have for the rest of my life."
Quinn said she learned a lot about the importance of community and time management while studying at Liberty. She said after learning so much about the journalism industry, she felt very well equipped for life after graduation.
"I think the biggest thing was learning to meet deadlines," Quinn said. "That was a really important skill that I was able to mention in interviews. Also, I learned about teamwork and how to work with a team professionally under stressful situations, like meeting deadlines."
Quinn was also fortunate enough to meet her future spouse, Caleb, while she was still a student. They first met in COMS 110 class during her freshman year and Caleb's sophomore year. They began dating that year and were eventually married almost four years later. Because of this, Quinn said Liberty, and Lynchburg in general, are very special places for the two of them.
"We came back to visit after moving, and it was really sweet to see all of our old friends," Quinn said.
Quinn and Caleb moved to Wilmington, North Carolina, in February of 2017. After moving to a completely new city, Quinn said she began to struggle. She didn't know anybody in the area, and the move had placed her even farther away from her family.
Additionally, after her graduation from Liberty, Quinn worked from home for a while as a writer. However, she said this job did more harm for her than good. She felt isolated from the world and constantly stressed about getting her work done.
"I relapsed back into old eating disorder behaviors and wound up having to go to treatment center for six weeks," Quinn said. "I am back home now and have been trusting in God to pull me through this."
Quinn said she was greatly encouraged by one of her friends from Liberty who wrote her while she was in treatment. Her friend, Sarah Rodriguez, worked with Quinn as the news editor at the Champion. Quinn said even though they are now miles apart, Sarah's friendship has really encouraged her during some of the most difficult times in her life.
Looking back now, Quinn said she can see how, even through her times of struggle, God was leading her toward a better path.
"That job I was working from home ended up not working out, but because of that I had flexibility in order to do treatment," Quinn said. "I was able to connect with people in treatment as well and teach them about the Lord. I feel like though there's been hard times, God has shown his blessing and worked things out in ways I couldn't have imagined, so it's just exciting. Even though things are hard, I know things are right how they're supposed to be."
Now, Quinn has found a job that she really enjoys. She is currently working as an office assistant and marketing coordinator for a meal prep company in Wilmington called Green, Lean & Clean.
"I like that I have the freedom and creative ability to do what I think will work, and it's been great being a part of a fast-growing startup," Quinn said.
Quinn has recently started a new position at the company that will also entail baking. Quinn said she has always enjoyed baking. When she worked with the Champion, she said she would constantly bring in treats such as cookies and cupcakes for the staff. Now, Quinn gets to work with marketing and social media along with food, and now baking. She said she is happy she has the chance to bring several of her passions and skills together in her professional career.
Outside of her job at Green, Lean & Clean, Quinn also blogs for a website called FetchFit with her friend Lauren Henderson, the founder of FetchFit. This dog-friendly website focuses on bettering the lives of women by talking about subjects such as physical and spiritual fitness, pets, and lifestyle.
"I love blogging for them because it combines my love of writing with my love for dogs," Quinn said. "I've also been able to write about my faith in it, not to mention learn more about photography because Lauren is an amazing photographer."
When asked for any advice she may have for current Champion staff Quinn said, "Have fun. Don't rush on anything and take your time, because I found that some of my best pieces I wrote were pieces that took longer and that I was able to put a lot of effort into. Just try to have fun and don't stress out. Also, be creative. I liked coming up with story ideas and headlines and not thinking of it as a task, but thinking of it as a fun, creative opportunity."