Walking for freedom

More than 100 individuals, dressed in black, marched the streets of downtown Lynchburg, Virginia, Oct. 20 to protest human trafficking occurring both domestically and worldwide through an A21 Walk for Freedom.
A21 is an organization dedicated to abolishing human trafficking and promotes the opportunity for a peaceful protest in support of victims one day per year. All over the United States and the world, participants walk unified under the same mission — to raise awareness of slavery. 
Participants in the local Walk for Freedom gathered at Monument Terrace in downtown Lynchburg at 9 a.m. Tara Adams, host of the walk and Liberty University senior, addressed the group with current statistics about human trafficking around the world and how individuals can fight for victims. According to Adams, nearly 40 million people in the world are victims of human trafficking. 
"Fighting human trafficking is not a one person battle," Adams said. "It's an every single person battle." 
Adams also emphasized the importance of prayer in fighting human trafficking, not just for victims of human trafficking, but also for oppressors. Laura Schulte, assistant host of the walk, and two other participants prayed over the group and for the victims before taking to the streets.
Participants gathered in a single file line at the beginning of the walk, with many individuals holding signs with statistics and statements related to human trafficking. One participant held a sign that read, "1 percent of victims are rescued," while another participant held a sign stating, "Bodies are not commodities." 
The group walked down 9th Street to Main Street and then around the block before returning to Monument Terrace. Walking in silence, the group drew many glances from bystanders. Some stopped to ask for more information about the demonstration, while others read the signs from afar.
At the end of the walk, Adams and Schulte concluded the event by encouraging participants to continue being the voice for the voiceless. In the group of more than 100, there were many reasons why participants chose to be a part of the local walk in Lynchburg.
"For me it means making a better future for my sisters, my daughters … for the people in this country that don't have freedom right now and are in bondage and are in slavery," participant Torie Adams said.
Much planning went into making this event a success, according to Adams and Schulte. However, the pair attributes the success of the event to the provision of God. 
"This event was only done because he was involved, and all glory and credit for this event goes to Jesus Christ," Adams said.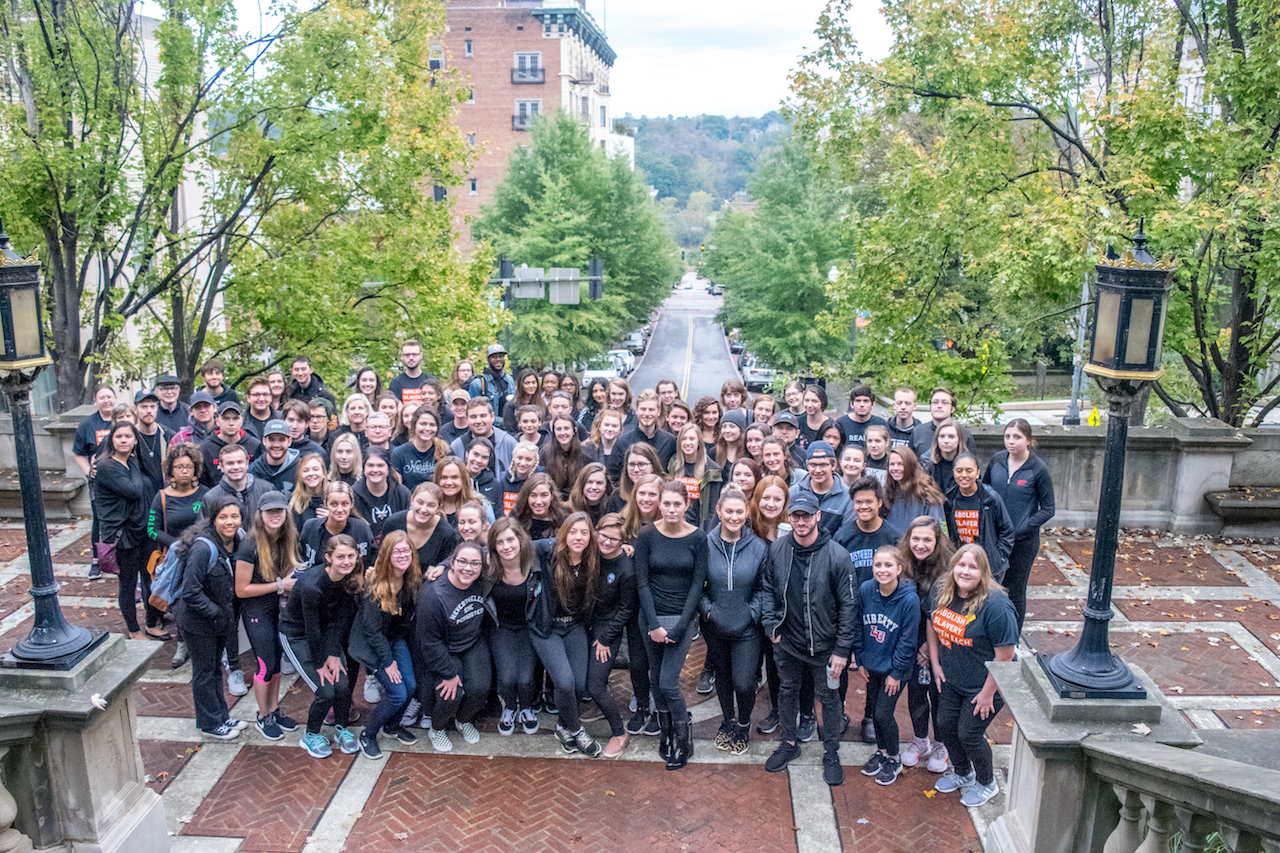 Adams and Schulte said they hoped the demonstration drew attention for the cause of human trafficking victims and will inspire onlookers to help fight for the abolishment of human slavery. 
"I think what's so amazing is that this walk makes it a local issue, and I think it's easier and more comfortable for us to think of it as a global one because then it's overseas or it's someone else's problem," Schulte said. "But we're taking ownership by being people who want to be part of the solution."
Adams and Schulte hope past participants will return to participate in this event for years to come. Schulte hopes to continue to run this event following her graduation in the spring and looks forward to involving more local church groups in this event next year. 
More information on A21 can be found at www.a21.org.