Students' eyes are opened to the Middle Eastern culture
Going inside the International Student Center during the Middle Eastern Open House was walking inside a world full of life and culture. Middle eastern flags filled the environment as well as the conversations of students who came eager to learn about different cultures. 
The food and decorations made this open house a special experience where students from all places come together. Students also had the opportunity to learn through a slideshow that featured facts of the Middle East.
The International Student Center (ISC) hosts multiple open houses during the semester. Each represents a country or region from which international students originate. This time it portrayed Middle Eastern countries. Student workers and staff came together to prepare the open house.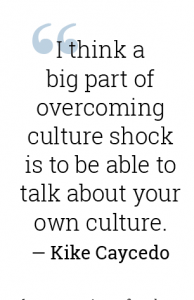 "I wanted to take advantage of getting to meet more people and immersing myself in the culture that is around me rather than what I grew up with," Christy Beall, a sophomore student, said.
This is an opportunity not only for international students to come together with people from their culture but also for domestic students to enjoy a different culture, food and trivia that happens throughout the event. 
"It is even better than working in an airport because you get to see people from everywhere in the world who stay here, and call this place home," Kike Caycedo, student worker and office assistant at the ISC, said.
It is an opportunity for everyone to learn. The student workers from the ISC said even students from the Middle East who have not been in other countries from the Middle East get a first glance of the different cultures in other countries is. 
"Nowadays, yes, we still have countries, we still have borders and all that, but the world is too globalized," Caycedo said. "I think a big part of overcoming culture shock is to be able to talk about your own culture."
Students who are not international said it takes courage to go to a place where you do not necessarily understand everything at first but is important to take the first step.
"It forced us out of our comfort zone," sophomore Natalie Martine said. "It feels awkward for us, but then also just to think about it, it is probably the same position that someone else is feeling."
The ISC has hosted open houses for the past six years. They do not only have the open houses but events like the World-Wide Welcome during fall semester and the Taste of Nations during the spring. 
"We teach students during orientation that culture is like and iceberg, what you see is only the 30 percent of what it truly is," Caycedo said, "(These events) are an opportunity for everyone not only to learn and experience a little bit of a culture, but to honestly enjoy and get involved with the community."