Liberty student athletes are benefitting from new nutritionist's arrival

Imagine walking into a facility on campus where faculty greets you excitedly with a small cup of thick green juice, cheering you on to drink the substance and writes the names of those who do on a whiteboard in celebration. 
This is the reality Liberty University student-athletes happen upon when they enter the Liberty Athletics Center (LAC), which houses a nutrition station manned by a new and passionate nutritionist.
Director of Sports Nutrition Melissa Crowson entered her position two months ago with the goal of getting student-athletes excited about living healthily through nutrition. With her new platform, Crowson hopes to provide education and build community within the athletic department.
One of the largest changes she has launched so far is transforming the Training Table room at the Reber Thomas Dining Hall into all-athlete dining for dinner every Sunday through Wednesday from 5:30-8:30 p.m.
"For the first time ever, we have a training table which means athlete-only dining," Crowson said. "There are two main reasons for that. One is an educational purpose because I can talk about nutrition all day, but now I can show how to build performance plates. Then second, it's just a great platform for community. My goal is to kind of create a space like University of Florida where all the teams are mingling, supporting each other and hanging out. It's loud, it's noisy, it's fun."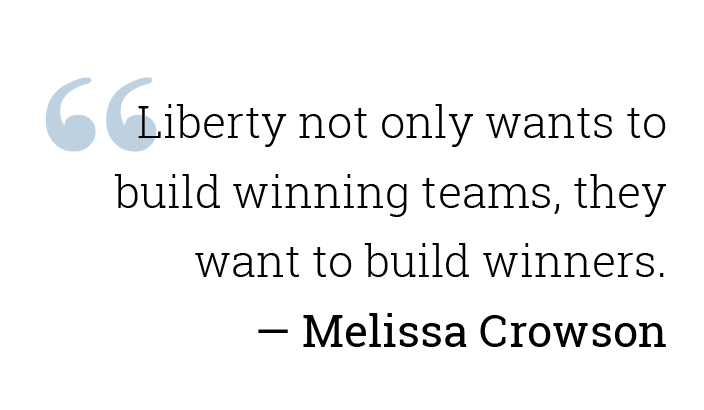 In addition to interacting with teams in the dining hall or at six practice facilities stocking them with recovery drinks and fruit, Crowson works with five student volunteers, three work-study staff and an assistant who helps merge the nutrition department with strength and conditioning. 
Kylie Polsgrove, a senior track athlete, is a volunteer who helps Crowson determine what fuel is relevant or works best for the athletes.
"In my three years here, nutrition has changed from offering a large quantity of food to now focusing on quality of food," Polsgrove said. "Melissa is more informative about nutrition instead of just providing it."
Recent changes to quality of food at the fueling station in the LAC include offering more nutritious and creative items like the green anti-inflammatory antioxidant shots, tasteful smoothies, beet juice and naturally flavored protein bars, compared with more sugary snack options that were offered last year. 
In the past three years, Liberty's nutrition department has had four nutritionists revolving in and out, but Crowson is here to stay. 
"I was blown away at how Liberty not only wants to build winning teams, they want to build winners and they actually care about the person and want to develop them in mind, body, and spirit," Crowson said. "I love college athletics because college is such a pivotal time for someone of that age because you are really making decisions at that age that will set up the trajectory of your life."
Crowson has a different view of nutrition than others who were in the role in the past. This year she is prioritizing building relationships with those she works with and being accessible to them. 
Crowson said the challenge to make eating healthy appealing pays off when she experiences moments like seeing the men's tennis team conducting a pushup contest in the dining hall during dinner or when a football player comes to tell her he cut sugar from his diet and is starting to drink water for
the first time.
"My favorite thing about my job is definitely getting to work with college athletes and students," Crowson said. "I love students and I kind of feel like I live in a party. There are always people and people coming in and out and that's always fun."