Lynchburg Bridal Show Seeks to Take Stress out of Wedding Planning
Planning a wedding can be hectic, but the vendors at the Lynchburg Bridal Show gathered at Liberty University to make the nuptial process as smooth as possible for brides- and grooms-to-be.
Liberty hosted the Lynchburg Bridal Show in the Schillings Center on Sunday, Jan. 28. The show involved a vast array of cake bakers, wedding planners and bridal boutiques, as well as a fashion show.
Each vendor had a story on starting up a personal business in the growing world of bridal affairs. Some shared how their company started as a hobby while others dropped everything to respond to the call of the Lord over their life.
Alicia Cooper has been planning events since she was 17 years old. But it was not until a friend of hers persistently encouraged her to start her own business that she attempted it. Eventually, she introduced  Tina Lane Events in 2012.
"Tina Lane Events was launched so that we could take the stress off of you," Cooper said. "We take care of the details, you just enjoy the process."
Starting her own business was not easy, and oftentimes, marketing and networking called Cooper out of her comfort zone.
Cooper talked about how comparison and competition were challenges for her to face as a starting business owner. Sometimes, she had to take a step back and remember that God placed her exactly where she needed to be. She repeatedly reminded herself of his promise concerning her business.
"If I do something badly, it's all my fault. But if I do anything good, it's because (God) did it and I didn't. That's the kind of mentality I had to have going into this," Cooper said.
But not all the vendors at the bridal show cater strictly to wedding necessities. Some, like Innovations Hair Studio and Spa, focus on making every woman feel and look good, whether it is on her wedding day or just a regular afternoon.
Elena Holliday, owner of Innovations, recalled how starting up her business was not premeditated or thought out. She started out as a nail technician, even though she studied music therapy in college.
Holliday simply had a desire to have her own place and watched as her business evolved. She also spoke about how most of what she learned about business came from hands-on experience.
"Study the market in the industry you want to go into," Holliday said. "Know what your competition is and know what's expected of you, because you can have it all planned out, but when you're actually in it, it's different."
Theresa Thomas shared her personal connection with the launching of her boutique, Ashley Grace Bridal.
Thomas went into the wedding business wanting to create a bridal experience that she could share with her two daughters, whose middle names give the boutique its title.
The store opened up in December 2016 and Thomas commented on how God has rapidly increased the popularity of her business faster than any rate she expected.
"Every bride is so special and so different, and when they walk through the door you just never know what you're gonna get," Thomas said.
Ashley Grace Bridal prides itself in magnifying even the simplest of details on both the bride and the groom — accessories, flower girl dresses, ring bearer tuxedos and more.
"Everything's so unique about each special bride," Thomas said. "We try to offer a personalized experience for them to remember for the rest of their lives."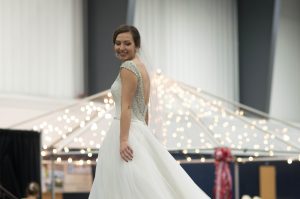 Thomas' favorite part about being able to help in weddings are the stories that each bride shares — from how the brides met their fiancés to how the wedding venue was decided and everything that happens in between.
"We want to make the day that she chooses her dress as special as the day she wears it," Thomas said.