Bible Resource Center Provides Biblical Articles to the World
The Liberty University Bible Resource Center, an online database with hundreds of articles on biblical topics, launched Wednesday, Jan. 24, as a free resource for pastors and laypeople across the globe.
Currently, the Bible Resource Center contains more than 200 articles as a part of the SWORD Project — an undertaking started by Harold Willmington, the dean of Willmington School of the Bible and Liberty's longest serving faculty member.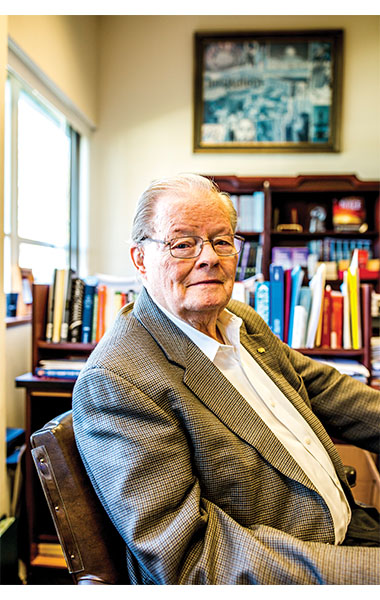 Up to a thousand articles written by Willmington and based on his books such as "Willmington's Guide to the Bible" will be included in Project SWORD, standing for Scripture Wisdom Organized and Rightly Divided. He hopes the SWORD Project and the Bible Resource Center will be an asset not only for Liberty students and faculty, but also for Christians around the world who lack the university's resources.
"I'm taking much of the information that I've already written and making it extremely accessible and user-friendly," Willmington said.
On the first day of the launch, individuals from around 40 countries accessed the center, according to Willmington. As of Saturday, Jan. 27, users had downloaded more than 1,400 articles from the Bible Resource Center on topics such as the incarnation, the resurrection and God's omnipotence.
Ron Hawkins, Liberty's provost and chief academic officer, was responsible for managing the project and bringing together university departments to create the Bible Resource Center. Hawkins sees the center primarily as a resource for Christians who do not have access to the physical resources of a Bible college but have internet access.
"Most Liberty students have access to all kinds of good material," Hawkins said. "But there are whole places in this world where pastors never hold a book in their hands."
Hawkins worked with Liberty's Marketing Department, Information Services and the Jerry Falwell Library to develop and promote the Bible Resource Center. The Jerry Falwell Library's Digital Commons, an online platform containing works by Liberty faculty and students, houses the center.
Eventually, the center will also include articles from other Liberty faculty and friends.
"In the end, it will have material not only on Bible and theology, but (also) on counseling and leadership," Hawkins said. "(It) will help the church globally to be more effective and to give training to laypeople."
During the test launch of the center a few months ago, a man in Ghana had accessed the center within a few hours, Willmington said. Since accessing the center requires only an internet connection, Hawkins said missionary agencies have reached out to Liberty wanting to promote the resources.
Kristin Conrad, Liberty's vice president of marketing and communications, said the university is partnering with other churches and organizations to promote the Bible Resource Center with those outside of Liberty's circle.
"Articles come up as results for worldwide internet searches, so that people from around the globe will be able to find resources relevant to their various needs," Conrad said in an email.
Willmington's reputation as a respected teacher of biblical issues extends beyond Liberty's borders. Hawkins recalled a time he helped with disaster relief after Hurricane Katrina and met a pastor who had lost his library in the storm.
"The book he was most concerned about was 'Willmington's Guide to the Bible,'" Hawkins said. "He was pastoring a storefront church, and he relied on that book to help him week-to-week with sermon preparation and teaching his people."
Despite his battle with stage 4 cancer since December of 2016, Willmington has not stopped writing articles for the center and converting his longer writings into shorter pieces. For Willmington, this has been the greatest hurdle in starting the center.
"About the same time that the president said let's take this to the world, at that time I received some information from the doctor that I did not expect," Willmington said.
During Convocation Jan. 24, President Jerry Falwell honored Willmington's continual work at Liberty since 1972 and reflected on his impact at the university.
"After he came and proposed the project to provide free, online Bible courses to the world, he found out he had stage 4 cancer," Falwell said. "He's a Liberty hero. He's one of those humble people who never wanted credit for anything."
Willmington, who sees the Bible Resource Center as his personal legacy, hopes that it will impact the American church and be a part of a future revival in the United States.
"I'd like to see it be the foundation of a great revival in America," Willmington said.
The Bible Resource Center can be accessed at http://digitalcommons.liberty.edu/lu_bible/.