Senior art students display their handiwork at the Green Hall Art Gallery
Nine senior art students display their work, ranging from drawings to photography to sculpture.
"Elysian: Beauty and Truth" runs through Dec. 9 at the Green Hall Art Gallery.
If walls could talk, Green Hall 1855 would be teeming with living color, telling four years' worth of stories to any passerby willing to pause and lend an ear.
The walls can talk in a way, though — especially this week. The 13-foot walls of the Green Hall Art Gallery do have stories to tell, and they're being told through photographs, sculptures, drawings and paintings on display until Dec. 9.
These works of art comprise the fall semester's senior art exhibit, "Elysian: Beauty and Truth," a cumulative showcase of the work done by nine studio and digital arts students during their scholastic careers at Liberty University.
"This is kind of the grand finale of (our) work," Leanne Riegel, one of the featured art students, said. "(We've) spent years pouring into this and…developing these projects. Each of them has taken hours and hours, and it's kind of exhilarating getting to share it with people."
The unique texture and vibrancy shown in many of Riegel's exhibited pieces were created with some unconventional mediums, including sweet potatoes and shoe polish.
"I like to hop around (with mediums) because I'm going into art education," Riegel said. "We do a little bit of everything and we need to be good at a little bit of everything, so I try to show that in my work."
Riegel shows more than that in her work, however; her pieces, much like the others featured in the exhibit, weave together personal experiences and conceptual life lessons onlookers can reflect on as they gaze.
"I like…each piece (to) have a really strong concept and I like to convey truth," Riegel said. "When I don't know what to do, I'll go back to some lesson that I learned in life—usually it's an emotional event or a very impactful event — and I'll elaborate on that and try to figure out how to get that into artwork."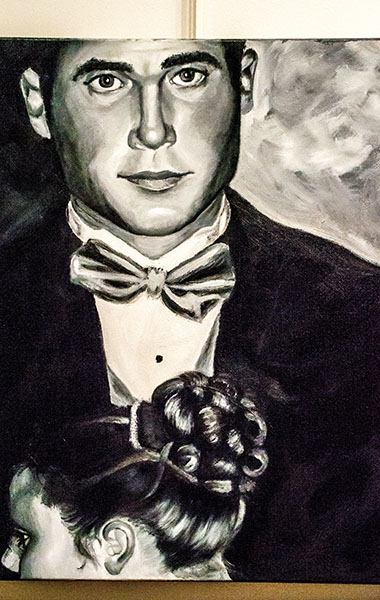 Each of the pieces exhibited in "Elysian" contain their own symbolism and meaning—stories within stories of beauty and truth. The pieces created by senior art student Brittany Cornelius are no exception.
"I really love people and the everyday moments in life, (and) I really wanted to capture all of that," Cornelius said. "These (pieces) are some of my favorite people that I've experienced life with."
Primarily through graphite and paints, the black-and-white simplicity of Cornelius' showcased artwork features several people who are near and dear to her hear
t, including her mother, her stepfather and friends.
"I've worked so hard for this," Cornelius said. "I'm really glad that other people are able to enjoy it."
For Cornelius, appreciating her classmates' artwork and growth as creators has been one of the high points of her involvement with the art community at Liberty.
"Being here with students you've grown up four years with, seeing how we've all progressed and…seeing it all come together and how we build each other up—I'd say that's my favorite part," Cornelius said.
The exhibit will run through Dec. 9 in the Green Hall Art Gallery.