Liberty cross country runner Azaria Kirwa places 25th at Nationals
Kirwa enjoys spending time outside in nature and representing Christ as an athlete for Liberty.
A junior nursing major, the coaches hope he will be able to earn All-American honors three more times during his time at Liberty.
Azaria Kirwa, a junior runner for the Liberty cross country team,place
d 25th  and earned All-American honors in the NCAA Cross Country Championships Saturday, Nov. 18.
Kirwa performed a personal 10k best of 28.57.0 to help him earn 25th out of 250 runners at nationals.
The long-distance star was born and grew up in Eldoret, Kenya, until he came to Liberty University in 2015. The 2017 season is his third racing for Liberty, both in cross country and indoor and outdoor track.
"I've grown significantly. Making Nationals really tells a lot about it, and making personal records does (too)," Kirwa said.
Much of his childhood was spent outside exploring with frie
nds. Kirwa spent his time in the outdoors from sunup until sundown running and playing with his friends. His passion for running began when he was a child and has grown ever since.
Kirwa spent his time running and found that he enjoyed it the most because it was an opportunity for him to be in God's creation.
"I love it. On the trails you're more in nature and you spend more time with God out there than anywhere else," Kirwa said. "Most of the time you're out there by yourself and it gives you solitude and time to process stuff."
Kirwa said he still gets to enjoy running and nature on the Liberty Mountain trail system. He enjoys spending his free time with friends, hiking and simply being outdoors.
Kirwa chose Liberty for the opportunity to attend a Christian university. He also admires the opportunities that come with competing for Liberty to glorify God.
"[My favorite part] is representing Christ. It's not about the school or anything else. It's about God," Kirwa said.
On top of racing year-round for Liberty, Kirwa is also a nursing student. One of the biggest challenges he faces is balancing running and academics.
Kirwa hopes to be a nurse so that he can help others.
"My passion is for helping others, and that's one of the fields where I can help," Kirwa said.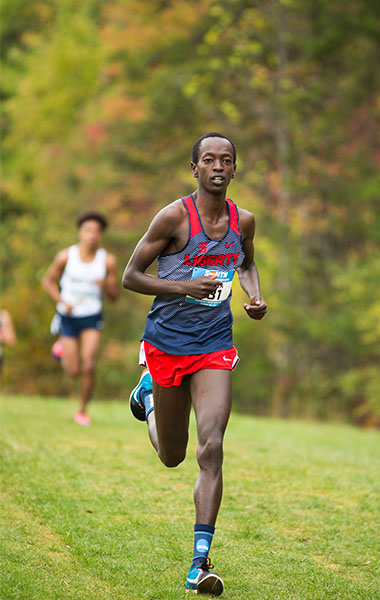 Brant Tolsma, head coach of Liberty's cross country and track and field teams, believes that Kirwa has the potential to change lives.
"God orchestrated for him to have this opportunity to get a degree and to run for a reason," Tolsma said. "That reason isn't just to bring recognition to the Lord through Liberty and running, but also to impact families and communities in his own country later on in life. He's a good student."
The 2017 cross country season has been a special one for Kirwa. Not only did he achieve new personal records, he also reached the top 40 in the national championship 10k.
Tolsma said that Kirwa had achieved something great.
"There's magic numbers that make a big difference," Tolsma said. "Second place is a lot worse than first, but after that the next big place is to be in the top 40. Because the top 40 become All-American, so there's not much difference between 20th and 30th. The only difference is how many people you beat."
Kirwa's race was his first All-American finish.
"I was surprised with myself," Kirwa said. "I was like, 'Wow, I can do that!'"
As he enters his indoor track season, Kirwa is looking to improve even more. He hopes to race better all around, as well as grow closer to God and to the rest of the team. He also wants to achieve more All-American honors.
Tolsma believes that he can reach even higher than one All-American honor.
"The first one is the hardest one. Having a year and a half left, I think it's very possible that he could be All-American four or five more times, potentially indoors or outdoors or even cross country again," Tolsma said. "Azaria has the potential of becoming our third four-time All-American."
While Kirwa has had an incredibly successful season, he and Tolsma are already looking to the upcoming track seasons.
"Azaria has a very bright future, and I'm excited to see what God's going to use him to do in the next year and a half on our team, and for the rest of his life," Tolsma said.
The Liberty University indoor track team will compete in its first meet of the season on Jan. 19 at the Keydet Invitational. Hopes are high for the season after Liberty was selected by the conference's head coaches to sweep the 2018 Big South indoor track titles.