Mookies & cream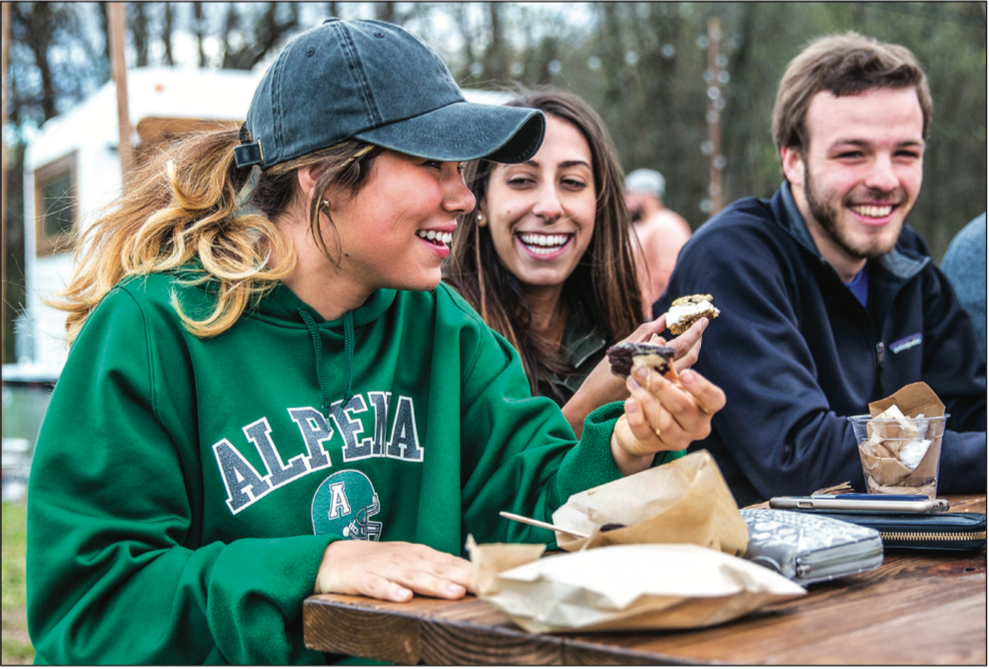 Two local residents open a new cookie and ice cream truck in Forest

   
Aylor's Farm in Forest can now be known as the Lynchburg Area's promised land — a land flowing with milk and cookies.
On March 31, Jordan and Holly Nickerson opened Mookie's, a dessert bar on wheels on Forest Road.
The menu consists of homemade cookies made by the Nickersons and features Homestead Creamery milk and ice cream.
During their opening weekend, the mobile dessert bar sold 2,500 cookies and served hundreds of guests.
The Mookie's team sold out of their products Friday and Saturday, causing Mookie's to close Sunday, April 2.
The dessert bar sold out its stock for the entire weekend in five hours. 
"I had to turn around and stay up all night to prepare for Saturday night, and we sold out at 8:20," Jordan Nickerson said.
"We were totally blown away by the support and turnout."
One of the Nickersons' goals was to create an inviting atmosphere.
"We want to host people," Jordan Nickerson said.
"We want people to feel comfortable and have some fun and play some music and have some lights strung up and maybe a fire going or corn hole and make it a cool place to come."
The truck has proven popular with Liberty University students. 
"I loved Mookie's variety and the atmosphere," Liberty sophomore Sara Kindt said. "It was a really cool idea and an awesome place to hang out."
The Mookie's trailer, decorations and products were a hit among cookie and ice cream eaters.
"Mookie's was delicious," Liberty sophomore Madison Grubb said.
"The cookie ice cream sandwich was my favorite. I loved the atmosphere, and it's definitely going to be a fun hang-out place when it gets warmer."
Mookie's began with the Nickersons' desire to exercise their spiritual gift of hospitality.
Jordan, a self-proclaimed kinetic learner, is earning his Masters in Business Administration from Liberty Online and needed to practice what he was learning in his degree.
"If I was going to maximize my education, I needed to give myself something to put my hands and effort to," Jordan Nickerson said.
In August 2015, he pitched the idea of starting a business to his wife during a date.
"One of the things we love to do is just host," Jordan Nickerson said.
"As a resident director, we are always having college guys in, we are always having people here, and we just want to give people a home."
At first, they did not know what business they were going to start, but the Nickersons knew it had something to do with food because they love hospitality.
Their first idea was to sell Choco-Tacos, but that did not seem to fit well for the Nickersons.
As they struggled to find a niche, the couple continued to pour into their students by hosting them in their home and baking cookies for them. They were experimenting with the product Mookie's sells — homemade cookies. 
"We didn't know it, but for two years we had been working on this cookie menu," Jordan Nickerson said.
The four homemade choices are the classic, triple-chocolate, snickerdoodle and gluten-free chocolate chip cookie.
After the couple found their product to sell, they assembled a team of friends and family to work with them to make this cookie dream come true.   
In March 2016, the Nickersons purchased a 1961 camper in West Virginia on Craiglist, ripped it apart and rebuilt it.
Jordan Nickerson said the Mookie's camper represents his and Holly's blood, sweat and tears. 
"It has taught us a lot because we've realized that every problem has a solution," Jordan Nickerson said.
The mobile dessert bar is open Thursday to Saturday 4  – 10 p.m. and Sundays 2 – 8 p.m.
"We were so humbled and excited by the response to our product and brand," Jordan Nickerson said.
"We also have so much up our sleeves in the coming weeks that we can't wait to roll out. We hope our customers love what we do as much as we do and we hope they keep their eyes peeled for some fun stuff around the corner."
Follow @eatatmookies on Instagram and Twitter and like Mookie's on Facebook to keep updated on future sellouts or location changes. 
Abbatacola is a news reporter.