Hopes of Hollywood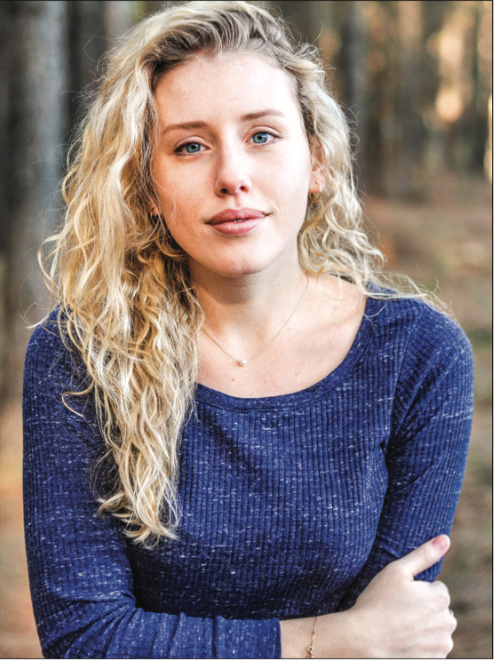 Alumna signs contract to play Laura in 'The Walking Dead' television series
While most actresses spend years honing their talents with hopes of earning roles in prestigious television shows, AMC's The Walking Dead (TWD) actress Lindsley
Register began her career as a normal student at Liberty University.
"I don't really know what got me into acting," Register said.
"I did two shows in high school just because I went to a small school and theater looked like the most fun elective I could take. But that was about it."
Just before graduating from Liberty with a degree in theater performance and theater education, Register signed with her first agent.
Her talent caught the attention of casting director Erica Arvold, who helped Register secure an acting position on the American drama series House of Cards.
In high school, Register participated in school and church plays, but that was the extent of her acting experience until she auditioned for a theater production at Liberty during her freshman year.
"It's kind of like the person who plays soccer and really enjoys it, but doesn't even think about playing it professionally," Register said.
"That's what acting was like for me."
Register originally wanted to teach English as a second language, so she attended Liberty with the hopes of one day working with international missions.
Although a fun hobby, acting was nothing more than a social activity for Register.
This lifelong hobby, however, wouldn't stay silent.
During her freshman year, Register's friend persuaded her to audition for "The 39 Steps," a melodrama set in the 1940s.
Though skeptical, Register realized she had nothing to lose.
"She makes very strong, instinctive decisions (on stage)," Liberty Theater Professor Neal Brasher said.
"I was impressed right away that she had that instinctive ability."
After Register auditioned, Brasher contacted Register's high school theater teacher who vouched for her credibility as a student and an actress.
"'The 39 Steps' requires pretty good actors," Brasher said.
"It requires timing, wit and a lot of physical movement. So I was a little nervous casting a freshman who I didn't know."
After receiving confirmation of Register's positive work ethic, Brasher cast her as Annabella Schmidt in the play.
"I almost didn't cast her because it was just too much of a gamble," Brasher said.
"But once I got the story about her work ethic, I couldn't help but cast her."
During her remaining time at Liberty, Register participated in several plays including "Les Miserables," "The Rivals" and "South Pacific," in which she played the lead role of Nellie Forbush.
"If I hadn't gone to Liberty, I wouldn't be doing what I'm doing now," Register said.
"I'm very grateful that I ended up there. I never would have become an actor had I not met Neal Brasher and participated in (Liberty's) theatrical shows."
According to Register, a defining characteristic of a good actress is confidence.
Someone who auditions for a television show must always embrace the possibility of
receiving a "no."
Register embraced that idea during the weeks following her audition for AMC's "The Walking Dead."
A few weeks after submitting her audition tape, Register received information that every aspiring actress dreams of getting: the confirmation of receiving a role.
She was sent a script and told to be on set the next day.
"I was just thrown into it," Register said.
"It all happened so quickly."
To Register's surprise, the first fan to recognize her was Walking Dead actor Josh McDermitt (Eugene), who had recently watched an episode of "House of Cards."
Register played a protestor in a House of Cards episode in 2016.
Register said that the experience on "The Walking Dead" has had a positive effect on her acting career.
"The biggest thing I've learned from being on the TWD set is that you have to show up very confident," Register said.
"You have to be sure of who your character is. And if you don't know what to do, you have to make some educated decisions really quickly."
Register said she is completely different from her character, Laura, who is one of the show's villains.
"I don't know how I got this job because Laura is really tough," Register said.
"In the comics, she has this shaved head and all these earrings and a neck tattoo, and that's not me at all."
Despite the notable differences, Register enjoys stepping into another character's shoes because it helps stretch her abilities as an actress.
"I've had to find a lot of confidence to strut around and carry myself like that,"
Register said.
Although acting on The Walking Dead was not Register's original goal before college, she said that her new lifestyle has been very fulfilling.
Outside of acting, Register loves camping, hiking and spending time with her cats.
"I don't think I would enjoy a 9-to-5 job," Register said.
"I just need to not be confined to a daily schedule."
Register's current schedule allows her to take her work in strides, sometimes working only one week during a month.
According to Brasher, the acting business is extremely competitive and not many working actors sustain a comfortable living without doing additional work.
"I get worried that what I'm teaching is not as effective as it should be," Brasher said.
"To have (Register) go out and be successful and be doing these things is really encouraging for me as a teacher. I must not be doing too much damage."
SMITH is a sports reporter.