Going through the circle of life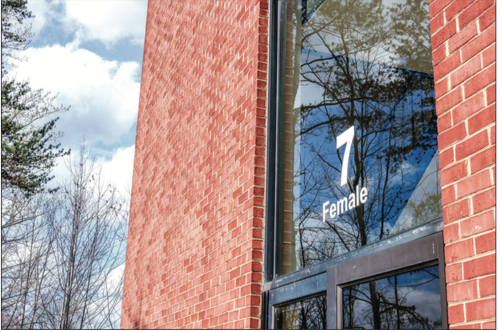 Deconstruction of Dorm 7 begins
Liberty University will begin the destruction of Dorm 7, the last remaining building from the 1987 campus, after graduation to create space for a new high-rise dormitory and dining hall.
Planning Coordinator Brad Butler said Dorm 7 was part of the original campus that included 13 dorms, four classroom buildings and a gymnasium.
"For those of us that were in school at that time, we didn't have that much," Butler said. "About the only thing we had was this vision that Jerry Falwell Sr. had, and he had this unbelievable ability to articulate and for people to understand what it was."
The demolition of Dorm 7 will create the necessary space needed for Commons 4 and a more central location for the dining hall.
"You're going to see a similar structure to the other three (high-rise dormitories) and attached to it in some fashion is going to be a two-level dining hall that will go out to the edge of the hillside near the lake," Butler said.
Butler said Jerry Falwell Sr.'s primary focus was on the students, and every decision he made was to further enhance the campus for their benefit.
"President Falwell is always directing us to do what's best for the students first," Butler said. "He is super in tune to what you guys want and what you need. He gets it and directs us to build it that way. I would say students are going to love this."
Senior Amber Tiller has lived on Dorm 7 for two years and is among the last group to live in the original building.
"I've made so many good memories in that dorm," Tiller said. "I've laughed way more in that dorm than I ever did in my freshman and sophomore year, and it's only gotten better."
Tiller said the dorm was definitely older, and although the demolition will be bittersweet, it will help the completion of the campus.
"I'm convinced that 7 is held up by prayers and duct tape," Tiller said.
 "Those dorms are going to look gorgeous, but, looking back, I don't want them to tear it down because I think it's a piece of history."
Tiller said this is a very nostalgic time as she gets ready to graduate in May.
"Dorm 7 is home even though nowadays there's construction, and we are the only ones left, and people don't think we still exist," Tiller said. "For them to get this done is going to be like a breath of fresh air for everyone on campus."
Dorm 7 will be demolished after graduation 2017 in order to begin the new construction. While no dates have been finalized, Commons 4 is expected to be complete in 2018 with the dining hall following in 2019.
"Jerry Sr. was right," Butler said. "Jerry believed that one day this was going to be a major college campus, and the fact that we're at the end of the life cycle of the last building from that original time is more than passing the torch. It's kind of like graduation and a new beginning all at the same moment."
Conley is a news reporter.