Beware of the Cracken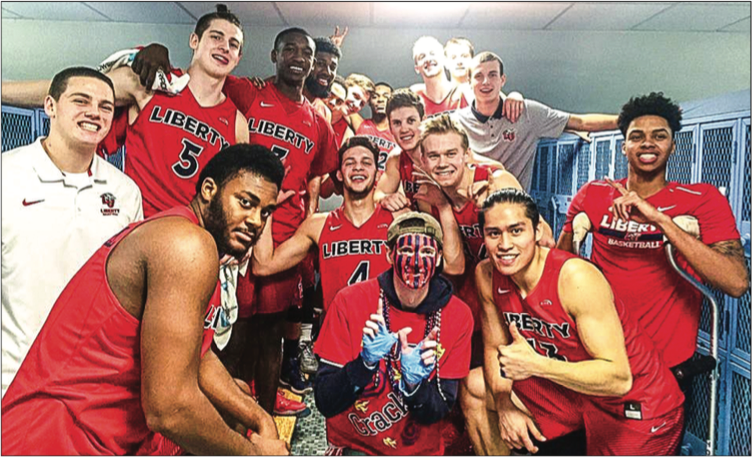 Liberty student embodies the meaning of 'die-hard' fan
There has not been a moment of silence during a Liberty basketball game for the last four years thanks to J.J. McCracken, also known as "Da Cracken," a die-hard Liberty Flames fan.
Complete with face paint, beads and a high-pitched shrill, McCracken has been a staple not only in the Vines Center, but also in numerous arenas across the East Coast.
Drawing a comparison to the passion of  Jerry's Jokers — a group of students who paint up as the infamous Batman villain for Liberty football games — J.J. McCracken goes beyond the boundaries of normal fandom when the Flames men's basketball team is playing in the Vines Center.
McCracken is a senior aviation major who created the character, Cracken, at his high school.
McCracken may seem unapproachable, but under all that school spirit is just another average college student.
McCracken is from Winchester, Virginia and while he never played organized basketball, McCracken played other sports like baseball, flag football, cross country, tennis, swimming and shuffleboard.
He found his niche as well as an alter-ego in high school — Da Cracken.
"We were at a home boy's basketball game, and at one point during the game the leader of our loud crowd turned around started shouting … but he called me out like 'McCracken, I can't hear you!'" McCracken said.
"So, that's when I did my first high-pitched scream, and he and everyone started cheering. So, that was the start of that."
From there, McCracken painted a cardboard box to perch in and found a character to transform into, becoming a legend at his own high school and the surrounding schools.
At this time he was only screaming during free throws because his voice was not yet strong enough to scream for an entire game. 
"I forget who suggested that I be in a box the entire game and pop out when the other team was shooting free throws when someone would shout 'Release the Cracken!'" McCracken said.
"I actually thought this was a great and hilarious idea, so I asked my dad for a box, quickly painted it up after cross country practice and brought it to the game with me that night."
Out-cheering other schools turned into a symbol of pride and a staple in the Winchester area.
His classmates noticed his love for athletics. 
"In my class's senior superlatives at Millbrook, I would be voted the most school-spirited guy," McCracken said.
"Oh, and who could forget being credited with 'blocking' 306 free-throws."
The character ended up following McCracken to Liberty.
McCracken has gone to every men's and women's home basketball game during his four years at Liberty.
He also travels with the team.
The full-time student has traveled 150 miles to a single away game and estimates he has traveled more than 7,000 miles in total for Liberty basketball games.
He does not mind though.
For him, this is his responsibility.
"The fact is that you know you are having an effect on the game and doing all that you can as a fan to help your team win" McCracken said.
"Enforcing a home atmosphere is also quite beneficial."
But the career of cheering for Liberty basketball has not been without obstacles.
McCracken said at a women's basketball game, a High Point parent stood next to him and screamed right in his ear for the most of the game. McCracken has also had basketballs thrown directly at him while the game clock was running.
"Other than those, I honestly enjoy seeing the others look at me when I'm screaming or dancing," McCracken said.
Contracting laryngitis may have been the most serious obstacle he had to overcome.
He admitted to not taking care of his voice.
McCracken was drinking water before and after games, which dried his throat and caused pain and damage.
"I really didn't take the laryngitis seriously, and I ended up scarring some of my vocal cords," McCracken said.
McCracken's time as the Cracken ended when the Liberty men's basketball team lost to UMBC 80-68 Sunday, March 26, 2017.
"Sunday night was actually more reflective for me than depressing," McCracken said.
With the women's loss in the Big South championship tournament earlier in March and the uncertainty of the future of the men's season, McCracken had a lot of time to reflect on the end of the Cracken.
"Obviously winning the CIT would have been preferable to losing in the quarterfinals, but I don't think one could truly count the loss as a failure," McCracken said.
"This was one of the program's best seasons in Division I history and laid a great foundation for seasons to come. I'm quite hopeful for next season. Once I got back to my apartment Sunday night I watched High School Musical 3, which brought me to compose an official retirement post on Facebook."
McCracken has recently been titled the Big South Fan of The Year, professionally securing his legacy at Liberty.
"Thank you to everyone out there who had a part," McCracken posted on Facebook.
"Friends. Fans. Enemies. Even all the haters. I haven't forgotten about you, and never will. Through the years I have had a number of various nicknames: Human Airhorn, Braveheart, Boxman, Jack-in-the-Box, Superfan, etc. Of course, that's not to mention all those unrelated to my fandom. Yet, my favorite (other than Joshy) will always just be what I've had on my box these past five seasons: Da Cracken."
But McCracken is not done with Liberty quite yet — he plans to begin his journey to earn an M.S. in Sports Management fall 2017.
In the meantime, McCracken has chosen to hang up the Cracken costume.
"I won't be around at all the games anymore," McCracken said.
"I am hoping to be able to still come to a few, but with coursework and work hours, I'm planning on not having much free time."
Abbatacola  is a news reporter.