Winning an uphill battle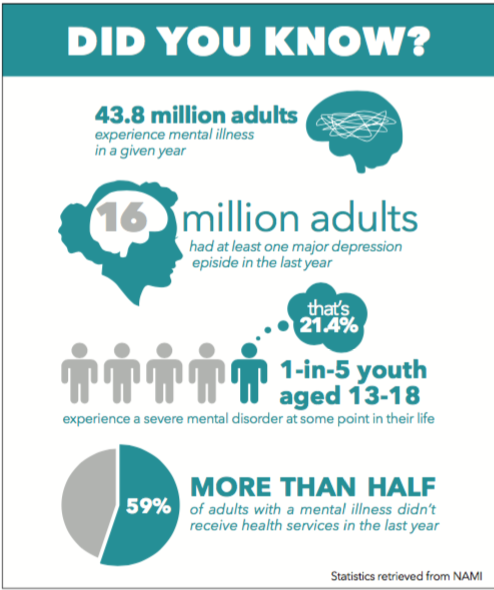 National Alliance on Mental Illness Club seeks to break stigmas and educate
With more than 15,000 students at Liberty University, it can sometimes be hard to get to know those around you.
Liberty students Sabrina Grohowski, Christina Penner and Beth Adkins, however, have done just that by coming together through one shared passion — mental health awareness.
Liberty University's National Alliance on Mental Illness Club (NAMI) was started this semester by Grohowski, Penner and Adkins in an attempt to spread awareness, support others and eradicate the stigma surrounding mental illness.
Liberty University's NAMI Club held its first meeting Tuesday, March 7 at 7 p.m. in DeMoss Hall 4046.
"Mental health is just as important as spiritual and physical health, and we really want to help educate the student body about mental health," Penner said.
"We hope that through this club, students can feel more open about their own mental illnesses and feel more comfortable finding help and support."
Grohowski shared a similar sentiment.
"As a club, we hope to be a support system for students with mental illness, a voice for mental health reform and a teacher for those who do not know about mental illness,"
Grohowski said.
Club President Beth Adkins formed the club after her own battle with mental illness gave her the idea and passion to start a club that would make a difference for others
like herself.
"When I was a freshman on this campus, I did not feel that I had much help or support available to me, and I became very isolated," Adkins said.
"I wanted to start this club because I do not believe that anyone should have to suffer alone, and I wanted there to be a support for people on campus that battle mental illness while in college."
Grohowski, Penner and Adkins had all had their own personal experiences with the NAMI organization prior to starting their club on campus.
"NAMI became a part of my life during high school when I was formally diagnosed with major depressive disorder and generalized anxiety disorder," Penner said.
"In the hospital, NAMI came and did a program for the patients to encourage us, and that is what really solidified my desire to help others and start the club on campus."
According to its website, The National Alliance of Mental Illness is a nationwide advocacy group focused on representing families and people affected by mental illness in the United States.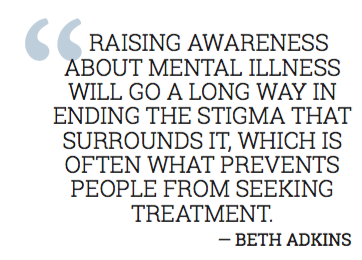 NAMI was founded in 1979 by a small group of families and has since become the nation's largest mental health organization.Today, NAMI works to raise awaren
ess and provide support to those dealing with mental illness, which is what Grohowski, Penner and Adkins hope to do on Liberty's campus.
"My time here at Liberty has shown me that there is still a huge stigma, especially in Christian culture, around mental illnesses," Penner said.
"I have faced this stigma my whole life and I wanted to start advocating for mental health awareness around campus in order to teach people about mental health and hopefully, normalize the subject."
NAMI states that one in three college students have reported that they have experienced prolonged feelings of depression and that one in four college students admit to having suicidal thoughts.
According to the Education Advisory Board, one in seven college students have claimed to have had academic difficulties as a result of mental illness.
"I want to support people on campus who have mental illnesses and also be a part of educating people about mental illness because it is a topic that is not discussed enough," Adkins said.
"Raising awareness about mental illness will go a long way in ending the stigma that surrounds it, which is often what prevents people from seeking treatment."
Adkins shared that she also hopes to advertise the resources available to students that do want to seek treatment such as Student Counseling Services — located at Green Hall — and the various counseling centers located throughout Lynchburg.
"A club like this one that restores dignity to those facing mental health issues is something that is needed on any college campus," clinical mental health counselor and senior counselor for Liberty University's Student Counseling Services Michael Trexler said.
"NAMI promotes the idea that if you are struggling, there are others who are going through the same thing and struggling alongside you — you are never alone."
According to Grohowski, Penner and Adkins, their main goals for this semester are to continue raising awareness about mental illness and to further spread the word about the club.
"We are really aiming to be a part of events throughout the community such as suicide prevention walks and bringing in guest speakers," Adkins said.
"We have a lot of ideas for the future, it is just going to take a lot of patience and planning to get there."
Liberty University's NAMI Club will be holding meetings the last Tuesday of every month from 7-8 p.m. in DeMoss.
More information about events and club updates can be found on the club's Facebook page, 'NAMI on Campus LU.'
"Personally, I'd love to help one person — and if I can help one person find the help and support they need, I'll feel like I've made a difference," Penner said.
"Not everyone can cause tidal waves, but I'm hoping that Beth, Sabrina and I can start a ripple effect that will eventually change the atmosphere here at Liberty."
Runyon is a feature reporter.