Standing for salvation
Local ministry visits campus weekly to preach and minister to students
Faint calls of "Hallelujah" and "The Great I Am" wafted up to a balcony from the Jerry Falwell Library courtyard.
Roused from their studies, a few students curiously peered over the rail. A woman below was waving a rippling, colorful flag over a group huddled in prayer.
"I figured that it was some message that she had because the flag said 'Enter In' and had a water or geyser-looking picture on it," Liberty University student Eric Roman said.
"It was weird. I didn't understand what was going on."
The singers and flag wavers were members of Standing with God Ministries, a local church, who plan to return to Liberty's campus each Sunday afternoon, they said.
"We're here to pray for people's needs," Tania Mora said on behalf of the group.
"We're here to fulfill Christ's ministry, which is teach (and) preach. … That's what the apostles did. That's what Jesus Christ did. Because people's needs are our needs."
The church is led by Pastor Joseph Garcia, whose two daughters attend Liberty.
He came to Lynchburg after he felt God was leading him to start a ministry here, he said.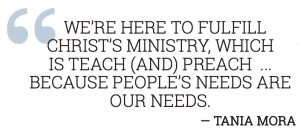 When he first arrived, he noticed how many churches were in Lynchburg.
"All the churches that I visited were awesome — good worship, amazing word — but the one thing that was lacking was power," Garcia said.
Before Garcia came to Lynchburg, he went to a church called King Jesus Ministry in
Miami, Florida.
When he came to Lynchburg, he started a focus group here, which eventually became Standing with God Ministries.
The church has come to campus four times, represented by Garcia, multiple Liberty students and Susan Boyce, the banner-bearer.
Previously they had visited Main Street in Downtown Lynchburg, according to Liberty Student Maliek Veney. But when they asked people if they wanted prayer, people generally were not eager to take them up on the offer, Veney said.
"We had pretty much no progress," Veney said.
They realized they might find more eagerness at Liberty, where people would already know about Christ.
"So this is pretty much training here as we go forth," Veney said.
"Just being helpful, being encouraging to our fellow brothers and sisters — that this is where it has to start, honestly."
Shaq Harvall is one of the students who was approached by the group as she was walking past the library.
"I had been in a funk the weeks prior," Harvall said.
"For three weeks straight I was probably the most miserable person ever."
She said her plans for her future and for after graduation had recently all been upturned, and although she had been trying to stay positive, she was a mess.
Victoria Perez and Veney had approached her and began speaking with her.
Harvall said they talked for quite a while with her and prayed with her.
After attending a Bible study led by Joseph Garcia, she began attending Standing with God Ministries.
"It feels like home," Harvall said.
Boyce, the group's banner-bearer, received her master's degree in professional counseling at Liberty.
She was living in Seattle in 1998 when David Stanfield of Out of Our Minds Banners had brought 70 banners to her church.
She had watched while members of the church marched the silk banners around the room.
"I started asking God if I could have one, because I felt it," Boyce said.
"I felt like something. I didn't understand it, but I felt it, and I wanted to be a banner-bearer. And from there I got my first banner."
She explained that when Israel came out of bondage in Egypt, each of the 12 tribes carried a banner in front of them wherever they went.
She felt that she too had come out of bondage from her past.
She now has a large collection of banners, and said she always asks God which banner to take with her.
One Sunday at Liberty she brought a banner reading "He is Risen," because it is recognizable by any denomination.
"They might be looking at me like, 'What's with the banner?' but they're going to see that there's someone who loves Jesus," Boyce said.
Students might also see Boyce dancing as she waves her banner, performing the steps of Hebrew dance.
"When (the Israelites) came out of bondage, they weren't walking," Boyce said.
"They were dancing."
When David built the Tabernacle, the Israelites gave God praise by dancing and
waving banners.
Standing with God Ministries wants to remind people that God still moves, Perez said.
"We put (God) in this box and we forget or we doubt that all things are still possible with him," Perez said.
"That he still wants (to) heal people from cancer, he still wants to heal people with lupus, (or) from any type of infirmity."
Wherever Jesus went, signs and wonders accompanied Him, she said.
"God is the God of the now," Perez said.
"He still wants to do these things. That's what we're trying to remind people and encourage them of — that nothing is impossible for Him. You just literally need to believe that all things are possible with Him."
Pors is a feature reporter.