Bringing Cookout to campus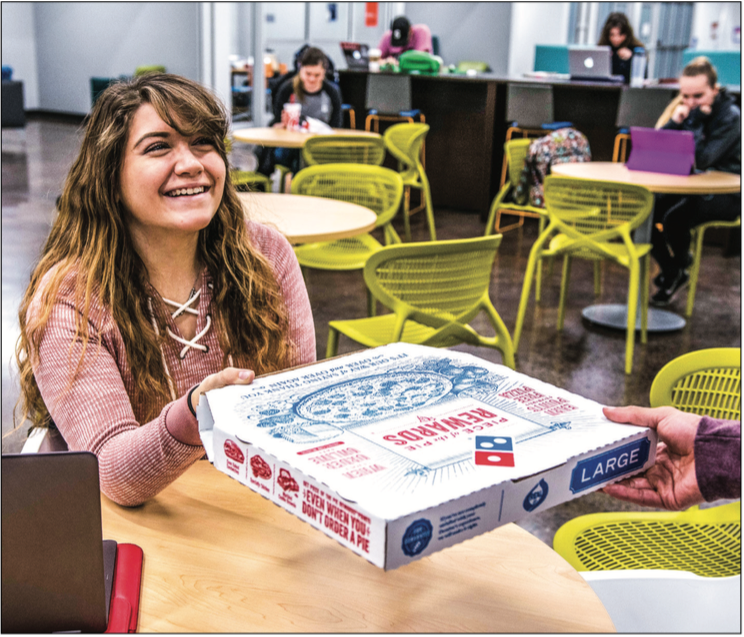 Food delivery app JoyRun allows student-to-student orders and deliveries
It is no secret that college students tend to have crammed schedules, which can make food runs and having money to afford those food runs a challenge.
Enter the new, free JoyRun delivery app. You can save precious time by ordering food to be delivered anywhere in the area by other app users, or earn some extra cash by personally running a few deliveries for other hungry students.
While out getting food from a venue such as Cookout, a user can become a runner and "Start a Run" at any time to let other users order alongside them.
The runner will then buy the additional food, deliver it to the recipient's location, and get reimbursed for the delivery and purchase — earning extra money in the form of a delivery fee and tips.
All of the money is handled electronically in the app for safe transactions between users, providing a convenient way to make a little spending money.
The app also gives users the ability to request a run.
This allows orders to be placed for the quick and easy delivery of snacks, groceries and even non-food items right to the dorm.
JoyRun student leader Tyler Feldman described the purpose of the app in the
college sphere.
"It's a community-style app that helps students help out other students, essentially," Feldman said.
"The cool thing is everyone who has the app has the ability to make money off of it. It's not like a service that only offers one thing – you can honestly order from anywhere in Lynchburg and someone can go get it for you, or you can go get it yourself and see if anyone (else) wants anything."
Menus are provided in the app for many local food outlets, allowing ease in making delivery selections from any spot on campus.
While JoyRun services initially began back in 2015, the app was introduced to the Liberty University campus about one month ago.
It is currently used at more than 50 campuses across the nation to unite student communities and is particularly useful for students without cars.
"We call it an 'in context' run," Feldman said.
"You're already at the store, so it's not like you're going out of your way to do anything. You can just pick up some extra things, drop them off and get paid for it."
Users can also apply to join the Runner's Club, an incentive program for runner's to earn points and make money as they complete runs and help the community.
A member will also gain a personal code which can be given as coupons to others, allowing new users $5 off their first order and gifting the member $5 of credit in the JoyRun account to be spent on future orders.
For safety reasons, the app also requires all users to sign in with Facebook—that way, those delivering food can know the individual's name and what they look like.
Because money is not taken out of a buyer's account until the delivery is made, both the deliverer and recipient are protected from possible scams or overcharging.
To Feldman, the app does more than allow drivers to earn money — it allows students to share their faith by blessing others with acts of service.
"It's courtesy," Feldman said.
"You're able to do a kind act for a friend or a stranger, and people are really receptive to that message."
The JoyRun app is available for free download on iOS and Android. Visit joyrun.com for more information and frequently asked questions.
Sauppe is a feature reporter.