Believing you can fly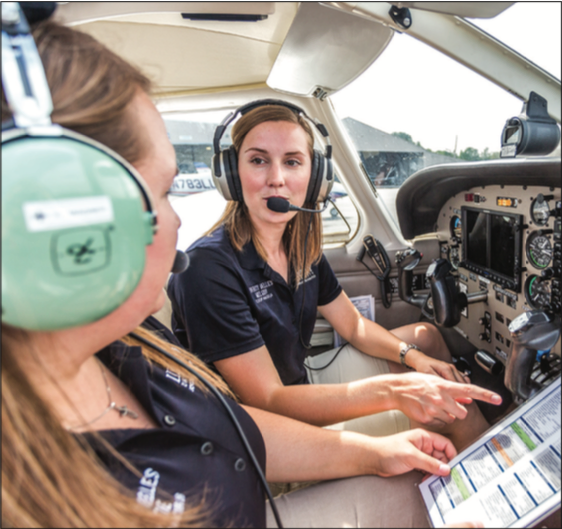 Liberty School of Aeronautics grows quickly admidst a global pilot shortage
Liberty University's School of Aeronautics is helping fill the gap for the global need for  pilots, mechanics and aviation personnel caused by a surge of retirements of trained pilots throughout the past couple of years and by expanding national economies.
Currently, there is an extremely large need for unmanned aircraft system operators, mechanics, pilots, captains and flight attendants.
Aircraft manufacturers Boeing and Airbus predict there is a need for more than 619,000 new pilots before the year 2035.
In addition, there is also a need for 679,000 mechanics and 800,000 flight attendants in that same time frame.
The forced retirement age, an uninterested younger generation and the expensive nature of preparing for an aviation career are all contributing reasons for the shortage.
The military is looking at equally extreme pilot shortages.
Liberty's School of Aeronautics Dean James Molloy reported that the Air Force is in need of hundreds of pilots and that as the drone industry rises, it will create at least 100,000 new jobs.
Liberty's School of Aeronautics is working to fill the pilot gap with its online program, developing a high-school dual-enrollment program and organizing community-driven events to get women and minorities involved in aeronautics.
Liberty's online program is unique compared to other online programs and is growing steadily.
Molloy believes there is not an online pilot degree like Liberty's in the country because the program involves both traditional online classes and flight training at one of the 48 Liberty- affiliated flight schools, with which Liberty partners.
"We maintain a strict and comprehensive compliance regime to ensure quality, but in reality, the flight schools we choose to partner with are great schools," Molloy said.
According to Molloy, online Liberty student pilots can complete their required pilot certifications at one of the affiliated flight schools and qualify for a Restricted Airline Transport Pilot license at 1,250 flight hours.
This is a reduction from the 1,500 hours normally required.
Residential students can qualify for the airlines at 1,000 hours of flight time, and they normally achieve this while working as a flight instructor for Liberty.
"We gain incredible syngergy and innovation with the combined brain power, experience and expertise of all those flight schools, some of which have been in successful business for several decades," Molloy said.
While over 400 students prepare for pilot and unmanned aerial system careers at Liberty's residential campus, there were 635 online students studying to be pilots in summer of 2016, and the school expects to grow as it receives more exposure.
"Being able to be in a degree program for professional pilots has opened tremendous opportunities for the hundreds of students in the online program," Molloy said.
Molloy said the school of aeronautics believes online education is a huge benefit for people around the nation.
Whether they cannot uproot a family and move to Lynchburg or need to work during their time as an online student, the program is assisting hundreds of people to pursue their dreams.
Another opportunity to grow the program and fill the global need for pilots is the push for high school students to get involved.
Liberty has a dual enrollment track for high schoolers.
"We are developing our own high school aviation program for pilots and aircraft mechanics," Molloy said.
"We conduct summer camps each summer to get more local youth involved in aviation."
Liberty's efforts to get high schoolers involved and the Aircraft Owner and Pilot Association new aviation STEM initiation are just two ways to get high schoolers involved in aviation.
High school students, though, are not the only focus for the school.
Molloy said he is passionate and dedicated to getting minority groups involved in aviation.   
"There is a relatively untapped population of potential pilots, mechanics and other aviation-related professionals with females and many minority groups," Molloy said.
An aviation background paper written by Molloy noted that women and African Americans were blocked from the industry for a long time.
It was not until the 60s and 70s that some minority groups were accepted into
aviation careers.
The same report also stated that less than 15 percent of students in professional pilot programs are female, only 2.7 percent of airline transport pilots are African American, and 2.5 percent are Asian and 5 percent are Hispanic.
The Federal Aviation Administration reported in 2015 there were 111,694 active student pilots including 13,587 women.
Most schools have around 11-15 percent women in their aviation programs and Liberty's demographic is pretty standard, which Molloy said is very important to him.
"My personal passion and the subject of my dissertation is to bring the potential of an aviation career to more youth, especially those who are underrepresented in aviation, namely women and racial minorities," Molloy said.
Liberty's School of Aeronautics grows about 10-15 percent each year.
Liberty started its program with four students and one rented plane and is now reaching more than 1,500 online and residential students at multiple locations.
The New London Airport, which was acquired by Liberty last year, has seen increased activity by Liberty students who find it an excellent place to train and become immersed in aviation.
Molloy said industry recruiters who come to Liberty's aeronautic school want more Liberty students because of who the graduates are, not just because of their
piloting skills.
"Pilot skills are important of course, but industry leaders and recruiters tell us they also want people who have professionalism and integrity and who possess leadership and team skill qualities," Molloy said.
"They love the values that our graduates bring to their company."
Molloy said that four or five years ago,  when the industry was experiencing an economic recession, that the school could not get recruiters to come.
Now there are multiple recruiters each week courting the Liberty students.
While this creates an invigorating environment for students to learn, knowing they are going to get a job in their field, Molloy said it can also be a bit paralyzing because of all the choices offered to the aeronautics students.
Though flight training can be expensive, it is viewed as an investment into a professional career that pays off.
Airlines have recognized the relatively high cost of flight training, and they are now offering first-year pay that is double what it was a couple of years ago.
Some airlines are even offering loan payback incentives to students who commit to the airline while still at the university. Students can interview as early as their junior year, and be conditionally hired by an airline.
"We have awesome students who are teaching their peers how to fly aircrafts, and they are doing that extremely professionally and with great competence," Molloy said.
"If that doesn't get you excited, I don't know what will.
Abbatacola is a news reporter.