Exploring Waterways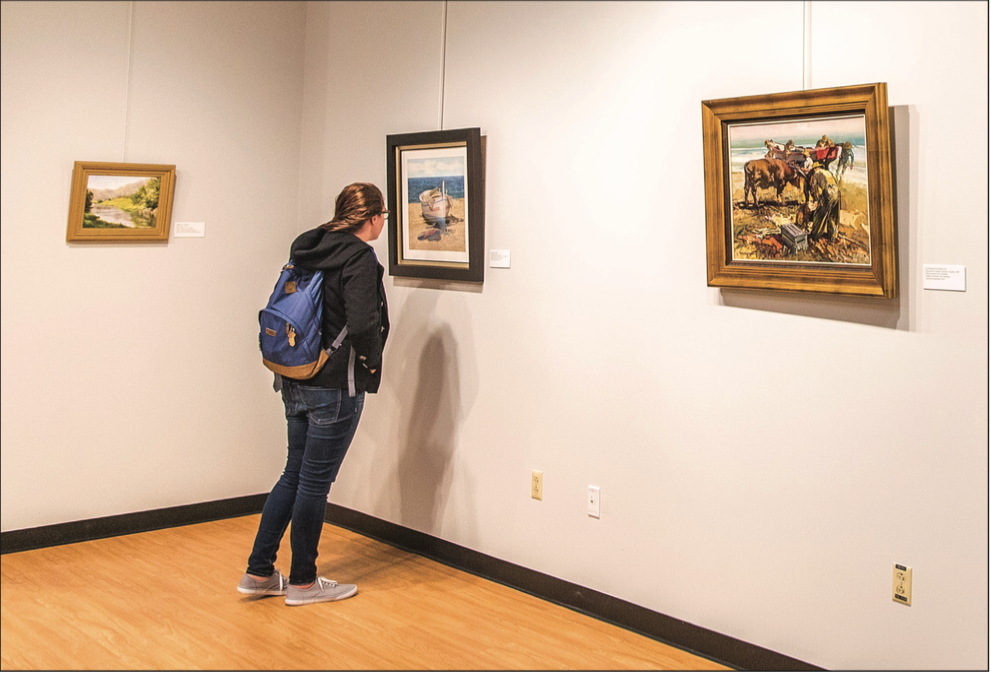 Art exhibit showcases water-themed paintings from Liberty's private collection
The "Waterways" art exhibit ran from Dec. 15 to Jan. 19, giving students and faculty the opportunity to view the land and water-themed exhibit.
This exhibit's collection of paintings focused on the beauty of bodies of water and landscapes with aquatic features.
The exhibit, purchased by the university in 2016, was the latest installment of Liberty's permanent collection.
Paintings such as "Vele al Vento" and "Barche Rosse," created by Pietro Piccoli, were featured alongside 11 other national and international artists' work.
"This exhibit is definitely unique because we were able to put together a themed exhibit by bringing together all of the different artwork from the artists," gallery assistant Chelsea Bevins said.
The paintings included both hyper-realistic and abstract works, created using varied techniques, styles and materials.
There are brochures available in the art gallery with further details and information on each of the pieces that are currently on display.
The artwork was returned to the permanent collection archive, where Liberty holds its private collection until they are once again put on display.
Liberty's gallery currently rotates exhibits throughout the year.
Some of the pieces in the permanent collection are circulated through the gallery multiple times, and will be on display again at some point in the future.
"We are a young university and a young gallery, and it is important for us to expand the permanent collection," Bevins said.
With a growing collection, the university hopes to eventually open a permanent gallery where the art can constantly be on display without being rotated through.
The gallery, opened in 2009, has been expanding and adding to its permanent collection ever since.
"We're very excited about the recent additions to this collection," Todd Smith, director of the gallery, said.
"With these pieces, as well as the new 'Life of Christ' Collection in the Montview Ballroom, we're expanding the goal of the gallery to impact the culture on the local, regional and national level."
The next exhibit will be the work of Kelsey Philips and her husband Christopher Philips in a faculty exhibit titled "Prism."
Both Kelsey and Christopher Philips teach studio and digital art classes at Liberty and have each recently completed their second master's degrees.
Their collection will feature both paintings and hand lettering with the abstract theme of color and light tying the works together.
The Philips' work will be on display and for sale in the art gallery from Jan. 26 until Feb. 11, with an opening ceremony Jan. 26 at 6 p.m.
The gallery is free and open to the public for both these exhibits, as the gallery continues to showcase the various artwork with hopes to inspire and influence art in the community.
Baderman is a feature reporter.