Spreading Christmas cheer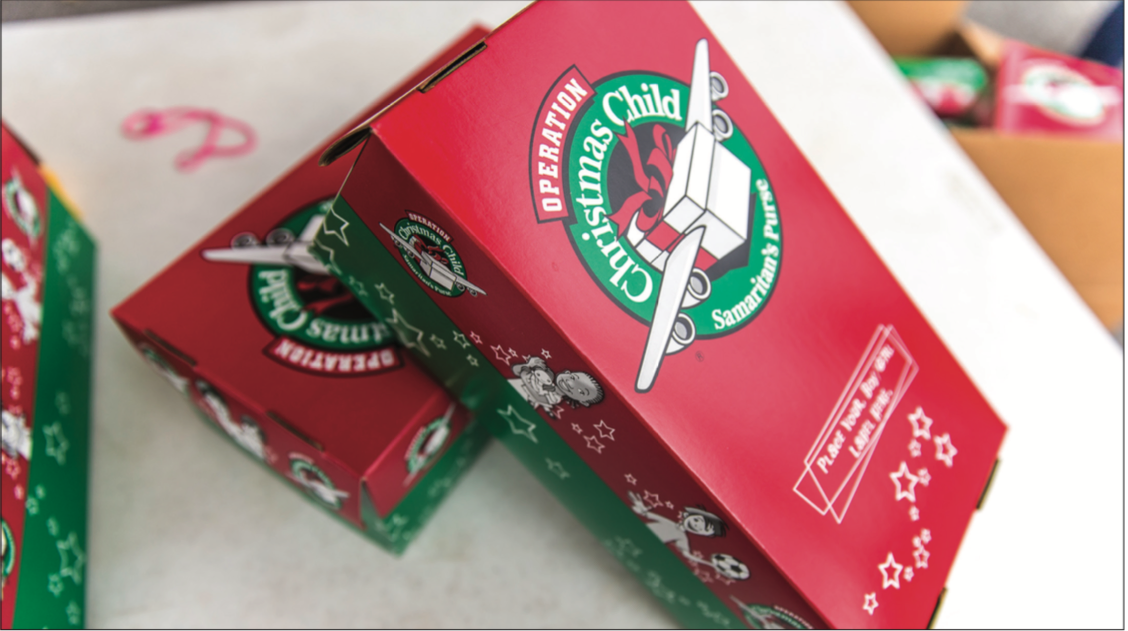 Operation Christmas Child collects more than 1,750 boxes from Liberty students
Following Liberty University's Operation Christmas Child (OCC) Blitz Week, more than 1,750 boxes full of toys, school supplies and hygiene products were filled by students and faculty at Liberty for children across the world.
With OCC Blitz week at an end, the chapter is now preparing to send those boxes to North Carolina to be processed and distributed. While the goal was not met, the OCC chapter president at Liberty University has a smile on her face.
"We were ecstatic," OCC student President Taylor Frost said. "The fact that so many children are going to receive gifts and the gospel makes my heart full."
The goal for the chapter this year was to raise 3,000 boxes for the children.
Even though the amount was not met, Frost said the number of people that participated this year made her extremely happy.
"Students got their boxes and went straight to get the supplies," Frost said.
"Wal-Mart and Dollar General had backed-up lines all night (Wednesday, Nov. 2)."
While the checkout lines were being filled, Frost said how enjoyable it was to see Liberty work together on this project.
"We've noticed this year, being our third year (as a club), that usually three to five students partner together to pack a box, Frost said. "We love seeing LU come together for this cause. It gets everyone in the Christmas mood."
Liberty's OCC chapter is not yet done collecting shoeboxes, however. Nov. 14-21 is national collection week, and Frost wants to make sure students know they still have time to turn in a box.
As of November 6, Frost said they are still collecting shoeboxes at the school of aviation.
All the shoeboxes will be collected and sent to a processing plant in order to ensure all items are able to be shipped and are packed correctly.
After leaving the processing plant, they will be delivered to children.
Ciara Craddock, a global studies student, took part in this experience last year in Senegal, Africa where she handed out the boxes that were collected.
"I have to say it was incredibly humbling to hand out those boxes," Craddock said.
"The children were so incredibly thankful, and these boxes are filled with items that are a true blessing — things that are needed like a toothbrush, but also things that bring joy, like a small toy or stuffed animal."
Craddock was doing her internship in Africa.
She spoke about the expressions on the children's faces when they got their box.
"I can't even think about how the children responded without tears coming to my eyes," Craddock said.
"They would stand up, hold the box above their head, smile and just start screaming with joy."
Craddock also said it was incredible seeing the shoebox ministry come to life.
She said she has always filled a shoebox every year, but that year, she felt "honored to give those boxes out."
"Every year my brothers and I each fill up a shoe box around Christmas time, spend maybe $10 on each box and then pray over them before we turn them in," Craddock said.
"Honestly, I don't think much of it after that point. It was amazing to hand the box to a child knowing that I'm not just handing them a box full of coloring books, crayons and toothpaste, but I am handing them a box that had been prayed over by people all over the world."
The change that Craddock saw in this not only changed her mind on the boxes, but she went as far to say that it changed
something in her.
"I saw that this ministry really does impact and change someone's life," Craddock said.
"Sure, we can talk about it and say it all we want. But when you physically see the crowds of people, the children's smiles, and the way that it actually meets a need that otherwise wouldn't be met, there's nothing like it. It changes your perspective on life, and it changed me."
ROBERTSON is a news reporter.