Sound the Trumpence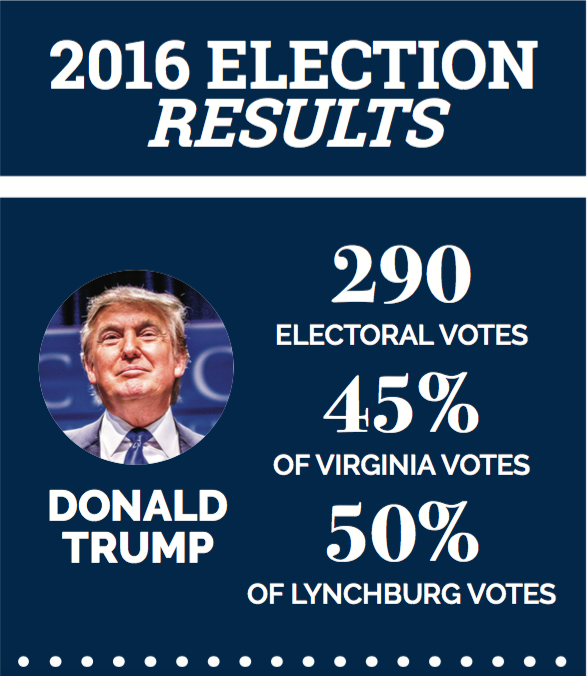 President-elect Trump upsets Clinton in national election, loses in Va.
In an unexpected landslide, Republican Donald Trump beat out Democrat Hillary Clinton in the presidential race, winning 290 Electoral College votes over Clinton's 228 as of Nov. 14, making Trump the president-elect.
The results came as a shock to many as Clinton was predicted to win the presidency.
The New York Times posted a graph forecasting the results, putting Trump at a dismal 15 percent chance and Clinton at 85 percent.
As Tuesday's election results were tallied, the numbers took a sharp turn as Trump managed to lay claim to many swing states, including Florida and Pennsylvania, which ultimately secured his victory.
Trump surprised many pollsters when he took Wisconsin, Michigan and Pennsylvania, scaling the Democrats "blue wall."
"(More) blue-collar working-class whites turned out in mass numbers for Trump than anyone expected," Dustin Wahl, the former spokesperson for Liberty United Against Trump said.
Allie Childers, acting president of the unofficial College Democrats of Liberty, suggested this happened because not enough millennials came out to vote, of whom the majority lean Democrat.
"It probably has to do with demotivation among young Democrats as well as people who support Trump not being as vocal about it in the primaries," Childers said.
Despite Trump winning through the Electoral College, Clinton acquired the popular vote, a stat that is causing much tension between parties and calling the reliability of the Electoral College system into question.
"We live in a democracy, but that's not what democracy is — that's not how it's supposed to work," Childers said.
"At this point, there are some people's votes that don't matter with the winner-take-all Electoral College vote system. If you are a Democrat in Texas or a Republican in California, you might as well not vote. As difficult as it is to say, as much as we want to encourage people voting, with a winner-take-all system, it really demotivates people from taking their place in the system if they know it isn't going to count anyways."
But there are still many who think-the current system is the best way to do the elections.
"I'm actually a fan of the Electoral College," Wahl said.
"I think we're not a democracy. We're a republican form of government, and the people's views on things shouldn't be the driving force behind everything. The founders put in a system of checks and balances in federal power, like the Electoral College, where the states decide to elect the president."
During the election, the Republican Party also took the majority of seats in both the Senate and the House, giving the party control of both houses and the White House.
"I think the main thing with the House and Senate is Republicans were more motivated to vote this election," Childers said.
"Most of the people who were voting for Trump were going to vote Republican down-ticket."
In Lynchburg, the results were evidently swayed by Trump's strong support on Liberty University's campus despite Virginia voting Democratic.
According to the Virginia Department of Elections, in Lynchburg City, Trump received 50.44 percent of votes, Clinton 41.48 percent, Johnson 3.87 percent, independent candidate Evan Mcmullin received 2.80 percent, and the Green Party's Jill Stein earned 0.58 percent.
According to Fox News and CNN, the DOW reacted with economic whiplash to Trump's victory, initially plummeting almost 900 points at one point, but rising rapidly even just after his victory speech.
By Nov. 11 the DOW had not only recovered but rose 37 points, the highest it has been in five years.
"I think this can happen in any election," Chairman of College Republicans at Liberty University, Jonah Athey said.
"In Brexit, when (Great Britain) pulled out of the European Union, you saw a huge shift in stock markets, and then it sprung back up."
According to TIME, third-party candidate Gary Johnson only gathered around 4 percent of the popular vote and no Electoral College votes, underwhelming his projections.
The President of Youth for Johnson and Weld's Liberty chapter, Tito Reyes, and his vice president, Aaron Sobczak said as far as the Libertarian candidate goes, he didn't make enough of an impact, adding that conservative candidate Evan McMullin served that purpose better.
"I think McMullin made a bigger statement," Sobczak said.
"I think him being in the election showed the Republican Party that conservatives weren't happy and that if they're looking to win elections in the future, they're going to have to find a more conservative person."
"I think his presence during the campaigning was more of a statement of what the American people wanted," Reyes said.
"I think that he really called out the major party candidates on the fallacious arguments they were giving. They weren't addressing real issues. They weren't addressing policy."
"Emotions are running high in all of us, so we need to take a deep breath and realize, 'Well, this isn't what (the College Democrats of Liberty) hoped for," Childers said.
"It's not ideal, but in four years the world will still be here.' This is not the end — it's just a setback."
Panyard is a news reporter.