Out in the real world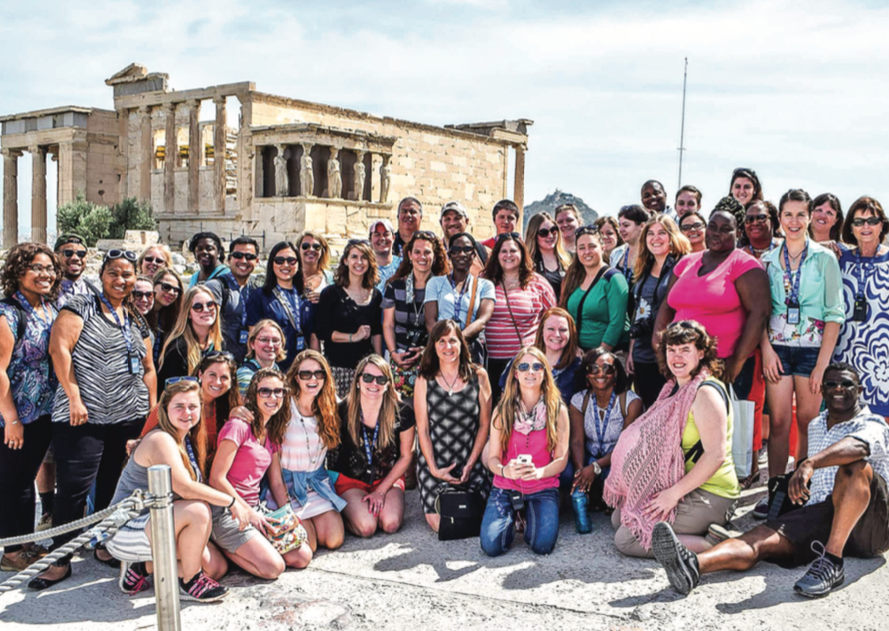 LU Send and study abroad offer students academic opportunities worldwide
Through Liberty University's Office of International Education and LU Send programs, Liberty students have had the opportunity to experience cultures from around the world.
Liberty's Study Abroad Program was established in 2009, helping students live and learn abroad for up to a year in many countries.
LU Send was established last year in 2015, and through both of these programs, students have been placed around the world to fulfill both academic and personal opportunities.
Between LU Send's short-term travel opportunities, and International Education's long-term study abroad options, both departments work together to manage all of the university's international travel needs.
Julie Deutsch, a junior, was a member of LU Send's first trip to Israel in spring 2016. The group she went with visited multiple biblical landmarks such as the Sea of Galilee, the Jordan River and the Garden of Gethsemane.
Deutsch said the highlight of her trip was to be able to "stand where Jesus stood, walk where he preached and read his stories where they took place." She said her favorite moment of the trip was when the group visited the Sea of Galilee.
"We all sat outside and just sang and worshiped and meditated," Deutsch said. "Dr. (Ben) Gutierrez is a great speaker and really spoke to our hearts. We got to go out on a boat and watch a storm coming in. There was this little stream of light coming out of the clouds (and) dancing on the water while we were singing, and it was so gorgeous."
LU Send's trips all have an academic base, according to associate director Brandon Milks. The trips, which allow students to learn about history and culture while allowing some sightseeing, are a "once-in-a-lifetime opportunity," according to Milks.
"We want to have our students see their degrees become global and just get out there and make a difference for the gospel," Milks said. "I think our trips do that very well, and we have a good list of students who will go and eventually … study abroad."
LU Send operates multiple short-term trips throughout the school year and summer that can often count for academic credit.
In the spring of 2017, trips will be offered to France, Germany, Switzerland, Greece, Israel, Palestine and Ukraine.
In the summer, students will be able to go on trips to Spain, France, Italy, Germany, Switzerland, Greece, Guatemala or Romania.
According to Milks, the current goal for international trips is for students to experience an LU Send trip before participating in the natural progression to a longer study abroad program.
Though they are encouraged, they are not required for a student who desires a semester or year-long study abroad experience.
Audrey Hammond, the director of International Education & Internships, said that around 150 Liberty students participate in a study abroad or international internship program each semester.
According to Hammond, at some nearby schools, 25 percent of their student population are involved in a study abroad program, and Liberty is striving to meet this goal as they are working to get more students involved with the programs available.
One-hundred-twenty different countries are available for Liberty students to travel to, and Liberty works with multiple academic organization's foreign schools to get each student to the country they desire to study in that also has classes that will work toward their degree completion plan here at Liberty.
According to Hammond, the department is working to change the current preconceptions that students may have toward studying abroad.
"A lot of people say, 'I would love to study abroad, but I don't want to fall behind,' or 'I would love to study abroad, but I don't have the money,'" Hammond said. "We have a lot of things in place to help. (You would) be taking 12-15 credit hours anyway, so why not do them overseas?"
Hammond also said financial aid, student loans, and outside scholarships can be applied toward the cost of study abroad.
Depending on the student's major, there are grants and scholarships available outside of Liberty specifically for students who want to study abroad.
Hammond herself, when she was an undergraduate student eight years ago, went on a short-term trip to China with Liberty, and then later decided to complete a more long-term internship in Brazil for her major.
Because of these experiences, she encourages others to go on an extended international trip. "I mean, why not?" Hammond said. "Students grow spiritually, academically and in maturity because other countries teach differently than we do. You really stretch yourself, you learn who you are, and you find your independence."
Students who participate in study abroad programs gain important experiences that can help them in their future careers, according to Hammond.
"People who take advantage of programs like this have an 86 percent higher job placement after they graduate because it shows they take initiative," Hammond said. "Employers know that when you learn to live in a different country … it makes you a different person."
Liberty students interested in studying abroad, international internships or LU Send trips can visit liberty.edu/academics/studyabroad.
NUll is a feature reporter.
Moyer is the feature editor.