Cadets answer the call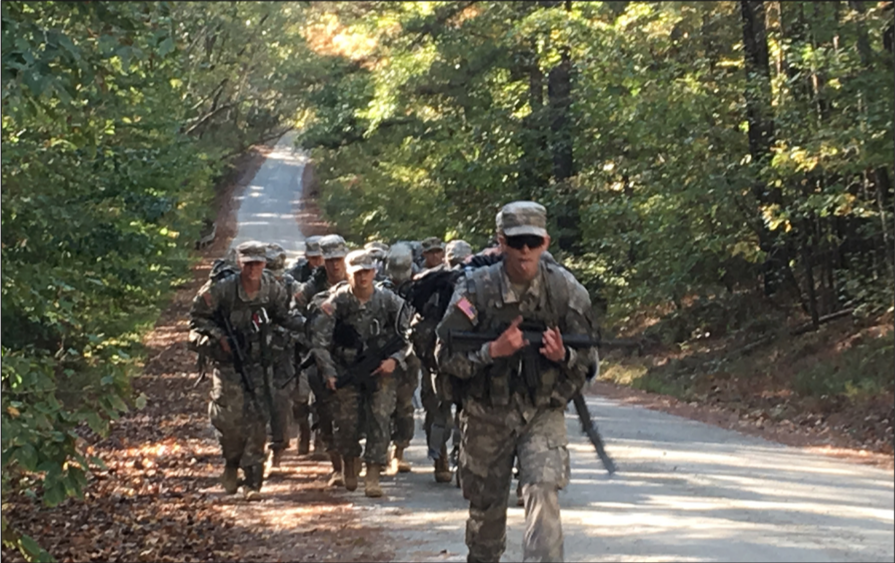 Three ROTC students earn distinguished military honor
Three Liberty University students were awarded the honor of being distinguished military graduates within the 2016 graduating class of the ROTC.
Ben Solem, Rob Moretz and John Hixson, seniors at Liberty, received this distinction based on their nationwide class ranking, which is comprised of their GPA, involvement in extracurricular activities, a physical fitness test, and their professor of military science's rating.
After combining these different aspects, Moretz ranked in the top 20 percent and Solem and Hixson ranked in the top 10 percent in the nation.
"We are a nation with millions of people, and one tiny Christian university, in backwoods Virginia, produced three top future officers," Hixson said.
"Yeah, we worked hard for that, but that's a victory for our school, our ROTC program, and for our instructors that were sent here."
One such military instructor is Col. Bret Hamilton, who Moretz said teaches him and the other cadets something in every single conversation, one of the primary lessons being that leaders create more leaders.
Solem also said Sgt. 1st Class Adrian McGill and his method of letting the cadets experience trial and error can be helpful.
"I think that's a unique trait as a leader when you're able to allow someone to fail and still learn a lesson out of it," Solem said.
While many traits are developed during ROTC training, Hixson said persevering helped him create discipline.
Hixson estimated the time ROTC demands increases from roughly 10 hours per week as a freshman to up 40 hours per week as a senior.
Those hours occasionally occur in the darkness before dawn, and on those mornings, Hixson and Moretz said they look for anything wrong with them, even a hangnail, that could excuse them from going.
"Then you're like, wait a minute," Hixson said.
"There are 89 other guys on this campus with the same thing running through their mind, so I'm not going to be the one left out. That pushed me to keep going."
As a result of their shared challenges and victories, Hixson said the Army becomes a brotherhood.
While other schools' ROTC programs may bond over parties and fraternities, Hixson said at Liberty, they bond over a shared faith in God.
Hixson said their shared beliefs helped create unity within the program.
While in uniform, there is respect earned by upperclassmen who have experience.
For Hixson, it goes beyond that.
"The minute you take off the uniform, you respect each other as a Christian, not necessarily as a cadet rank," Hixson said.
This connection has helped Liberty's ROTC program perform well at competitions, according to Solem.
For example, at the Ranger Challenge Competition, Liberty placed third out of 42 schools even though the team was primarily freshmen and sophomores.
Solem said Liberty cadets consistently rank among the top of the nation has provided a platform for him and the other cadets to share what they believe because people take them seriously.
This helps combine the goals Moretz said he has.
"For me, it's an exciting opportunity not to just serve in the military but to be a light," Moretz said.
"We're not just here to become great officers and build the legacy of the Army. We're here to build the legacy and kingdom of Jesus Christ."
The distinguished military graduate honor that Solem, Moretz and Hixson earned provides them priority when requesting which branch of the Army they
want to pursue.
This spring, Solem will graduate with an interdisciplinary degree with focuses in government and biomedical science.
Solem then plans to move to Georgia where he will eventually lead an infantry platoon for a few years before going to medical school.
Moretz plans to graduate with a Christian leadership and church ministries degree.
He also received permission for an educational delay in order to begin seminary and then pursue becoming a chaplain for the military.
Hixson will receive a pre-law degree with a minor in strategic intelligence.
After graduation, Hixson will be commissioned to Fort Sill in Oklahoma as a Field Artillery Officer before possibly pursuing jump school to join an airborne unit and then law school.
Price is a news reporter.