The Flare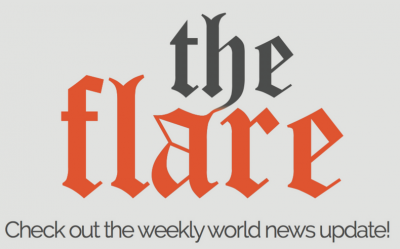 Christians celebrate in Iraq
The Islamic State of Iraq and Syria (ISIS) took Qaraqosh, Iraq in 2014 according to Inquirer.net, but now Christians "danced and sang " as Iraqi government forces attempt to take back part of their country. According to CNN, "part of Qaraqosh has already been liberated." The Iraqi government continued to work with a Christian "paramilitary group" while trying to free other towns in the area.
Twins separated
After Jadon and Anias McDonald were born "conjoined by the head," Oct. 14 marked the 13-month old boys' first days as separated human beings. After a 27-hour surgery in a New York hospital, Nicole McDonald updated her social media as the boys health continued to improve according to CNN and ABC 7 Chicago.
"Zombie drug" hits Australia
Flakka hit the United States — specifically Florida — after being imported from China, NBC said in a December 2015 article, and the drug ran it's course for about 14-months. Now, Australia is feeling the effects of the drug. Sixteen people have been hospitalized in Australia from overdosing on Flakka. The drug raises blood pressure as well as temperature and can lead to "extreme aggression," psychotic episodes as well as "adrenaline-like strength" according to Cordant Solutions.
Highlights of the debate
From "bad hombres" to "open borders," Fox News said top moments of the third and final presidential debate included the topics of immigration, abortion, allegations against each candidate (of course), and the election being "rigged" according to Trump. The Washington Post also sorted through the debate, and fact checked throughout. The debate transcription by NPR can be found here.