The Flare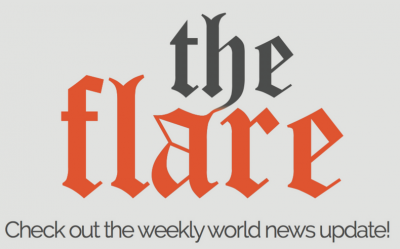 Hurricane Matthew
More than 1,000 people are dead in Haiti according to Al Jazeera, and 1.4 million are in need of aid after Hurricane Matthew swept through the country. The storm left 34 dead in the United States as well. An article from The Weather Channel provided insight on how to help the victims of Hurricane Matthew.
Cover Boy
CoverGirl brought on a new 17-year-old model on staff — James Charles, the first CoverBoy according to USA Today and CoverGirl announced on their Instagram account Oct. 11. Charles started make-up tutorials on his YouTube channel, and now he will represent CoverGirl's brand in "an upcoming TV ad for the brand" according to CNN Money.
Ronald McDonald steps down
As the clown chaos continues in the states, McDonald's fast food chain released a statement Oct. 11 according to the NBC News, staying the corporation is "mindful of the current climate around clown sightings in communities." Because of the creepy clowns running rampant on the east coast in particular, Ronald McDonald will be laying low temporarily.
At the polls
Real Clear Politics reported their latest poll October 12 shows presidential candidate Hillary Clinton ahead of Donald Trump in many states. CNBC said NBC News/Survey Monkey poll showed positivity for Trump. The winner of the second presidential debate was undetermined, but CNN thought the winner might be Ken Bone, the audience member in the red sweater who asked questions at the debate Sunday night.