Matt's aftermath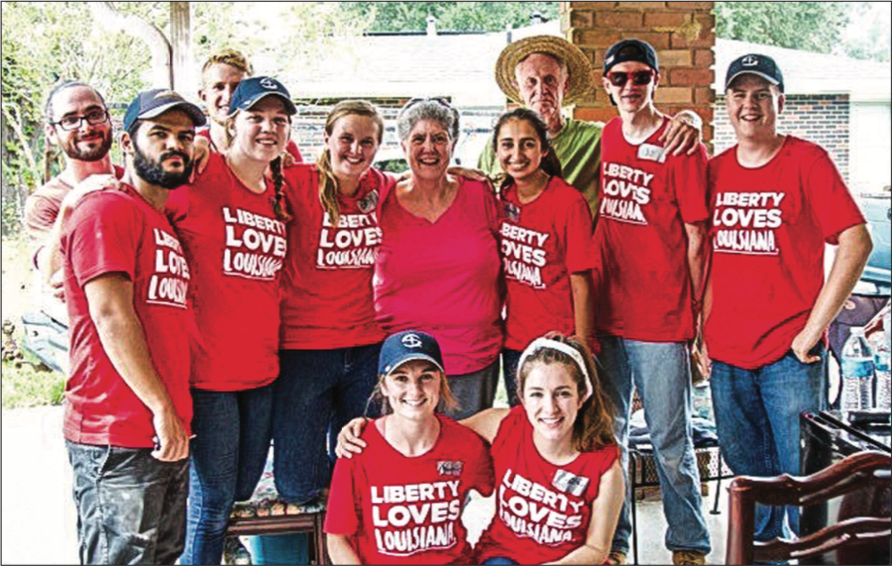 Hurricane Matthew and floodwaters take their toll, devastating homes and property of Liberty students.
The combination of flooding in Baton Rouge, Louisiana in August and the recent rain and winds of Hurricane Matthew in the Caribbean and East Coast resulted in businesses and homes destroyed, widespread power outages and hundreds of deaths.
The damage is personal for several Liberty University students and their families who have stories within the statistics due to being caught in and affected by these natural disasters.
Zachary Ginn, a junior studying professional communications, is from Denham Springs, Louisiana, which flooded.
He said that prior to the flooding, he was watching news coverage of other areas flooding without any concern.
However, Ginn said the flooding reaching him and his neighborhood served as a wake-up call.
"Seeing your mother break down and cry because her great-grandmother's chest is completely destroyed, I mean if that doesn't change your empathy level, I don't know what will," Ginn said.
After hours of helping move neighbors' furniture to higher levels as the water rose, Ginn and his friend Chandler Stobbs had the chance to leave with the National Guard, but Ginn's mother opted to stay.
Ginn stayed with her and, as a result, slept with three feet of water beneath him.
"It's a really eerie feeling knowing that there is a lake with a current beneath you, and that's your living room," Ginn said.
"You could walk downstairs and do a breaststroke if you wanted to."
The next day Ginn's neighborhood was completely flooded, and Ginn, his mother and Stobbs had to wait until two volunteers with a bass boat rescued them.
From there, Ginn spent the next few days with families from his church as his house required repair.
While Ginn left for Liberty after a week, his parents still could not live in their house for more than a month after the initial flooding.
Ginn said this experience absolutely changed his perspective on tragedies from now on.
"I'll never turn a blind eye to a tornado that hits a city in Kansas or a local flood because it is so much more than a house made of bricks," Ginn said.
"It is three souls that live inside that home. That's what matters."
Two people Ginn can now relate to better are Rachel Frost, a junior studying marketing, and Ashleigh Beckles, a graduate student studying marketing, both of whom were affected in some way by Hurricane Matthew.
Frost went to her home in Conway, South Carolina for fall break at the same time as her area began evacuating for the storm.
Not expecting Hurricane Matthew to hit as hard as it did, Frost and her family stocked up water and batteries but decided not to evacuate.
Due to the house's position, Frost's home received minimal damage, and she said the lack of electricity actually encouraged her family to interact and play board games.
It was not until after the hurricane passed and Frost got to drive to see the rest of her neighborhood did she grasp the impact the storm had.
"The first time we drove through, it was wild just seeing it," Frost said.
"Seeing all the trees down, some trees crushing people's houses, that's when it became so real to me."
On the other hand, the hurricane did not sink in for Beckles by seeing it, but by talking to and praying for her family who is spread throughout the Bahamas.
Beckles said the inconsistent communication throughout the unpredictable storm made her nervous, but she found comfort in her past hurricane experiences.
"I was just hoping for the best and realizing that through every hurricane we've been through, we've been blessed, protected and never sustained significant damage," Beckles said.
"I was just praying, 'Lord protect them again.'"
Just as in previous hurricanes, the Beckles' homes were largely intact, but they had to wait weeks for water and power to be restored, along with the rest of the islands.
Other homes were not as fortunate, as Beckles said some families watched their furniture float out to sea.
Others have just the foundation left, and some lost everything. This destruction motivated Beckles to gather relief supplies to aid those affected, even though she cannot go help.
"I can say all day that my thoughts and prayers are with the Bahamas, and praying isn't a bad thing, but what am I doing about it?" Beckles asked.
"Am I putting action behind what I'm saying? I just really wanted to see what I could do to help to not just be a talker, but a doer."
More action is still necessary in Baton Rouge, the East Coast and the Caribbean because while the water has receded, the rebuilding will continue into the months ahead.
Throughout the flood, Ginn said it was easy to doubt, but looking back on the experience, he said whatever was lost was worth what was gained spiritually and as a community.
Ginn said he saw Baton Rouge, a city filled with racial tension and violence during the summer and now broken through disaster, come together for a common cause.
This renewed unity was evident to Ginn during a day of rebuilding when he went and offered a slice of pizza to one of his upper-class neighbors, expecting him to politely decline.
To Ginn's surprise, the man started crying and said yes.
"I'll never forget the look in his eye when I handed him the pizza," Ginn said.
"He had so much gratitude. I looked over at all of his shiny red cars and it amazed me that pizza, human connection, generosity and compassion had so much more power than the engine in a candy-red mustang."
Frost said she also witnessed people coming together, as churches reached out by helping with people's yards and housing people as well.
"It reminded me that God is always in control, and we know that through all of this there is good to come out," Frost said.
As the rebuilding continues, those looking to help provide aid can do so through the American or International Red Cross, Salvation Army, World Vision, UNICEF and a variety of other organizations contributing to the relief effort.
PRICE is a news reporter.