Making gains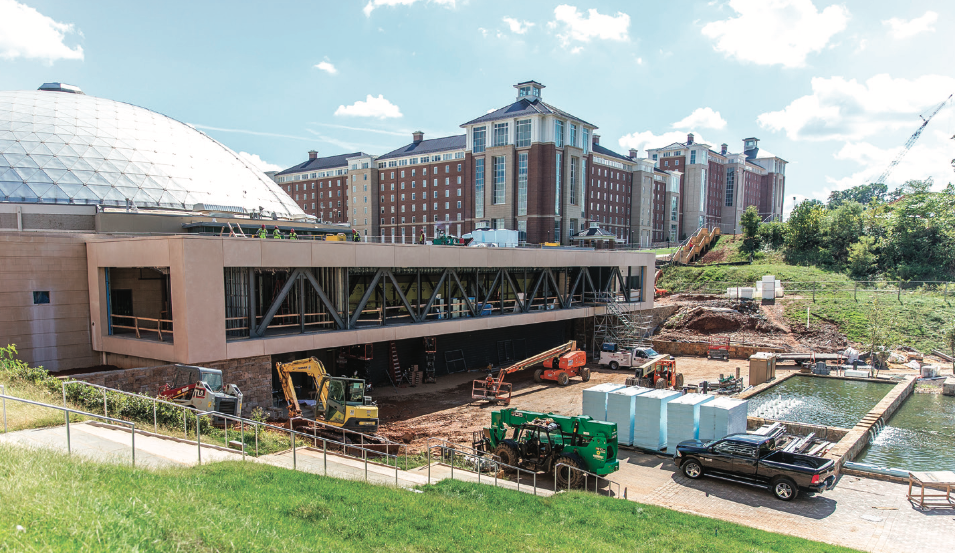 Liberty begins construction on 2017 athletic training center in Vines
Liberty first released its plan for a campus expansion in 2014.
As part of that plan, a new athletic training center located adjacent to the Vines Center is being constructed.
For the new center, Vines is being expanded to allow the basketball team to have more space.
According to Planning and Construction Coordinator Brad Butler, the area will consist of different weight rooms, administrative offices and areas for the varying guests of Convocation to stay.
The second floor of Vines will be expanded with David Nasser's offices, which will create a shaded carport behind the basketball teams' training area.
"We'll extend it to overlook the library lake," Butler said.
The extension will be 45 feet to create the roof over the carport and provide added space.
It will also provide the basketball team with expanded men's and women's weight rooms.
"The president's commitment to raise awareness of Liberty University through a nationally competative athletic program hasn't changed," Butler said.
"The quality of facilities offered to our student-athletes is vital to this mission, and the new expansion project is a key element to that end."
Construction for the center has been going according to schedule, and partnering groups have been very accommodating, Butler said.
Vines and the area around it are a high traffic area with Convocation occurring and the Commons nearby.
"Ninety-nine percent of traffic through that area have had to be moved," Butler said.
The project has taken priority over the events that have been going on this semester, but this will change when Mike Pence speaks at Convocation.
Then, construction will shut down to allow security to take precedence. Other than that, the project is a priority and is scheduled to be completed Jan. 1, 2017.
Butler said all of the success for this project can be credited to Liberty's construction partners, Construction Management Aassociates (CMA).
"(They) are our most valuable players in meeting our construction needs," Butler said.
Jack Cromby is the project manager of the Vines extension, and the company is handling most of Liberty's construction needs for the university.
Other athletic centers include facilities for tennis, track, swimming and football. An interactive map of the master plan can be found on the homepage of Liberty's webiste.
CMA is handling most of Liberty's construction ventures and is working to make sure that projects such as the Vines expansion get completed on time.
BORDELON is a news reporter.