Vote at Vines
A sacred responsibility one must not take lightly said Robert Mullen, dean of students at Liberty University, when referencing voting.
"God has given us a responsibility to be salt and light," Mullen said.
"In some situations — some nations and countries — that ability to be salt and light is really restricted, but God has placed all of us in a place where we have that opportunity in a lot of ways — one of which is to actually vote and determine who your leadership is going to be. I believe it is a sacred biblical responsibility for especially (since) it's most of their first opportunity to do that."
Mullen encourages all Americans to vote in the upcoming elections, but particularly college students because they have so much potential to influence the country.
He used the analogy of a church calling its youth group the future of the church.
"No, (young adults are) not the future," Mullen said. "They're the present of the church. They're the main target, the main focus of the church, and I think the same thing is true with college students when it comes to the political process. Historically, college students have exerted a great deal of political influence."
Register right where you are
In order for students to vote in the Nov. 8 presidential and congressional elections, they must be registered in advance.
Mullen said Liberty is making a push for students to register in the state of Virginia and then exercise their right to vote in Lynchburg.
Mullen said being registered in another state during college at Liberty makes the voting process more difficult.
"If you are registered to vote in another state, more likely than not, you're going to have to vote absentee ballot which is just kind of a pain," Mullen said.
"It's complicated. It's cumbersome. If you register to vote locally and live on campus, you can walk right to the Vines Center and go in, pull the lever, and you're done with it."
Beyond just the ease of voting in the Lynchburg area, Mullen said Liberty students registering and voting in the area sends a message that Liberty students need to be looked at as a force that should be recognized as having power.
"Liberty and its students are politically involved, and they care about Virginia, but even more importantly, they care about Lynchburg," Mullen said.
"When Liberty began registering a lot of students and got its own precinct, it began to be viewed in local politics as someone that had to be acknowledged. … The power of the ballot speaks."
Choosing the next president
With Nov. 8 quickly approaching, Mullen encourages students to vote even if they feel as it they do not closely identify with any of the candidates in the race.
"First of all, I believe it is a God-given responsibility, and I believe that responsibility to be salt and light is not conditioned upon the state of the state around you," Mullen said.
"Make your best choice. Daniel didn't get to vote, but he supported the leadership around him. He didn't have a lot of good choices, but he had to support the one that he had the choice of."
Mullen said this election is the perfect time for college students to have a say in the future of politics in this county.
"I think it's a chance for college students to step up and say, 'Hey, we want a different kind of political future for ourselves and for our children, so we're gonna help make it,'" Mullen said.
"There's a lot of things they can do — you can be involved in politics, you can work for a campaign, etc., but the one thing everyone can do is register to vote. When someone registers to vote, it sends a message that they're serious about their responsibility and that they can't be taken for granted."
One vote does matter
Mullen was adamant that even just a few votes can make a difference in any election.
"People have asked the question, "Does one vote really matter?" Mullen said. "If you were alive in 2000, you would know a few votes matter," referring to the George W. Bush v. Al Gore election.
Mullen shared a personal story that epitomized the value of a single vote.
He said before coming to Liberty University, he pastored a church in Roanoke.
Just a few years ago, two church members approached him and said they were running against each other for a spot on the Roanoke County Board of Supervisors.
"The day of the primary came, and honestly I remember driving past the primary spot a couple of times and being really busy and not going to vote," Mullen said.
"At the end of the day, I looked on the news and found out they had tied." "One vote would have made the difference one way or another," Mullen said.
He said the only way to resolve the tie was to have the winner drawn from a hat.
"That's why you register and vote every single time," Mullen said. "It's not just the right thing to do. It's the practical thing to do."
Taking the first step of registering
Mullen said he has little patience for someone who complains about the way things are politically, yet does not register and vote.
Liberty will assist students in registering by the Oct. 12 deadline by allowing students to register in class, during hall meeting, and at tables located throughout campus.
"I'd like to encourage Liberty students when the time comes in hall meetings and in classes on Sept. 21 and 22 when they're asked to give about 10 minutes of their time for that process that they be enthusiastic about it — that they understand … by their attitude and response to it, they can be an encouragement to someone who is maybe on the bubble about whether they are going to register to vote or not," Mullen said.
Mullen said Liberty is using TurboVote software to make registering to vote a simpler process.
"If a student is a Virginia resident and they have a Virginia driver's license, they can go online to www.turbovote.org/liberty," Mullen said.
He also added that students without a Virginia license can still use TurboVote, but they have to go through a longer verification process where the student can print the form, sign it and turn it in to the Dean of Students Office or the Student Government Association office.
Above all else, Mullen wants Liberty students to take responsibility for their right to vote and exercise it as all U.S. citizen should.
"It doesn't matter who the candidate is, it's your first chance to (vote)," Mullen said. "It's setting a pattern. It's also taking responsibility for your future."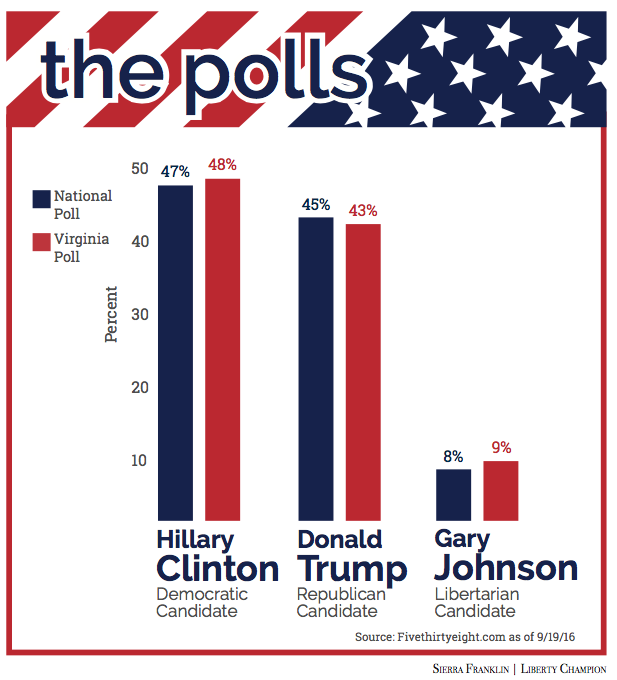 Rodriguez is the editor-in-chief.