Flames outlast Dukes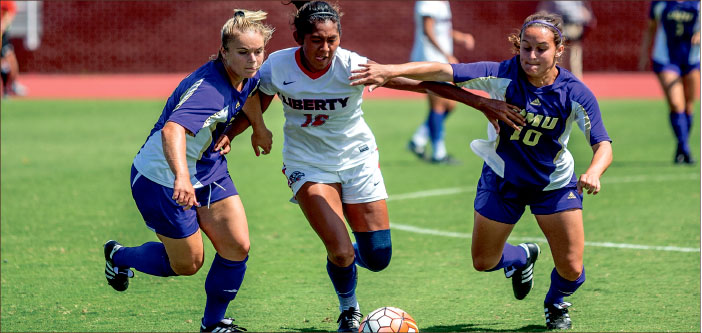 Liberty scores late goal against JMU to win its second game in a row
The Lady Flames soccer team grabbed its first win in program history against James Madison University with their 1-0 victory Sept. 4 at Osborne Stadium.
"Clearly they're a fantastic team, and that's what makes it a very, very good win for us," Liberty Women's Soccer Head Coach Nate Norman said.
Although the game was tied until the 85th minute, the Dukes controlled the ball the majority of the game, getting twice as many shots on the goal and twice as many corner kicks, but the Liberty defense withheld the technical JMU offense.
"It was kind of a bend but don't break attitude today, and we did a good job covering for each other," Norman said.
"It was great," Liberty senior goalkeeper Holly Van Noord said. "We knew from the beginning they were going to be tough, that they were coming out full blast,".
The Flames backline hustled hard to limit shots for JMU, but even when they did manage to get one by the Liberty defense, Van Noord was there to make the save.
"With Holly, she's so good, you sometimes forget because you almost expect her to make those saves," Norman said. "That last layer gives the backline confidence."
The day's shutout was the 34th for Van Noord, which makes her the all-time Big South leader in shutouts. "Shutout mentality comes from the whole team," Van Noord said.
The Liberty defense kept the Dukes scoreless, but the game-winning goal from freshman forward Gabrielle Farrell propelled Liberty to the win. Farrell took a perfectly played ball from fellow freshman forward Sierra Lam to net her first career goal for the home team in the 85th minute, giving Liberty a 1-0 lead.
"Being able to score that goal for my team, for God, for my family, for everybody, it was such an amazing feeling," Farrell said. "It's a surreal feeling. I feel like it didn't happen, but it's such a blessing playing on this team."
This is the second win in a row after the Lady Flames' tough comeback win over Appalachian State.
"We had an emotional game on Friday, and we were able to win a hard-fought battle, and I love the way we came back on Sunday and continued to fight," Norman said. "We could have folded up shop, but we didn't and I'm very proud of them for that."
Van Noord and the rest of the Lady Flames travel down to Greensboro, North Carolina Sept. 8 looking to extend their win streak to three against the Lady Spartans of University of North Carolina at Greensboro.
The game will take place at 7 p.m.
Collier is a sports reporter.