Make it or bake it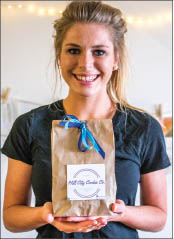 The aroma of cookies begins to fill the room as she opens the oven to check on the most recent batch of oatmeal chocolate chip cookies. There is an expression of excitement that covers her face and it is
evident how much she loves baking.
Caroline Debnam, a sophomore sports management major, bakes her favorite cookies with a plan in mind.
For Debnam this is not a typical Friday afternoon baking session with friends, this is her business, Hill City Cookie Company. The best part? She is using her baking talents to raise money for a missions trip, and donates her profits to other organizations.
Hill City Cookie Company first started out as a way to make some extra money.
"People always loved when I made (cookies), so I thought why not sell them," Debnam said. "Then I realized it would be a great way to raise money to fund different missions organizations."
Debnam is raising money for her trip to Malaysia with Adventure in Missions, where she will be taking part in the World Race for a month. Although she has always aspired to go on the World Race, it has a minimum age requirement of 21 years old.
"I thought this was a good opportunity for me to go for a month to see if the World Race is what I wanted to do," Debnam said.
The World Race is a trip where a team goes to 11 countries in 11 months to serve "the least of these," according to The World Race website. The specific trip Debnam is going on is called the World Race Exposure trip. These trips can range from one month to three months.
According to Debnam, she is also using half of her profit from her business to donate to the TEN Campaign, whose goal is to provide access to clean water to the nation of Liberia while also sharing the gospel to those being served. She believes that by doing this she will be able to reach more people.
"I really liked how established and successful they have been on campus and I liked what their efforts were doing," Debnam said.
She came up with a cookie delivery business because there is nothing at Liberty like it, and the one hour delivery promise helps ensure to her customers that the cookies will be delivered fresh.
"The most rewarding part is delivering the cookies and seeing people's reactions when they get warm cookies at their dorm door," Debnam said.
Customers have loved Debnam's service so far as she has several great reviews on her Facebook page.
"I purchased her cookie squares and oatmeal cookies and they were amazing," marketing and human resources major Courteney Martin said. "I'm definitely ordering again soon."
Hill City Cookie Company also offers gluten free options. Ordering cookies from the company is simple. A customer can go on the Hill City Cookie Company's Facebook page and send a message to Debnam. The message should include the person's name, order and dorm location. Within an hour's time a warm, homemade cookie order is delivered fresh to any dorm.
For more information about Hill City Cookie Company or to place an order, visit facebook.com/hillcitycookieco/.
CLARK is a feature reporter.