Rise to the challenge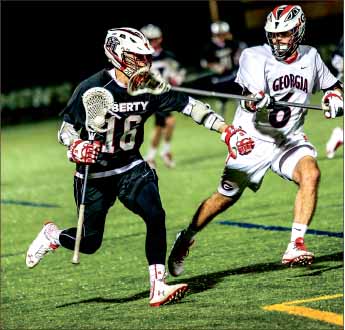 Liberty men's lacrosse team looks to carry over momentum from last season
The Liberty University men's lacrosse team enters the 2016 season ranked No. 16 in the Men's Collegiate Lacrosse Association (MCLA) preseason poll, but Head Coach Kyle McQuillan will not let the ranking define his team.
"It means absolutely nothing to us, honestly," McQuillan said. "It needs to mean nothing to us, because we kind of floated around in that range all last season. We just need to focus on winning a (SouthEastern Lacrosse Conference) (SELC) championship and getting to nationals."
The Flames finished No. 17 in last season's final MCLA poll, and look to build off last year's strong finish, in which they won seven of their last nine games.
"I do not think (preseason ranking) is really something we need to focus on," senior midfielder Brett Bernardo said. "I think (preseason ranking) does not matter as much necessarily as the rankings at the end of the year."
Getting to the SELC championship this season will be challenging for the Flames, as they have one of the most difficult schedules in program history. Six of the team's 12 games are against opponents also ranked in the MCLA preseason poll.
"Strength of schedule is so important," McQuillan said. "You have got to be prepared to play the best teams in the country if you want to win a conference championship or go to nationals and be competitive. We need to schedule difficult programs and difficult teams and I think for this season we have got a whole slew of them both at home and on the road which is good."
The Flames will have a tough four game stretch against No. 17 Michigan State, No. 18 Texas State, No. 19 Florida State and South Florida University before playing against Florida in the team's annual midnight game on April 1.
"It is good to get the whole campus involved with (the midnight game)," junior defender Nathaniel Whyte said. "That midnight game is another reason for people to stay out past curfew if you live on campus. We get really hyped up for that game."
The midnight matchup is one of the most unique events in college lacrosse, according to McQuillan.
"(The midnight game) is a lot of fun," McQuillan said. "It is a lot of fun for the team we bring in. I know we have gotten a lot of exposure from it. It gives us an opportunity to showcase the sport of lacrosse and this team on campus. Until people stop showing up, we will keep doing it."
The Flames then face Kentucky, Tennessee and No. 3 Virginia Tech on senior night, a game many of the players are looking forward to, according to senior midfielder Bryce Mrakovich.
"They are our rivals," Mrakovich said. "We have a big senior class so we are definitely looking forward to that game."
Virginia Tech and other opponents will have to deal with the Flames ability to score fast and often, according to McQuillan.
"The thing we pride ourselves on is our ability to transition and our ability to take points very quickly," McQuillan said. "Speed (and) keeping a fast pace (are) our primary objectives."
The Flames season starts Feb. 20 when they take on No. 14 Boston College in Atlanta, Georgia. The first home game is Feb. 27 at 2 p.m. against George Washington.
Dillard is a sports reporter.