Marco Rubio under fire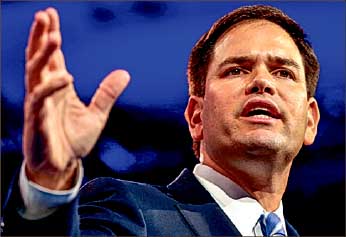 Attacks on senator from Florida signify his place at the top of GOP primary
When it comes to politics, tact is everything. You need to know when to go on the offensive and when to hold back and fortify yourself. Generally speaking, struggling political candidates are aggressive while successful ones sit back and absorb the blows. If a candidate is being consistently attacked, chances are they are on their way to the top.
Presidential candidate Sen. Marco Rubio is the GOP's new favorite punching bag. In the past few weeks, Rubio's campaign has come under fire from multiple GOP candidates, most notably former Florida Gov. Jeb Bush.
The barrage of criticism endured by the Rubio campaign has come in several different forms. Candidates have attacked Rubio's voting record, immigration policy and personal spending habits.
While these criticisms place increased scrutiny on Rubio and his policies, it is unlikely they will revitalize the quickly failing campaigns of Bush or any of the other establishment candidates. The nature of some of the attacks reveals the desperation of faltering candidates.
Bush's criticism of Rubio's voting attendance in the Senate during the campaign stretch is particularly reflective of this. Senators running for the presidency always miss a substantial number of votes, but Bush acts as if this is a new phenomenon.
Attacks of this nature are bad for politics and bad for the Republican primaries. If there was a legitimate issue, this would not be the first time it was brought up. However, now that Rubio is on the path toward the top of the polls, his voting attendance is suddenly of vital concern and importance.
To be fair, some criticisms of Rubio should be taken into consideration. The GOP's current leader in the polls, Donald Trump, has raised some interesting concerns about Rubio's personal spending habits. Trump cited Rubio's credit history as an example of his fiscal irresponsibility.
Frugality is an important character trait to possess when seeking the presidency of the U.S., a nation with more than $18 trillion in debt. However, this attack, as is true of all political reproaches, should be taken with a grain of salt.
Rubio dismissed these irresponsibility claims in an interview with ABC's "Good Morning America," stating, "I only have one debt in the world, which is my mortgage on the home me and my family live in in Miami."
Political criticism should never be taken at face value. More often than not, the attacks are steeped hyperbole and factual manipulation. They should always be checked for validity.
The Rubio campaign does not have anything to worry about. These attacks are just a part of the process. They are an initiation into the upper echelons of government. Trump faced them, as did the other GOP frontrunner Dr. Ben Carson. It is the price you have to pay to reach the top.
And Rubio is on his way to the top.
He has shown in the past few weeks he is the dominant establishment candidate. He has displayed poise and prowess in the GOP debates and has steadily been moving up the polls. Rubio is top dog among establishment candidates.
The real question is whether he will be able to overcome the growing anti-establishment sentiment that has elevated Trump and Carson to their current political stature.
Either way, Rubio's rise is just beginning.
EAGEN is an opinion writer.